Yeol Eum Son / Clara-Jumi Kang, Edinburgh International Festival 2023 review - theatrical virtuosity from stunning soloists |

reviews, news & interviews
Yeol Eum Son / Clara-Jumi Kang, Edinburgh International Festival 2023 review - theatrical virtuosity from stunning soloists
Yeol Eum Son / Clara-Jumi Kang, Edinburgh International Festival 2023 review - theatrical virtuosity from stunning soloists
Korean pianist and violinist both make sparks fly in the Queen's Hall
Violinist Clara-Jumi Kang - ear-boggling virtuosity
The Edinburgh International Festival's focus on Korea moves to the Queen's Hall in the festival's middle week, with performances from two Korean soloists playing alone.
Yeol Eum Son has already made waves in Scotland, and she chose some meaty repertoire for her EIF debut, culminating in Beethoven's mighty Hammerklavier Sonata (★★★★). For the first half of her Tuesday morning programme, however, she played Liszt's Ninth Transcendental Étude alongside three set of variations by Bizet, Czerny and Alkan. Variations are a neat choice for an artist because the variety intrinsic to the form gives them the opportunity to demonstrate multiple facets of their technique. Her approach to Bizet's Variations Chromatiques, however, was a little unrelenting, even in the more demure variations, with the textures rather cloudy in the more muscular climaxes.
She settled into the other sets much more effectively as her programme progressed, allowing more lightness of touch to colour her playing of Czerny's Variations on a theme by Rode, and Alkan's Variations on a theme of Steibelt sounded veritably jolly in places. The Liszt, too, was full of subtlety and delicacy, with rippling textures and a beautiful elaboration of the main theme when it returned.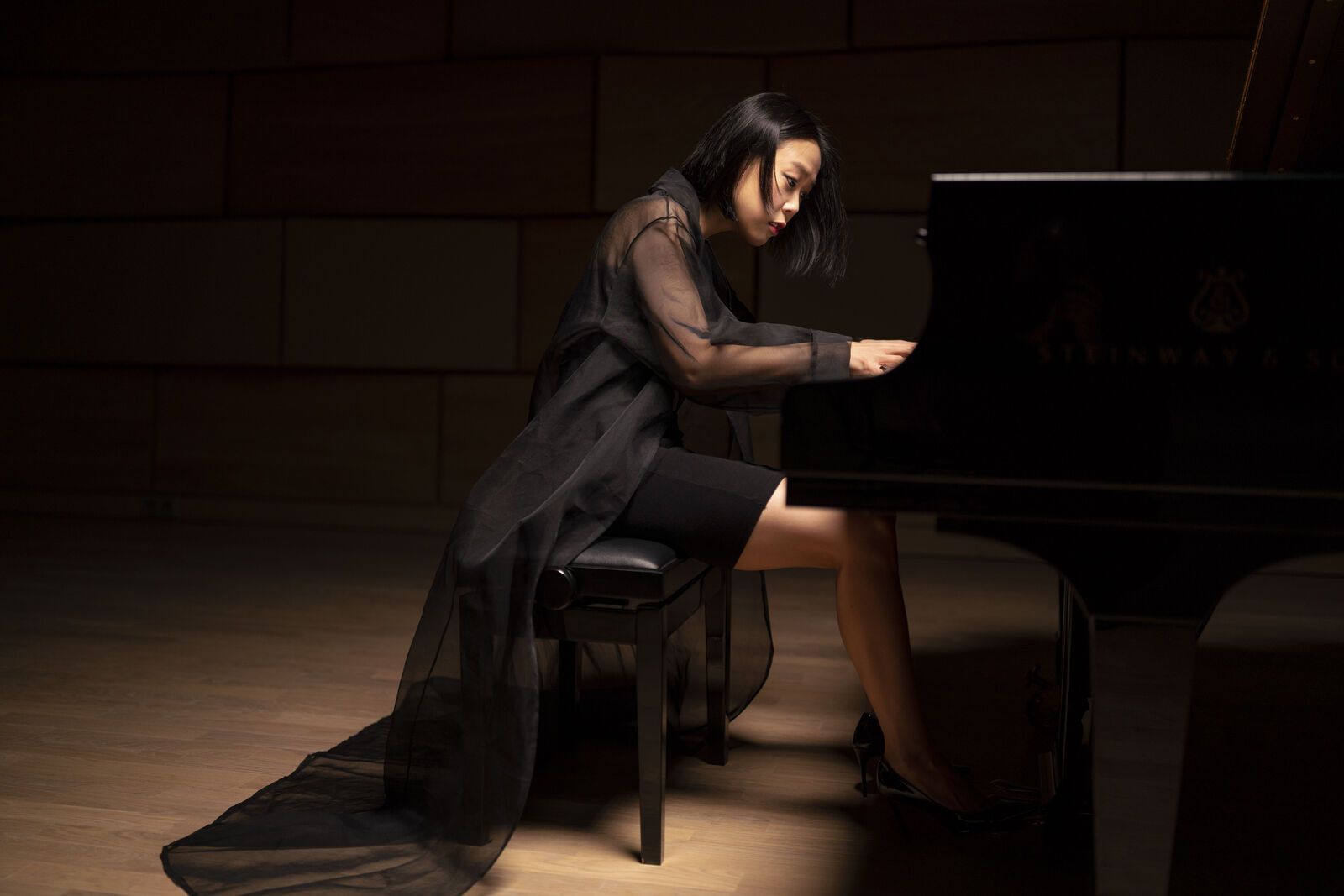 Throughout that first half Son showed an ability to conceive each set of variations as a whole rather than merely by episodes, and that sense of a piece's overall conception served her well when she came to the Hammerklavier Sonata. She didn't overplay the fanfares of the opening but seemed to weave them into the overall texture, with delicacy, even playfulness coming into the first two movements. There was a formidable sense of attack at the same time, however, and she took the final fugue at a terrific lick. Only in that finale did she lose some of her overall vision, the music seeming episodic rather than unified. However, she understood the huge Adagio very well, moving it seamlessly from its hymn-like opening through an ineffably sad waltz into the dark beauty of its gorgeous conclusion without a hint of grandstanding.
Then on Thursday morning there came a programme of stunningly difficult repertoire for solo violin, played fearlessly by Clara-Jumi Kang ( ★★★★★). She cuts a slight, sylph-like figure on stage, almost retreating to the back of the stage for her programme of Bach, Ysayë and Milstein...until she started playing, when she conjured up tone so strong that it was almost forceful. She gave each movement of Bach's Second Solo Partita its own individual character, from the lyrical, deeply-felt keening of the Allemande to the driven intensity of the central movements. She then spiralled her way through the variations of the Chaconne with stunning musical athleticism and grace, encompassing spidery figurations alongside monumental multiple-stopped chords, playing always with a flow of lyrical, singing beauty.
Three of Ysayë's sonatas were played with similar ear-boggling virtuosity, with the contrary contrapuntal lines of No. 3 standing in comparison with the Mediterranean swagger of No. 6. Ysayë's assertiveness seemed to suit well the forthright character of her playing, perhaps especially Sonata No. 5 with is storm of rippling arpeggios, its stomping dance and the shower of pizzicati that seemed to materialise from nowhere. In any other programme Nathan Milstein's Paganiniana would make the jaw drop, but coming at the end of a masterful display such as this, Kang made it sound almost easy.
Kang spiralled her way through the variations of Bach's Chaconne with stunning musical athleticism and grace
Explore topics
Share this article