theartsdesk in Zurich and Tallinn: celebrating great Estonians |

reviews, news & interviews
theartsdesk in Zurich and Tallinn: celebrating great Estonians
theartsdesk in Zurich and Tallinn: celebrating great Estonians
A Swiss inauguration for Paavo Järvi, a significant birthday for Erkki-Sven Tüür
Thursday, 19 December 2019
Conductor Paavo Järvi and composer Erkki-Sven Tüür in Estonia earlier this year
Culturally, "the little country that could" - as Estonia's ex-Prime Minister and historian Mart Laar dubbed it - punches well above its weight. While it educates the young with a musical instrument made available to every child, Estonia continues to shine through its musical leaders. Grand old man Arvo Pärt continues with his jewel-like craftsmanship, shining in a blissful reworking of an early piece in Zurich; and while fellow octogenarian Neeme Järvi may just have handed over his post as music director of the Estonian National Symphony Orchestra (henceforth here ERSO, Eesti Riiklik Sümfooniaorkester), elder son Paavo officially launched his collaboration with the Swiss city's Tonhalle Orchestra this autumn. He's celebrating the music of composer friend Erkki-Sven Tüür at 60 throughout the season, but the big birthday concert took place two days after the Zurich coronation, in Tallinn.
This was in many ways the more overwhelming event of the two, if only because it proved that three major Tüür works of the same, recent vintage hold up in one concert as a symphonic trilogy in all but name, and at the highest level of creativity. It also introduced me to the Estonian who's been announced this month as the successor of Järvi Senior at the ERSO, the brilliant Olari Elts; this was clearly a major figure to talk to, which I did, more or less spontaneously, the following morning at a nearby cafe (the results will appear in Saturday's Q&A).
Paavo Järvi's choice for his main season opener was a good one: Sibelius's Kullervo Symphony, its two movements with chorus prompting a strong liaison with Estonia in the form of its National Male Chorus, a Finno-Ugric backbone in collaboration with the Zürcher Sing-Akademie. It was fascinating to witness the good acoustics of the orchestra's temporary wooden-shoebox home, the Maag Halle, in the trendy reclaimed industrial zone of Zurich-West - a plus in terms of attracting a younger audience while the Tonhalle by the lake, inaugurated by Brahms in 1895 is being extensively renovated (pictured below by Alberto Venzago: Paavo Järvi on the construction site, the morning after the inaugural concert).
Järvi's approach to the drama of a typically ill-fated Finnish hero from the world of the national epic the Kalevala - Kullervo has an unhappy upbringing, sleeps with a woman who turns out to be his sister, who then kills herself, and dies in battle - took a while to kindle: he can be hyper-dramatic in concert, but sometimes not when telling a story that resorts to words or mastering a choral text (his 150th anniversary Brahms Deutsches Requiem in Bremen was oddly abstract). It might have been partly question of Swiss temperament, but his opening movement lacked the craggy profiles carved by superlative recent Finnish contenders, Sakari Oramo conducting the BBC Symphony Orchestra and Santtu-Matias Rouvali marking another inaugurations, last year in Gothenburg (there's also an unforgettable recent contender on CD, Dane Thomas Dausgaard with his BBC Scottish Symphony Orchestra).
Fires predictably blazed, though, for "Kullervo and his sister," with the dependably operatic siblings and natural communicators Ville and Johanna Rusanaen taking on the roles of less happy close relations. As in Gothenburg, where the same duo sang for Rouvali, it was inevitable that one should long to hear Johanna Rusanen's Brünnhilde. The spark duly ignited, the Tonhalle Orchestra took flight for the rest of the work (pictured below, first of two concert images by Gaëtan Bally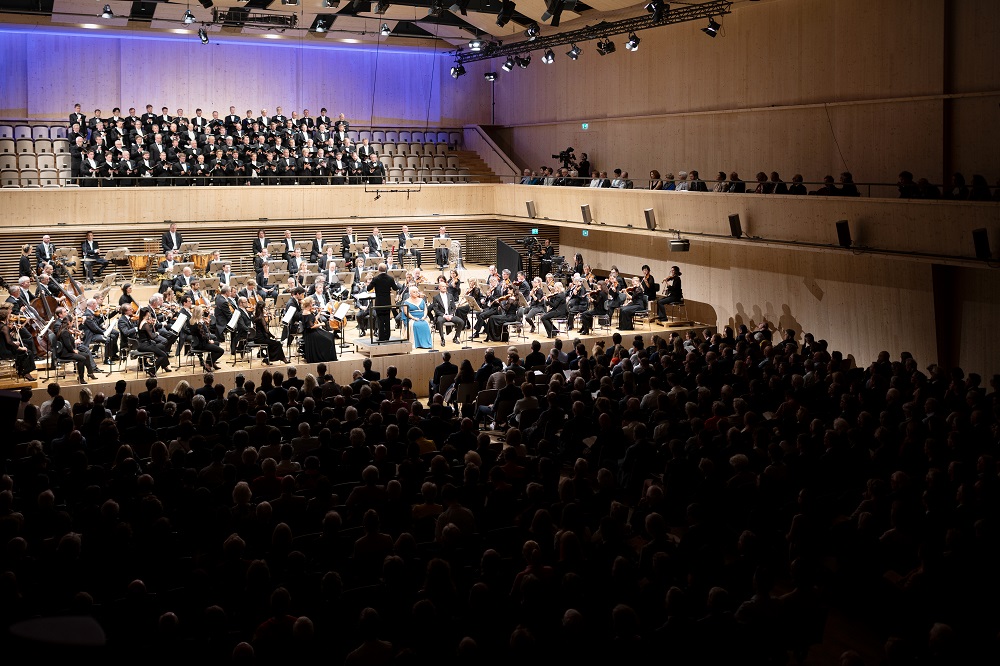 The opening curiosity turned out be an absolute gem, and could have been encored the minute it finished: Pärt's arrangement, specially made for Järvi and the Tonhalle, of his If Bach had been a beekeeper..., originally composed in 1976, before the break and the so-called "tintinnabulist" rebirth, for harpsichord, instrumental ensemble and tape. "I wanted to make the work more compact and engaging, and to bring out the musical structure even more clearly," Pärt has said, adding that he "had to make new calculations throughout the work and change the formula hidden in the music."
With the number four and the musical notes B-A-C-H (B, paradoxically, being "H" in German and B flat actually "B"), the spine of the work is clear, but in form it gives us abundant surprises: the music of Bach himself, humorous buzzings which sounded so well from the Zurich woodwind, and a look forward to Pärt's distinctive brand of minimalism. As at the Proms last year, the 84-year-old composer's acknowledgment of applause (pictured below) crowned this short but significant happening.
Tüür, who has the honour in Tallinn's Estonian Theatre and Music Museum of being hailed as the next great Estonian composer after Pärt, might well be called a maximalist by comparison, though rigour is behind his largest-scale works. He's been appointed the Tonhalle's "Creative Chair" and Järvi has programmed several of his works throughout the 2019-20 season: what's left is his Prophecy for accordion and orchestra on 11 and 12 March 2020, featuring the brilliant Latvian virtuoso Kseniya Sidorova who played it with Järvi's Estonian Festival Orchestra in Jurmula back in July 2018 (Sow the Wind..., his orchestral tempest of absolute wildness, was played in Pärnu and then in Zurich earlier this season).
The prospect of the Tallinn concert (Elts and Tüür pictured below in the first of two images by Tiit Mõtus) was initially perplexing to many musical minds: wouldn't it have been better to celebrate a major birthday with a retrospective featuring works from across Tüür's creative life? In practice, it made complete sense and could hardly have had a more devastating impact. Just as the Czech composer Martinů, in the masterly sequence of five symphonies composed in America across an equal number of years, takes the same essence and looks at it from every conceivable angle, so these three works had elements of the same Tüür thumbprints - woodwind chord clusters, "bending" notes especially awe-inspiring in the brass, a state of becoming that moves in waves, slow or faster according to context, something of an arch form with a quiet coda. At the same time, the gestural ideas that emerge - the essential "hooks" that stop this all just being the familiar contemporary "process" - are distinctive to each.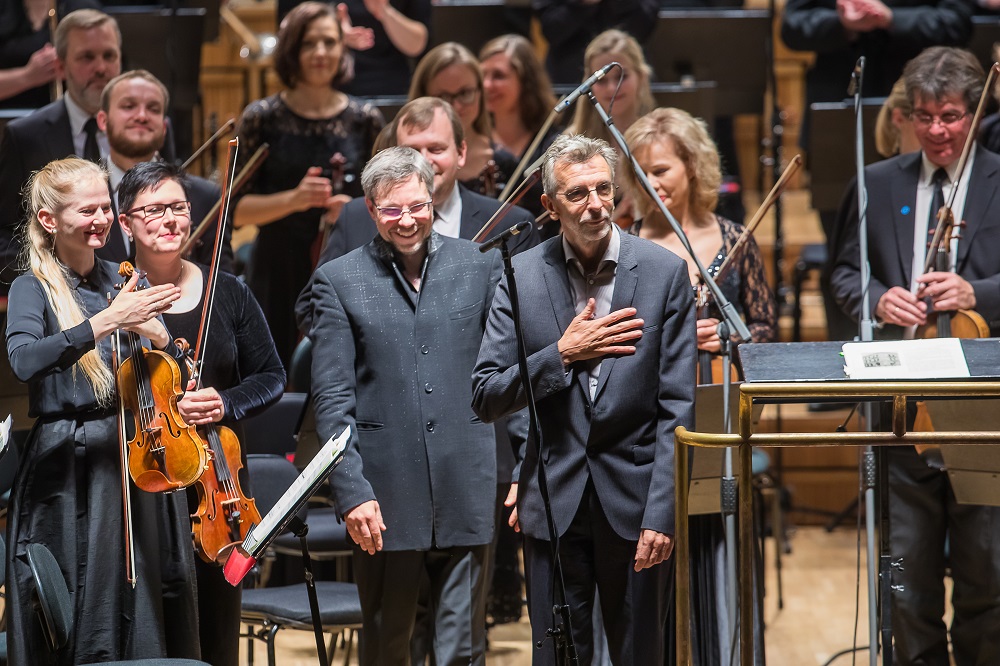 Apparoaching Phantasma, first on the programme, without trying to glean the sense of the (Estonian) note, I sensed something familiar but not quite recognisable. As it turned out, this is partly Tüür's homage to his father, whose hearing Beethoven's Coriolan Overture on the radio as a child turned him into a classical music lover and record collector, and thus by association his son into choosing to become a composer, and partly due to Olari Elts's suggestion that he might write a work with a link to Beethoven. It's reassuring to learn that the composer regards the quotation as subliminal.
Solastalgia is one of several works responding to climate-change drama (one couldn't help feeling that the hyper-tempestuous and exhausting Sow the wind... was akin to the storms-beyond-measure we've been experiencing in recent years). Living and composing on the Estonian island of Hiiumaa, Tüür both values this special retreat and worries about the seasonal changes apparent even there, not least a mild winter when the sea can't be guaranteed to freeze over.
A personal response to Solastalgia, however, suggested the virtuoso piccolo role, played by the Royal Concertgebouw's phenomenal principal Vincent Cortvrint (who gave the 2017 world premiere in Amsterdam), might be Ariel riding or invoking another tempest. A concerto, then, in one sense, but the soloist's close involvement with the orchestra and especially lower flutes, down to the bass member of the family, kept his role concertante style and the essence of the piece, a more conspicuous arch with a bewitching conclusion, symphonic (pictured below, Cortvrint thanking ERSO leader Triin Ruubel-Lilleberg).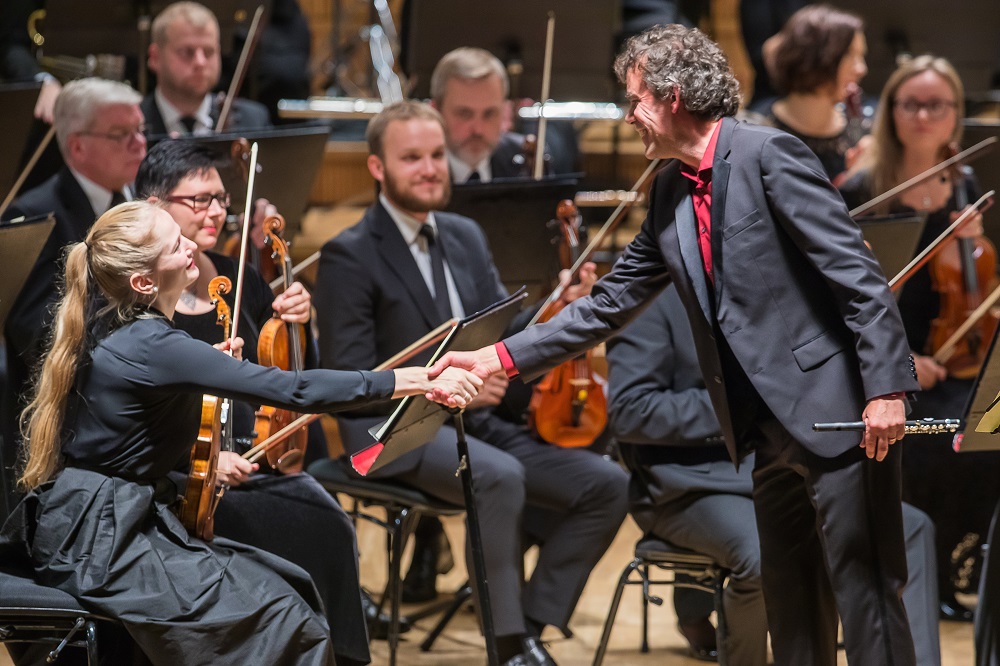 It was right, all the same, to have the official symphony, No. 9 (daunting figure), titled "Mythos" and a homage to Estonia's 100th anniversary, as the last work on the programme, epic in feel though not in length. The blocks of descending strings and ascending brass (and vice-versa) at the heart of this terrifying incantation set the firmest possible seal on Tüür as successor to the symphonic mastery of Lepo Sumera, still underrated outside his native land, whose Fourth and Sixth Symphonies had the biggest impact on me of any works experienced for the first time in recent years. This concert immediately joined them - no small tribute to the stunning playing and firm purpose of the ERSO under the clear-sighted Elts, and the intense response of a packed concert hall. The nomination of Pärt's successor - though long live the king - is now official.
The Tallinn concert proved that three major Tüür works of recent vintage hold up as a symphonic trilogy
Share this article
Subscribe to theartsdesk.com
Thank you for continuing to read our work on theartsdesk.com. For unlimited access to every article in its entirety, including our archive of more than 10,000 pieces, we're asking for £3.95 per month or £30 per year. We feel it's a very good deal, and hope you do too.
To take an annual subscription now simply click here.
And if you're looking for that extra gift for a friend or family member, why not treat them to a theartsdesk.com gift subscription?