Stravinsky: Myths and Rituals 5, Philharmonia, Salonen, RFH |

reviews, news & interviews
Stravinsky: Myths and Rituals 5, Philharmonia, Salonen, RFH
Stravinsky: Myths and Rituals 5, Philharmonia, Salonen, RFH
Spine-tingling finale to a visionary series
Friday, 30 September 2016
Joseph Kaiser and Willard White in Peter Sellars' Aix production of Oedipus Rex
The Symphony of Psalms, which ended the Philharmonia's Stravinsky series last night, is an indelible masterpiece, silencing the tired but persistent accusation that Stravinsky's music is clever but cold. Abstract it may be, but suffused with an exile's deep longing, spritual hope rising in harmonies of heart-stopping consolation until that final, revelatory C major chord.
This performance (with three Swedish choirs) was of focused beauty and searing sincerity; I have never heard better. Its radical scoring sounded afresh, while spine-tingling intonation and conductor Esa-Pekka Salonen's unforced mastery lent the whole a visionary power.
In both this and Oedipus Rex which preceded it, Stravinsky adopted Latin for an archaic, incantatory quality. But, with Peter Sellars directing, this would be no objectified ritual. Could Stravinsky withstand being love-bombed by the master of the group-hug? The short answer is, yes, though there were moments when one had to look away.
From the opening chorus of Oedipus the handsome Orphei Drängar male choir, in modern dress, were emoting every word in "Sellars semaphore". Well-honed from this summer's production in Aix-en-Provence, they inhabited their parts with rare vibrancy and naturalness. When they pleaded, writhing and signing, with Oedipus (Joseph Kaiser) to deliver them from plague, their helplessness hit home. But when they launched into the fugue, we descended into a ludicrous orgy of heads-shoulders-knees-and-toes.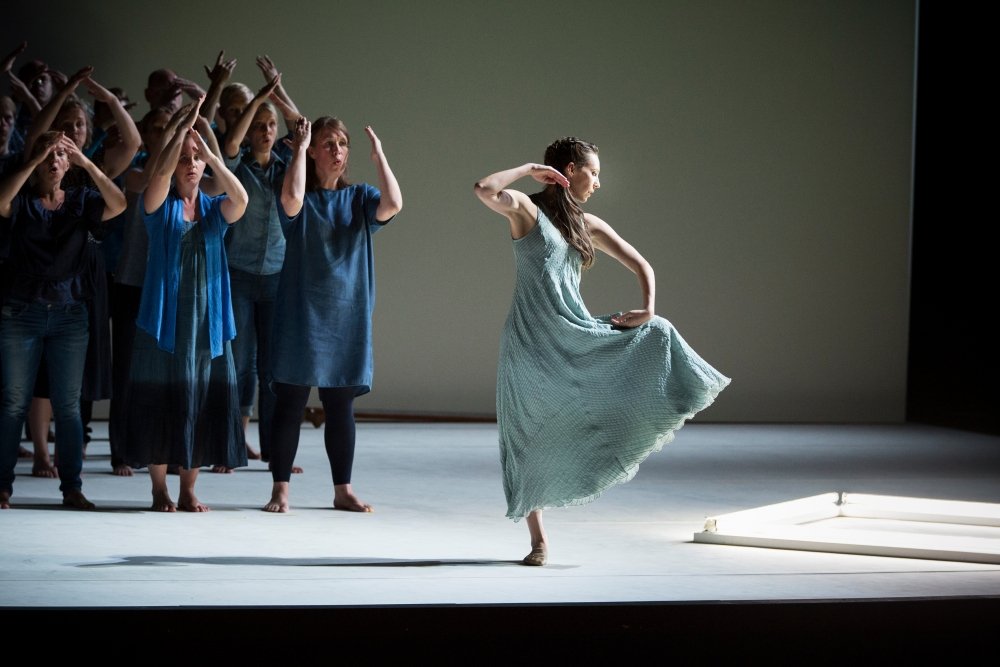 The signing felt yet more superfluous in the Symphony of Psalms for which women from Gustaf Sjökvists Kammarkor and Sofia Vokalensemble joined, creating a marvellously clear blend. But Sellars's interventions, however distracting, stem from a search for genuine connection, and if the signing of words played a part in this choir's intense engagement, their achieved single, breathing organism, it was worth it.
In this production the Symphony of Psalms forms the conclusion to Oedipus Rex: Sellars brings the blinded Oedipus on stage after his exile, and allows Antigone to quote from Oedipus at Colonus to describe his end. This move from the Ancient Greek into the Christian world is deft – Antigone's speech elides into Psalm 150 – but problematic. Sellars is drawing on Stravinsky's rediscovery of his Russian Orthodox faith in the 1920s, but it robs Oedipus Rex of its true, pitiless ending, offering him a Christian salvation.
Staging was minimal but effectiveSellars also dispenses with Cocteau's anonymous narrator in Oedipus Rex, and installs Antigone (the engaging Emily Barber) as the story-teller throughout the evening. Immediately, everything is urgently personal: it's her father, her family, her suffering. That worked in Oedipus, less so in the Symphony, where she is quickly redundant. Here, the graceful dance of Ismene (Laurel Jenkins, pictured above) in the second movement was sufficient.
Tenor Kaiser was an impressive, believable Oedipus, with noble bearing and a ringing vibrato, burning foil to Willard White's commanding Creon, Tiresias and Messenger. Katarina Dalayman brought a tarnished beauty to Jocasta, while Joshua Stewart injected drama into his crucial appearance as the Shepherd. Staging was minimal but effective, broken only when White as Messenger finally moved out into the audience to call back to the choir in thrilling antiphony. A fitting end to this extraordinary series, which has done so much, so well, to restore to us Stravinsky in the round.
Could Stravinsky withstand being love-bombed by the master of the group-hug?
rating
Share this article