Scenes from the Wild, Morgan, CLS, Paterson, Southwark Cathedral review - a cornucopia of the seasons |

reviews, news & interviews
Scenes from the Wild, Morgan, CLS, Paterson, Southwark Cathedral review - a cornucopia of the seasons
Scenes from the Wild, Morgan, CLS, Paterson, Southwark Cathedral review - a cornucopia of the seasons
Cheryl Frances-Hoad's 90-minute song cycle should be a winner when the words emerge
Saturday, 27 November 2021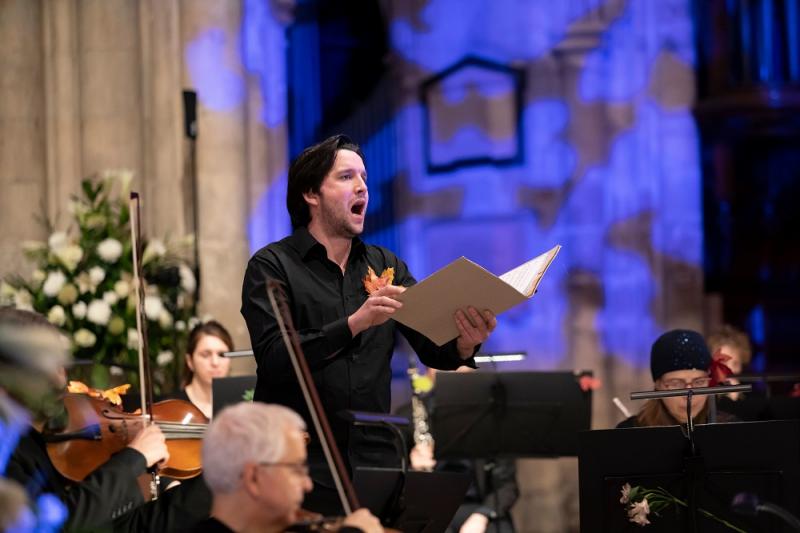 William Morgan - a born storyteller
Dara McAnulty's Diary of a Young Naturalist (14 at the time of writing) is a total vision, effortlessly poetic where the likes of Rober Macfarlane sometimes seem to strive for effect. Cheryl Frances-Hoad's 26 songs, with a text drawn from the journal by the late Amanda Holden, offered only a partial panorama at its world premiere.
That's not the problem of the work or its first-rate performers. The fact is quite simply that these often exquisite fruits need a different soil in which to thrive.
Southwark Cathedral, unfortunately, doesn't allow for enough of the crucial text to be heard. That this is in no way the fault of the tireless young tenor William Morgan, who gives a total performance, was already proven by the fact that one couldn't catch all the words delivered a couple of weeks ago in the same space by Roderick Williams, another master in projecting every detail.
So how much do we glean? That Frances-Hoad thrives on contrasts of texture, tempo and mood sufficient to sustain an ambitious 90-minute song cycle. McAnulty's struggles to deal with the "anxiety army" that's part of the autism, which is also a gift in his eye for detail and his awareness that "creeping, crawling, fluttering things…make sense to me, people don't", break still surfaces with percussion tattoos and violent, jerky movements; anger surfaces, too, to accompany the budding environmental campaigner.
Even the nature-music isn't all pastoral, by any means: there are ecstatic, dancing flights like the one for violins in "Sea Birds and Seals", buzzing "Murmuration", instrumental fun with "Bats" and "Grasshopper". Frances-Hoad also touches depths not just in the ambiguity of "Beautiful World" but more specifically in McAnulty's sense of oneness with an old oak – thrumming lower strings – and the luminous woodwind weave spreading a mycelium not just below but around the tenor in "Fungi", a movement which above all others cries out for extension.
The many solos for the CLS players, unobtrusively conducted by Geoffrey Paterson, are rewarding. Birdsong, of course, gives the cue, from dawn chorus to epilogue, and there are some interesting placings around the cathedral: flautist Karen Jones responds from the south aisle of the nave, while Emily Pailthorpe takes her cor anglais to join Morgan in front of the orchestra (pictured right). The attempt at a semi-staging – lighting by Richard Owen, movement by Sarah Dowling – isn't fully realized, leading to moments of tentativeness, and Morgan needs to set down his score for full effect. But he clearly knows and understands his varied and often dangerously high-lying lines, showing no signs of strain, and he's a sympathetic voice for McAnulty.
Reading Holden's distillation of the author's words online – it would be a boon for everyone in the cathedral to have the text – I find there's paradoxically a reduction of the poetry in McAnulty's prose, which needs its special rhythm. But as this is a libretto for an opera of sorts, it needs to be subject to the music. A bold and worthwhile experiment, to be sure, but one we need to hear again in closer quarters and a venue kinder to the words.
Frances-Hoad thrives on contrasts of texture, tempo and mood
rating
Explore topics
Share this article