Prom 31: Frang, BBC Philharmonic, Storgårds |

reviews, news & interviews
Prom 31: Frang, BBC Philharmonic, Storgårds
Prom 31: Frang, BBC Philharmonic, Storgårds
Some musical oddities and a bravura concerto don't quite add up to a satisfying evening
Wednesday, 07 August 2013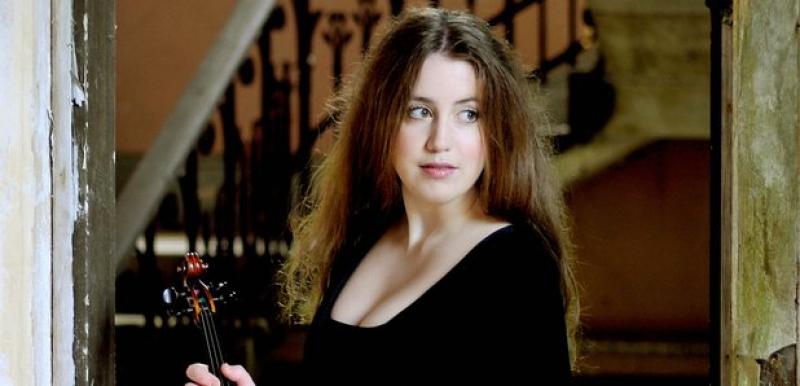 Vilde Frang: 'The real deal, as serious a musician as a performer'
It's hard to find an overarching theme to last night's Prom from John Storgårds and the BBC Philharmonic. We veered from a solidly patriotic opening (Walton, Rubbra) through the high romance of Bruch's Violin Concerto to the murkier stylistic no man's land of Korngold's Symphony in F sharp. Musical emotions were running universally high however, and the cumulative effect was dramatic in the moment, but oddly unsatisfying on reflection.
There was nothing equivocal about the Bruch however, showcasing the talents of the young Norwegian violinist Vilde Frang. Frang is the real deal, as serious a musician as a performer. Although only 27 now she can scarcely be described as an up-and-comer, having performed with the likes of Mariss Jansons since the age of just 13. And it was a mature, lived-in performance that we heard last night.
There's a wonderful clarity to Frang's interpretation that allows her to get straight to the musical point
The opening of the Prelude quivered with neurosis as Frang brought her vibrato right up to a frenzied boil. It was a risky opening, throwing everything at us immediately, and instead of growing from a smaller beginning she chose to draw us more intimate spaces having flung wide the doors at the start. It worked beautifully, as we gathered around the gypsy fire conjured by her double-stopping waiting for her tale to unfold. If the Adagio occasionally lost a little line in its trembling energy, it was all expression, all emotion, but never over-worked. There's a wonderful clarity to Frang's interpretation that allows her to get straight to the musical point, and in the Finale this interpretative directness was paired with a directness of articulation that had Bruch's most joyous melody singing and stamping its way out into the Royal Albert Hall.
In a contest for oddity of the evening it was a close fight between Korngold's Symphony and Rubbra's Ode to the Queen, but the latter won by baffling both structurally and musically. Originally a BBC commission to celebrate the Coronation of Queen Elizabeth II, the Ode is a sort of truncated song-cycle for soprano and orchestra that summons enormous musical forces and even bigger musical drama to not much effect. The vocal writing from such a lyrical composer is decidedly ungrateful, leaping all over the range and sitting too low often to do real battle with such a large orchestra, and though soloist Susan Bickley (pictured below) gave it her valiant all there was no rescuing Rubbra from himself. The poems set in each movement (by Crashaw, D'Avenant and Campion respectively) are lovely but wordy, and getting any clarity of text in this building was impossible. There are some nice touches of orchestration but generally this felt like a bit of a skeleton from the talented and under-exposed composer's closet.
The Korngold Symphony in F sharp is a post-war work and sees the composer turning his back on the film music that won him his fame earlier in his career and (self-)consciously favouring a more abstract approach. Rejecting avant garde techniques, the tonal result feels a bit like Shostakovich-lite and has little of the assurance or richness of the composer's opera writing. The ambiguity of major/minor (deliberately unspecificed in the work's title) haunts each movement but becoming most insistent in the Finale. There's a lot of faintly modernist snipings in the first two movements – the Moderato with its martial suggestions and post-apocalyptic musical landscape, and the Scherzo with its angular scuttlings and rustlings from the strings. Storgårds did his evocative best with the orchestra, who though giving much weren't getting terribly much back from the music;
But even among so much angst Korngold can't resist a good tune and unbends enough to give us the lovely flute second subject (beautifully played here), an innocent voice piping up among the wreckage. The slow movement by contrast never fully shows its hand, keeping its melody suppressed for much of it and delaying (before violently cutting short) its unfolding. As a symphony it's inoffensively pleasant enough, but as a Korngold curiosity it's rather more interesting – a foil to all those glowing soundtracks we all love and a barometer of the composer's later ambition and development.
But even among so much angst Korngold can't resist a good tune
rating
Explore topics
Share this article