Paul Lewis/Hyeyoon Park, Benjamin Grosvenor, Wigmore Hall online/BBC Radio 3 review - tranquil Schubert, fiery Franck |

reviews, news & interviews
Paul Lewis/Hyeyoon Park, Benjamin Grosvenor, Wigmore Hall online/BBC Radio 3 review - tranquil Schubert, fiery Franck
Paul Lewis/Hyeyoon Park, Benjamin Grosvenor, Wigmore Hall online/BBC Radio 3 review - tranquil Schubert, fiery Franck
Locked-down stars take to an empty Wigmore Hall with fervour and equanimity
Paul Lewis: soaring in Schubert
The Wigmore Hall's triumphant series of lockdown lunchtime concerts by the finest of local recitalists is not without an audience; it's just that the performers can't see them.
Conversely, online viewers can watch the artists closely enough to see what fingering pianists choose for the awkward passages, and the sound quality is remarkably fine - though may also depend on your computer or smartphone (I heard Steven Isserlis's recital the other day on my phone from the middle of Richmond Park). It's welcome, as it's all we have at present, but I, for one, refuse to accept that bone-chilling expression "the new normal". There is nothing normal about this.
Yesterday, however, Paul Lewis rose to the occasion magnificently in a programme of fantasy-sonatas that was singularly well chosen (★★★★). Sporting somewhat more than designer stubble, plus music on an iPad balanced inside the piano, Lewis sounded entirely at home, performing as if thinking aloud in this solitary splendour. In Beethoven's Op. 27 No. 2, the "Moonlight", marked 'quasi una fantasia', he offered a splendid sense of contrast between the three movements, each benefitting from both empathy and strong characterisation. The finale was the only storm and stress in the programme and Lewis made the most of it.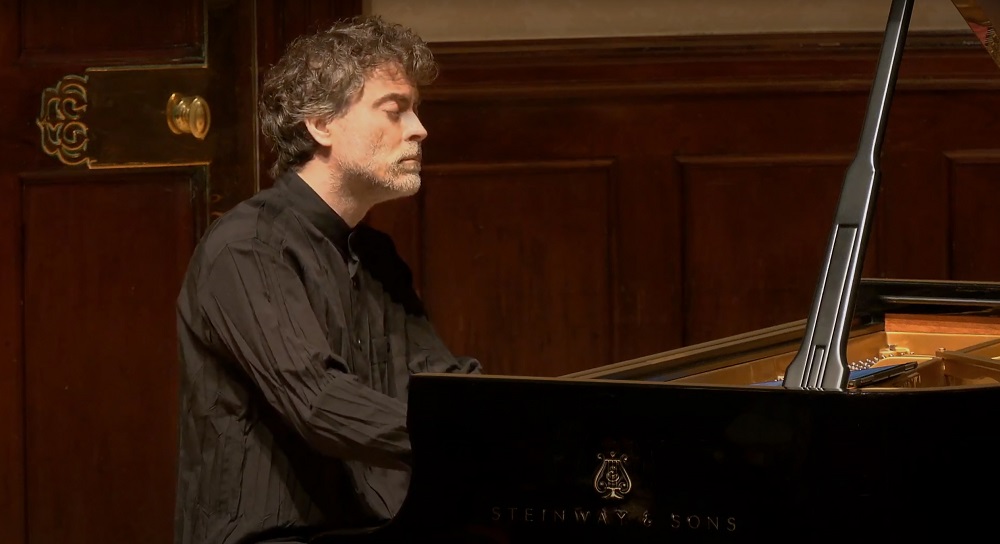 Yet it was the Schubert G major "Fantasy Sonata" D894 in which he truly soared, capturing both the inwardness and the equanimity of Schubert in his most generous, heavenly-length mode. With Lieder-like, eloquent phrases, glowing legatos and heart-stopping nuances at those magical switches from minor to major, this was a near-ideal performance of the perfect work for peaceful isolation, melting radiantly into an ineffable conclusion. As encore he offered Beethoven's Bagatelle Op. 126 No. 5 - tender, calm and just a tad nostalgic.
The inner tranquility of Lewis's playing was a very different story from the fireworks presented the day before by the young violin and piano duo of Hyeyoon Park and Benjamin Grosvenor (though it's ★★★★ for them too). Their programme paired Szymanowski's Mythes and Franck's blockbuster Sonata in A major: this choice works very well, with just the right amount of differences and similarities - though it's slightly dangerous territory, dominated hitherto by an everybody's-favourite classic recording made in the early 1980s by the Polish violinist Kaja Danczowska with her compatriot Krystian Zimerman.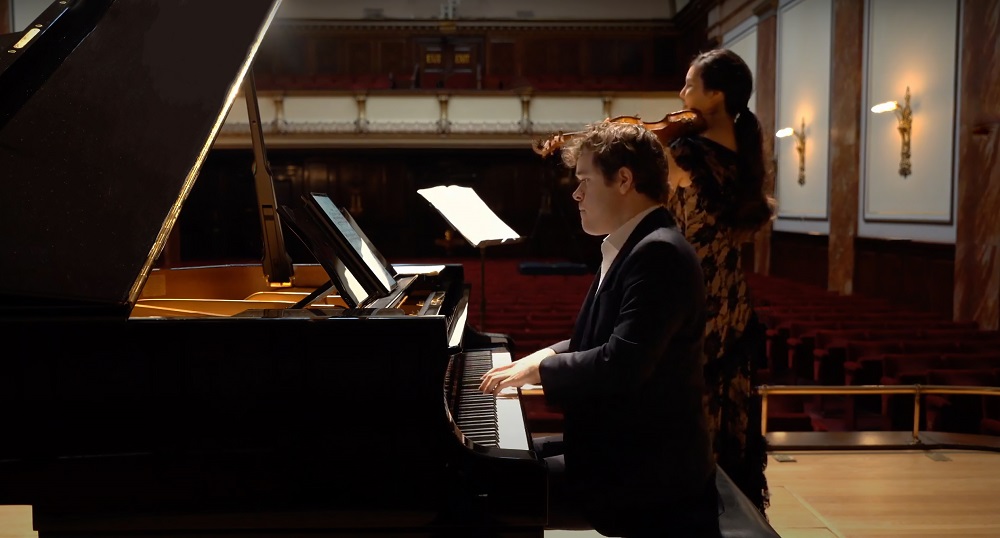 Park and Grosvenor are as well suited to one another as to their choice of repertoire, their duo wholly and apparently effortlessly in sympathy. The Szymanowski - three pieces written during World War I, in which the composer is alternately at his most sensual and occasionally his most irritating - gave Park the chance to shine in a range of iridescent colours. Her refinement of tone in "The Fountain of Arethusa" blossomed out into a rainbowed intensity, and the piping effects in "Dryads and Pan'" which are treacherous high harmonics, were flawlessly projected. At the piano Grosvenor made light and supple work of Szymanowski's complex writing. The Franck Sonata, an altogether more forthright and full-blooded work - it was the composer's wedding gift to the great violinist Eugène Ysaÿe, with a finale full of pealing bells - benefitted from the performers' close ensemble and unanimity of approach, although an impression of excess tension slightly interfered at times with its emotional sweep. This, of all violin sonatas, can use the warmth of a live audience feeding energy back to the musicians.
Lewis delivered a near-ideal performance of the perfect work for peaceful isolation
rating
Explore topics
Share this article