Orpen, Françoise-Green Piano Duo, Aurora Orchestra, Kings Place |

reviews, news & interviews
Orpen, Françoise-Green Piano Duo, Aurora Orchestra, Kings Place
Orpen, Françoise-Green Piano Duo, Aurora Orchestra, Kings Place
An uneven preliminary to the Steve Reich weekend, with older music stealing the show
Saturday, 14 February 2015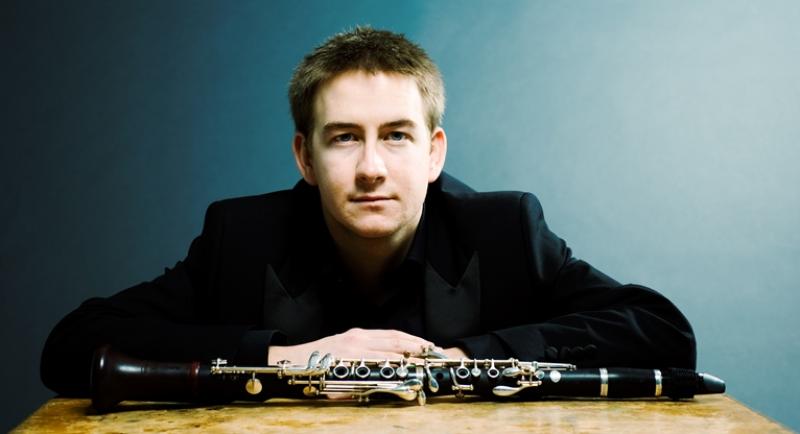 Timothy Orpen and clarinet at rest
Teetering on the edge of a Steve Reich weekend, Friday's concert in the Minimalism Unwrapped series at Kings Place gave us a very mixed grill called "Pulses: Steve Reich and his Influences". In the process it didn't offer all that much of the concert's organisers, the Aurora Orchestra – two flutes, two clarinets, two vibraphones, two pianos, two violins and cellos, and we were done. Still, Reich has never been at his best writing for conventional orchestral forces.
And besides, Nicholas Collon, Aurora's boss, is currently engaged with the Ulster Orchestra. Can't be in two places at the same time.
And who would have wanted to be without the opening dip into the early 13th century? Pérotin's Beata Viscera was powerfully sung in pealing bright tones by soprano Miriam Allan. Only a single line of music, this, with the notes on the page visibly suggesting a fever chart; but the repeated phrases and taut lyricism still led us close to heaven's gate. In interviews Reich has paid particular homage to Pérotin; also to Bach, from whom we heard a cantata duet that needed a smidgen more flow from Allan and mezzo Kate Symonds-Joy to achieve the grave beauty required.
Reich's rhythmic patterns came closer in Stravinsky's Concerto for Two Pianos – neo-classical machinery from the 1930s, not that often performed. Antoine Françoise and Robin Green, former students at the Royal College of Music, handled its nervous figurations neatly enough, though the lack in their playing of bold dynamic contrasts and playful wit produced an experience I'm tempted to call Fifty Shades of Grey.
The presence of both sextets live immediately added a 3D quality to the music's interlocking patternsReich himself then stepped up to bat. So did Timothy Orpen, the Aurora Orchestra's wizard chief clarinettist. Frustration got in the way here too, for he was bubbling through Reich's New York Counterpoint, a piece I'd always prefer to hear with its 12 clarinet lines handled live, not with 11 of them pre-recorded (a thankless "here's one I made earlier" task undertaken for Aurora by Barnaby Robson). I know that rounding up 12 clarinettists on stage is less easy than rounding up 12 dogs. Trouble is, this pulsing piece sounds flattened and rather dry without onstage interaction.
Luckily, Orpen's next appearance gave him room to show off skills other than simple agility. In Bartók's Contrasts for clarinet, violin, and piano, he was the hottest dude on the block, hips wiggling, colours constantly morphing in a part originally written for jazz master Benny Goodman. Thomas Gould, on violin, ran a close second, fizzing away with improvisatory flourish; brandishing, too, a second violin, dazzlingly red, re-tuned to suit a few bars in the finale. Way to go! Antoine Fontaine struck fewer sparks, but you could say the same for the work's piano writing.
One more chunk of Reich was on the menu, the Double Sextet of 2008, the slightly surprising winner of the 2009 Pulitzer Prize for Music. This time, happily, Aurora pushed the boat out and avoided Reich's pre-recorded option. The presence of both sextets live, presented on stage in mirror formation, immediately added a 3D quality to the music's interlocking patterns. That said, I still know the registers of Reich's work I prefer: the abstract, exuberant ensemble works of the 1970s; or the Holocaust echoes and speech-pattern music of pieces like Different Trains. Compared to those peaks, even with Aurora glow, the Double Sextet, like New York Counterpoint, got stuck in the composer's arid middle.
The lack in their playing of bold dynamic contrasts and playful wit produced an experience I'm tempted to call Fifty Shades of Grey
rating
Explore topics
Share this article