National Youth Orchestra, Bloch, Barbican review - blazing and surging odysseys |

reviews, news & interviews
National Youth Orchestra, Bloch, Barbican review - blazing and surging odysseys
National Youth Orchestra, Bloch, Barbican review - blazing and surging odysseys
Anna Clyne does melody alongside razor-sharp Britten and ecstatic Strauss
Thursday, 05 January 2023
Alexandre Bloch drives the NYO to spectacular heights
In precarious times, musical wonders never seem to cease – for now, at least. Who would have thought during lockdown that we'd be back so soon and so frequently to the kind of massive orchestra needed to play a cosmic blockbuster like Richard Strauss's Also sprach Zarathustra? Of the three live performances I've heard since September 2021, last night's, the biggest and youngest (160 players aged 14 to 19), was also the freshest and most exciting.
To hear young people in the National Youth Orchestra of Great Britain playing a supremely challenging work which used to be second nature to hardened professionals, and under such a febrile conductor as Alexandre Bloch, was to return to what so thrilled my teenage self about this intoxicating music, and to the reason why the 20-year-old Bartók, hearing a 1901 performance in Budapest, decided that composing must be his vocation.
Strauss's father once reproached him as a conductor for "serpentine gestures unbecoming in a beanpole such as you" – the son eventually became the model of gestural economy – and those were plentiful from Bloch. But he seemed to focus his vast forces in the big cavalcades. "Of Joys and Passions" swung with hallucinatory impetus into a totally together charge, full-throttle horns edging lustrous string sound. The orgy towards the big chimes at midnight has surely never been more thrilling, making the nocturne-payoff at the end all the more moving. There was plenty of atmosphere in the twilight zones, too, and a silky mystery about the start of the twelve-tone fugue (in 1896!) on to evoke "science and learning" from select numbers of the 12 double basses and 18 cellos (half the double-bassists behind some of the cellists pictured below).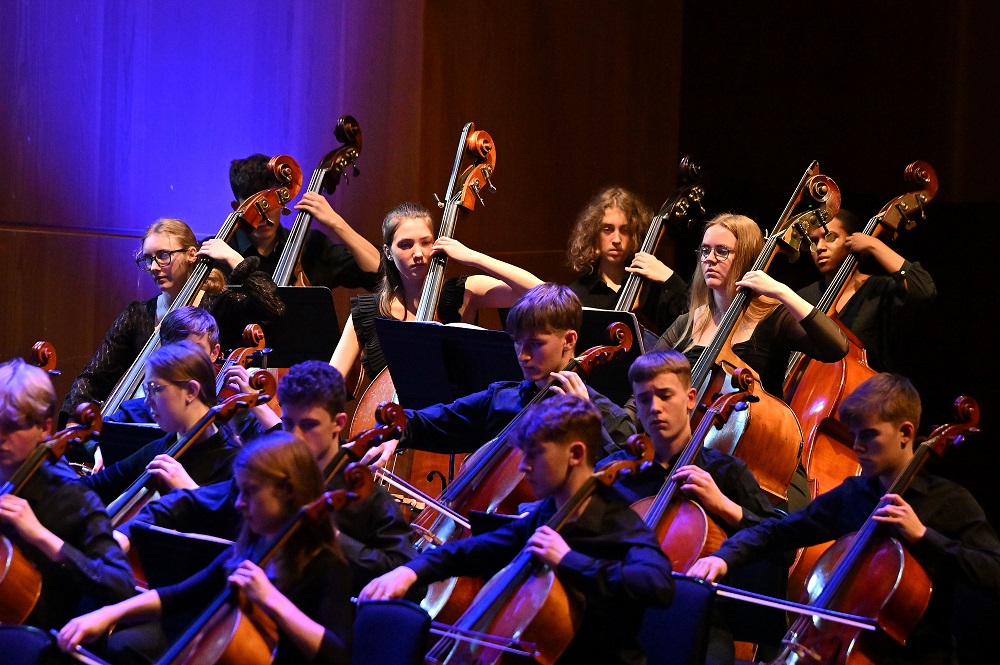 Numbers rarely obscured clarity (though mass clarinets could create the odd problem with unified tuning). In the "Dawn" of Britten's Four Sea Interludes from Peter Grimes – an appropriately bleak way to start the concert year – eight flutes backed 39 violins (apologies if I'm still counting), later taking up piccolos. The edginess of "Sunday Morning" has never sounded quite like this with so many woodwind players, though much work had been done on how many should be playing at any given time. "Storm" was hair-raising, with stunning timpani work and roaring brass.
Totally deserving of this famous elemental company, Anna Clyne's Rift served up a surprise: memorable melody, starting with the viola tune which goes on to be variously harmonized and scored, some of the tunes bravely verging on the banal in the manner of the underrated symphonies of Malcolm Arnold. I'd expected this to be a piece about process, allegedly taking us from "dust" via purifying "water" to "space", and hadn't expected the "hooks" so few contemporary composers bother to provide along the way. In fact the trajectory was hard to make out, despite the non-irritant stage and hall lighting, but the procession of brilliant ideas and quick contrasts, nothing outstaying its welcome, presumably rooted in Clyne's brief to write ballet music in her collaboration with choreographer Kitty McNamee, more than made up for that.
In a bonus at the beginning of the second half – the entire programme was expertly introduced by confident players – a select group of instrumentalists presented a new piece by NYO Associates, Orbit, which had wisely taken a leaf out of Clyne's method in presenting a number of phrases (the first one started on pizzicato strings) against which various patterns could be superimposed: simple but brilliantly effective, like everything in this utterly beguiling and dazzling programme. And the Blue Danube encore, though filleted (shame), brought a singular if rather eccentric lilt under Bloch to end the evening,
Full forces swung with hallucinatory impetus into a totally together charge, full-throttle horns edging lustrous string sound
rating
Explore topics
Share this article