Mozart's Requiem, English National Opera, BBC Two review - strong and direct act of remembrance |

reviews, news & interviews
Mozart's Requiem, English National Opera, BBC Two review - strong and direct act of remembrance
Mozart's Requiem, English National Opera, BBC Two review - strong and direct act of remembrance
Tone and focus quickly established in presentation and performance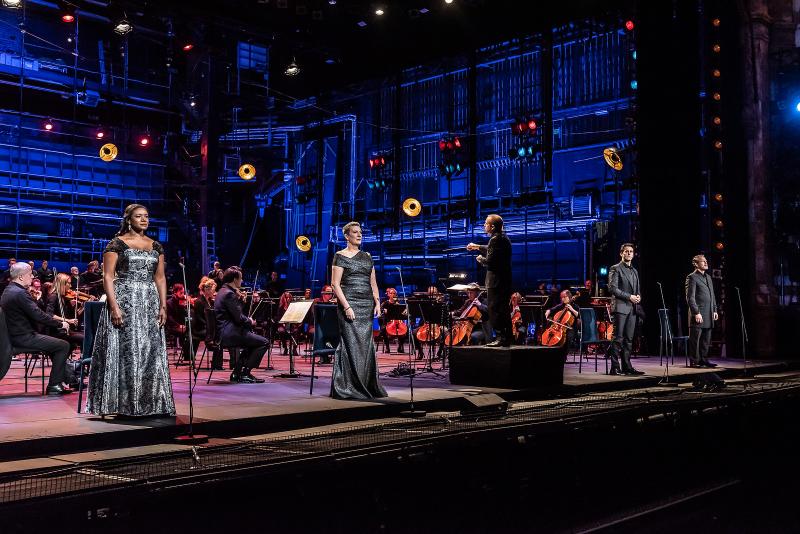 Elizabeth Llewellyn, Sarah Connolly, Mark Wigglesworth, Ed Lyon, Gerald Finley and the ENO Orchestra
It must have felt very strange to Mark Wigglesworth that he returned to the London Coliseum under such unanticipated circumstances.
ENO
's shortest-lived but also (many of us think) best Music Director campaigned from the start for direct communication with the audience, in that magic triangle between composer, performers and spectators, and lived it to the full in all the productions he conducted ("we underestimate the public as performers at our peril," he told me in 2015 before taking up the post). Now, replacing a self-quarantining Martyn Brabbins, his successor, he had his back to an empty house. But he still communicated to his soloists, orchestra and a chorus further away from him, surely, than they've ever been before, to make this a straightforwardly moving hour of television.
The non-invasive BBC Two format respected the mood (peak viewing time, too - though it was up against Strictly over on One) Presenter Danielle de Niese, who last sang here in very different music (Man of La Mancha), kept it brief, respectful, ungushy, with no pushing of the legends around the dying Mozart. There was a short interview with ENO's promising new Artistic Director Annllese Miskimmon, an explanation of why schoolchildren's photos were on the backs of all the stalls seats – over one thousand as part of the I am Here project, making it a very different ENO "audience" from the usual down there, hope for the future – and a brief composite poem delivered by performing artist Kieron Rennie; then we were off after 10 minutes.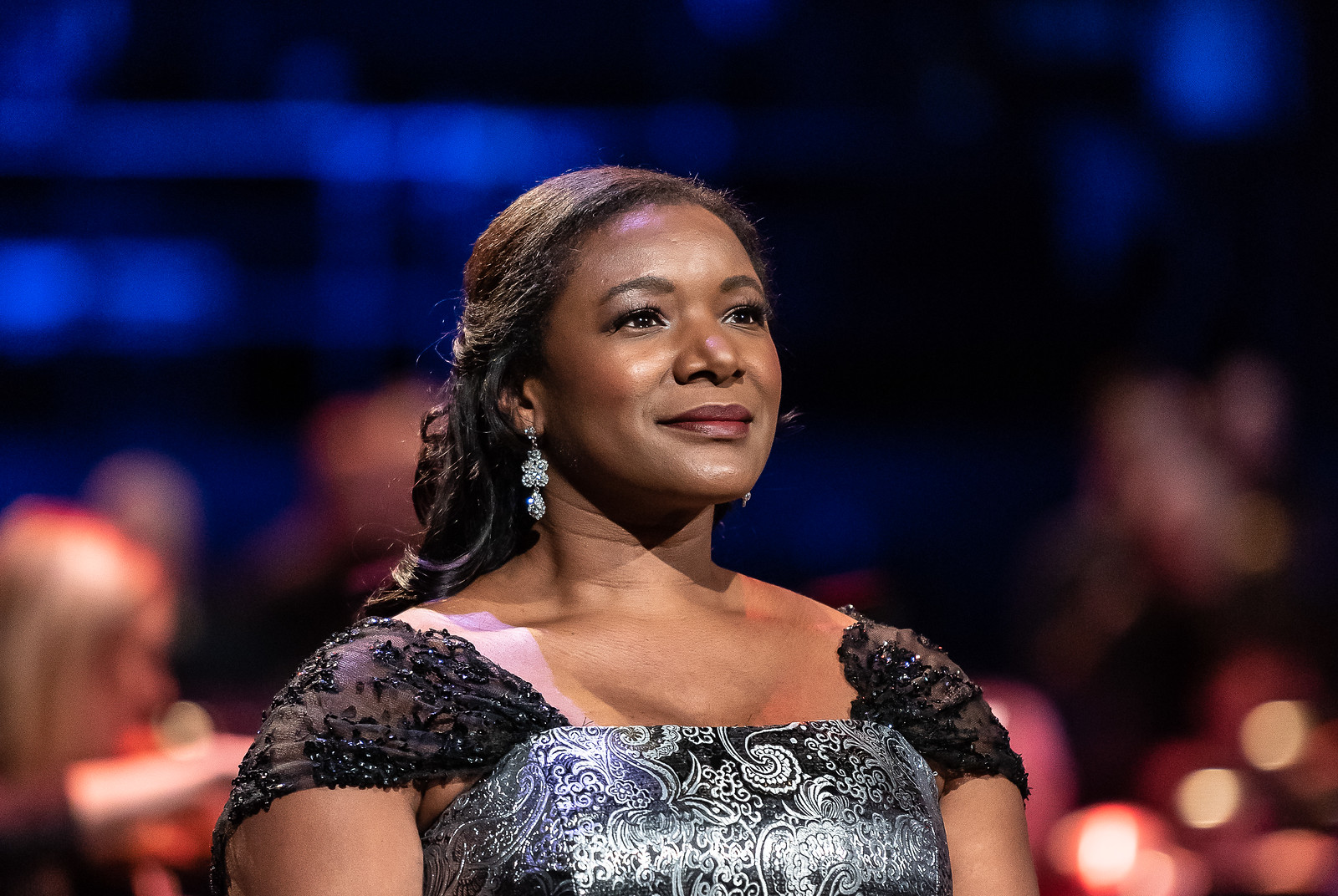 At least three of those soloists – soprano Elizabeth Llewellyn (pictured above), mezzo-soprano Sarah Connolly and bass-baritone Gerald Finley – made you (for which read "me") wish it was the Verdi Requiem and not Mozart's, less than half completed at his untimely death in 1791. With an opera chorus making us very aware from the off they weren't the usual Oxbridge graduate choir you often get in this work, frequently alongside a smaller period-instrument band, you wondered if this was the right choice.The sun-like lamps against the deep blue setting of a much-deepened stage - good lighting throughout, following in the footsteps of the Royal Opera's fine online production values - reminded one that Wigglesworth had connected superbly with a very lively audience in the revival of Simon McBurney's Magic Flute. But time and space are at a premium right now, so that memory of the glory days had to be set aside too.
Come the Dies Irae, the judgment-day canvas which Mozart paints as vividly as any setter of the Requiem Mass, and any doubts were banished: what was authentic turned out to be the directness of expression. Although the chorus would have looked better without their scores, they gave a full sense of the meaning, and the soloists, hands free and living the words as the excellent camerawork told us, would have made anyone understand the general emotion in each phrase even if the specific one wasn't given on screen (only briefly did it seem odd for a company which prides itself on singing in English to deliver a Requiem in Latin without full translation).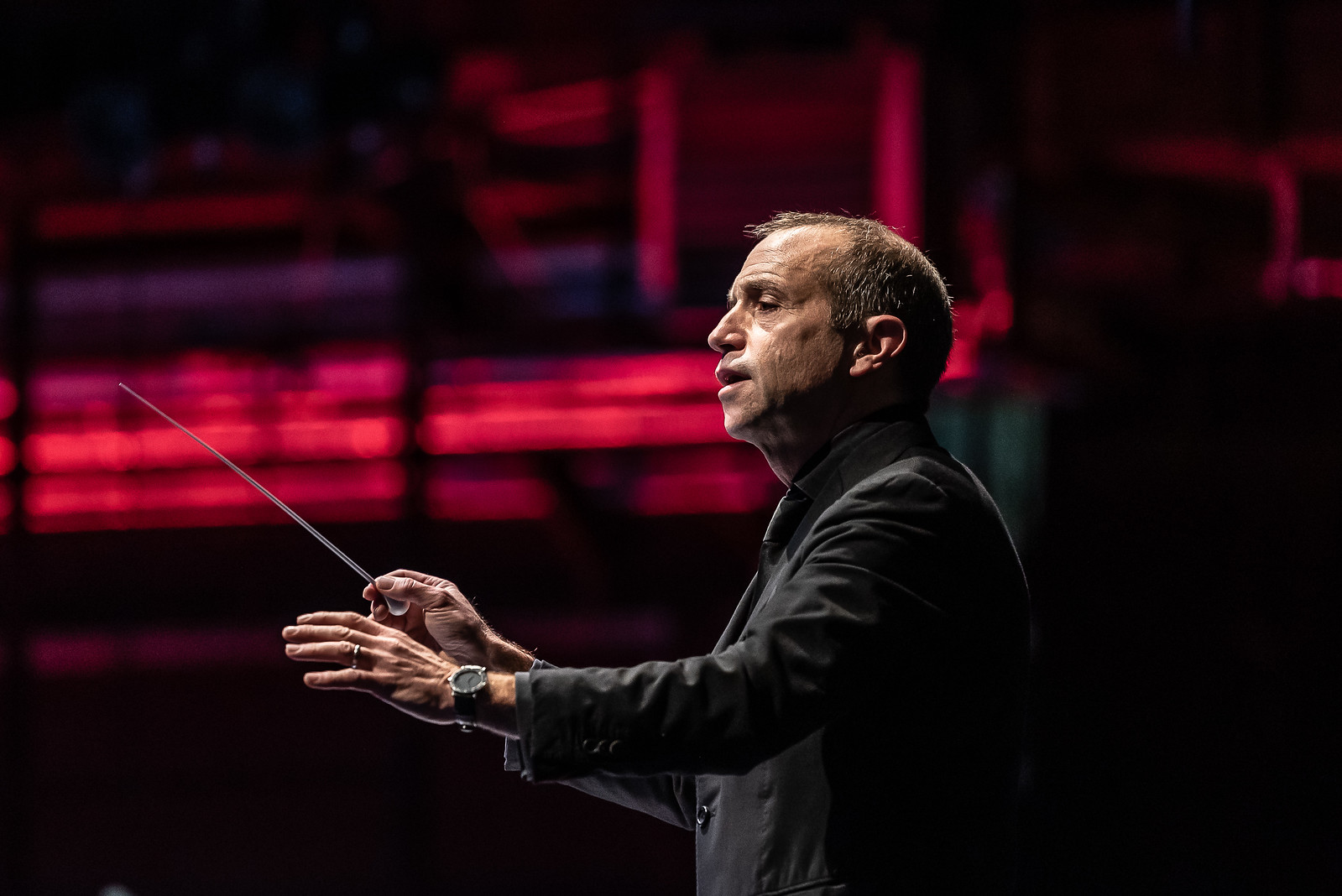 Vocal quartet blending was full and vivid – essentially a Mozart tenor, Ed Lyon was as strong as his colleagues commitment-wise – and the choral fugues caught fire. Wigglesworth shaped the punctuating string commentaries, rounded off the ends of movements with true mastery and conjured the special hushed atmosphere needed to set up the "Lacrymosa", returning to it later in the Agnus Dei. First-rate sound (by veteran Mike Hatch and Floating Earth) allowed all this to tell perfectly.
The last time chorus, orchestra and conductor performer a concert mass together was back in April 2016 for a fast and furious Brahms German Requiem. There was no unseemly haste here, but the later stages gave muscular resistance to the notion that Mozart's amanuensis Süssmayr did a poor job in his completion. Of course there's no substitute for being there - critics hadn't been invited when performances were open to the public before the November lockdown, but I would have bought a ticket for this one, if not for the drive-in La bohème at Alexandra Palace. But given the limits of streaming, it still felt natural, inevitable and remained intensely dramatic. A dedicated job well done.
Wigglesworth still communicated to his soloists, orchestra and a chorus further away from him, surely, than they've ever been before
rating
Explore topics
Share this article