Martin Fröst, Roland Pöntinen, Wigmore Hall |

reviews, news & interviews
Martin Fröst, Roland Pöntinen, Wigmore Hall
Martin Fröst, Roland Pöntinen, Wigmore Hall
Clarinet capers at Wigmore Hall as Martin Fröst once again reinvents his instrument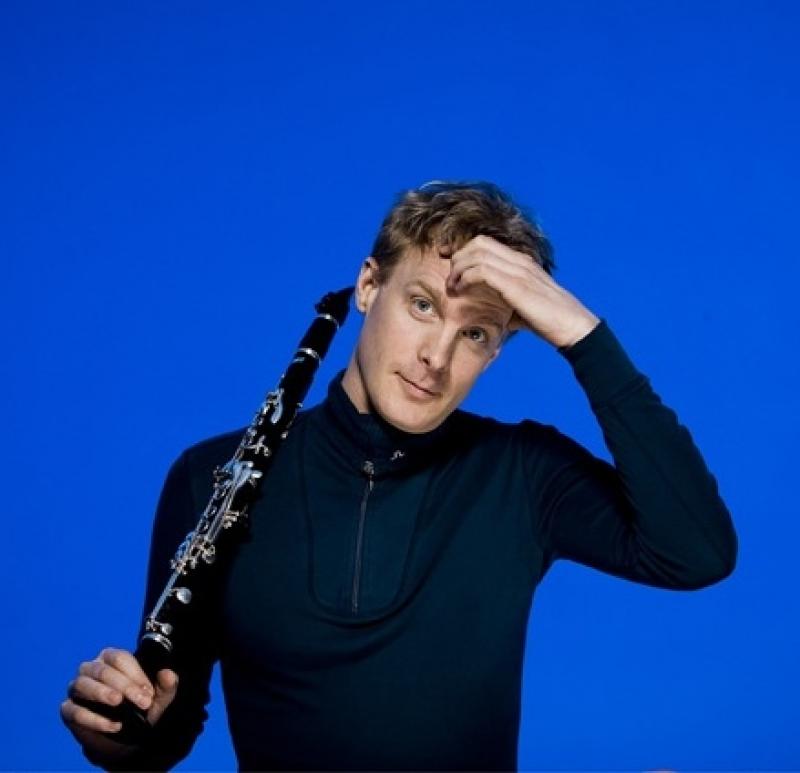 The feline Martin Fröst - actor, dancer, and clarinettist
It's tempting to say that if Martin Fröst didn't play the clarinet then he'd be an actor or a dancer. But he is an actor and a dancer and at one point during this scintillating recital he even sang, too – whilst playing the clarinet at the same time, of course. That's a given. It's an extension of his lissom body, and in his shiny grey silk suit and untucked shirt he looked decidedly feline. Ever heard a clarinet purr? Ever heard it yowl, scamper, hiss, scratch?
Has anyone ever pulled so many colours from the old liquorice stick?
His programme with pianist Roland Pöntinen – adhering to Fröst like a second skin – was very much built around dance in its many guises. Witold Lutoslawski's Dance Preludes alternated between the folksily frenetic and the sensuously soulful. We know that Fröst can articulate like a demon, his fingers a blur of hyperactivity, his head hunched forward ready to pounce or flung back in a kind of wild ecstasy. But then he'll produce exquisite legatos on barely a breath of sound. The two Andantino movements of the Lutoslawski were sweet nothings whispered in our collective ears.
And what other clarinettist makes one think of gypsy fiddlers in the sheer panache of their pyrotechnics? He doesn't articulate like a wind player but rather with the speedy audacity of a well-rosined bow on gut strings. He and Pöntinen pretty much out did Brahms' muse Joachim with their lithe and beguiling take on four Hungarian Dances. But in between came Francis Poulenc's divine Clarinet Sonata – a mix of cartoonish animation and jazzy small hours solitude. Fröst's knees bent, his body twisted and turned seductively as he traced out the central Romanza in phrasing you could see as well as hear and feel. Absolute control and sheer poetry. The pianissimo return was miraculous.
The second half was yet more exotic. Debussy's Première rhapsodie was a siren song, haunting and febrile, awash with decadent blue notes; Jean Françaix's Tema con variazioni was louche and then circus-like with a cadenza which stretched dynamics like slapstick. And then it was tango time as a single note emerged on a slow crescendo from nothing (how does he do that?) and he and Pöntinen slunk into Astor Piazzolla's Oblivion like the perfect dancing partners they are and moved in perfect symmetry to its aching pas de mort.
The Klezmer came last – a raucous and inevitable grand finale in which Fröst pulled out all the special effects he hadn't yet deployed – the lewd glissandi, the slurs, the coarse gravelly overtones, the fluttery high-speed gallops. The familiar "knees-up" ditties came thick and fast, he and Pöntinen (again joint arrangers) coming on strong like a shambolic chorus line from the Yiddish Theatre.
And if you foolishly thought there was no following that, you won't have reckoned upon his powers of persuasion to engage the entire audience in a chorus of the Bach/Gounod Ave Maria with his own limpid accompaniment. That was bizarre, to say the least, but no more, no less, than you would expect from Fröst. He is nothing if not a surreal experience, a true performance artist, as unpredictable as he is brilliant.
Explore topics
Share this article