Kanneh-Mason, LMP, Martín, Fairfield Halls review – modest mastery on show |

reviews, news & interviews
Kanneh-Mason, LMP, Martín, Fairfield Halls review – modest mastery on show
Kanneh-Mason, LMP, Martín, Fairfield Halls review – modest mastery on show
French polish from the cello star of the moment
A volume from the library of cellists' faces: Sheku Kanneh-Mason at the Fairfield Halls in Croydon
The soap-opera saga of the House of Windsor may not have been what the executive director of the London Mozart Players had in mind when she announced from the stage that Sheku Kanneh-Mason "is completely relevant for us".
Four years on from winning BBC Young Musician and two years since playing at the wedding of the wantaway Duke and Duchess of Sussex, the 20-year-old
cellist
bears an impossibly heavy burden summed up in another dread phrase, "the future of classical music". Yet he wore it lightly and with some style last night, playing the First Cello Concerto by Saint-Saëns to a full house in Croydon.
Formerly over-played and over-interpreted as a star vehicle for cellists in search of French fireworks, the Saint-Saëns deserves revival on a more intimate scale. It's a shrewd choice for Kanneh-Mason to take on early in his career, and he has the full measure of its unconventional form – three movements in one 17-minute span – and Mendelssohnian refinement, almost too fluent for its own good. The central section's antique minuet achieved a rare delicacy without searching for undue profundity.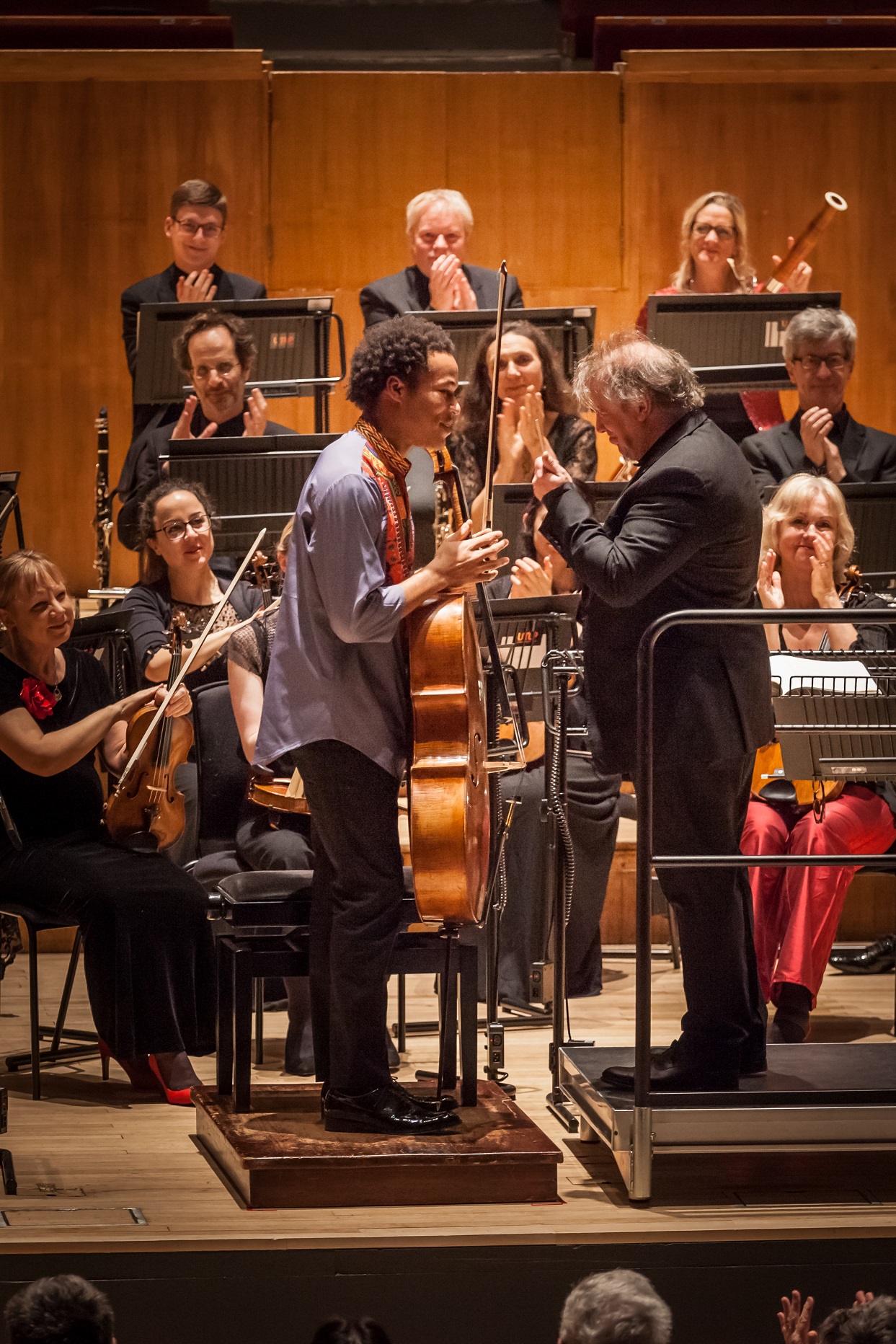 If Kanneh-Mason (pictured right with conductor Jaime Martín) didn't quite nail the concerto's concluding flourish, his understatement had a winning charm of its own. Full marks, too, for the encore: an ingenious arrangement of "The Swan" from Saint-Saëns's Carnival of the Animals, subtly underscored by Sebastian Comberti at the principal cello's desk with an accompaniment derived from the Prelude to Bach's First Cello Suite.
A child prodigy himself, Saint-Saëns took Mozart as his model, and the concert had opened with a spacious, carefree account of the "Paris" Symphony. After an interval prolonged by a signing session, during which seemingly half the audience wanted a piece of Kanneh-Mason, or at least a selfie, the fizz slightly went out of the bottle in the second half. The fade to black at the close of Ravel's Pavane pour une infant defunte was nicely judged – responding to the minuet in the concerto with another wistful nod to gentler times – and the Symphony by Bizet popped open with promise, but this youthful masterpiece doesn't play itself, and the Schubertian revels of the finale sagged under Jaime Martín's heavy beat.
Kanneh-Mason's understatement had a winning charm of its own
rating
Explore topics
Share this article