Goosby, RSNO, Bringuier, Usher Hall, Edinburgh review - lyrical colour and dynamic brilliance |

reviews, news & interviews
Goosby, RSNO, Bringuier, Usher Hall, Edinburgh review - lyrical colour and dynamic brilliance
Goosby, RSNO, Bringuier, Usher Hall, Edinburgh review - lyrical colour and dynamic brilliance
A dazzling young violinist and a first-rate stand-in conductor offer terrific Tchaikovsky
Randall Goosby with Lionel Bringuier conducting the Royal Scottish National Orchestra
When a publication as venerable as Gramophone features an artist on its front cover, it's a surefire sign that they've hit the big time. This month that honour fell to young American violinist Randall Goosby and, coincidentally, he was the soloist for this week's concerts with the Royal Scottish National Orchestra. I hadn't come across him before this double encounter but, if his Usher Hall performance is anything to go by, then the hype around him is justified.
The beauty, poetry and sheer confidence of his performance of Tchaikovsky's Violin Concerto was a marvellous thing to witness. Partly it was in the way Goosby stood: rock-solid throughout, scarcely moving, and never giving any flashy touches of pizzazz though, in a nice touch, during his periods of silence he would often turn towards the orchestra rather than the audience, as though to acknowledge them and to hail their contribution.
Goosby's way with the music was really special, his violin tone silvery at the top with rich warmth in the lower register, and the calm determination with which he approached the score freed him to inject lyrical colour and dynamic brilliance into his phrasing. The first movement's main theme was rich and smooth, while the second movement was more operatic aria than canzonetta, rich with feeling and ripe with a gorgeous sense of longing. The Russian dance of the finale was full of heel-kicking energy, where even Goosby's passagework sounded clear and characterful. (PIctured below: Goosby in rehearsal).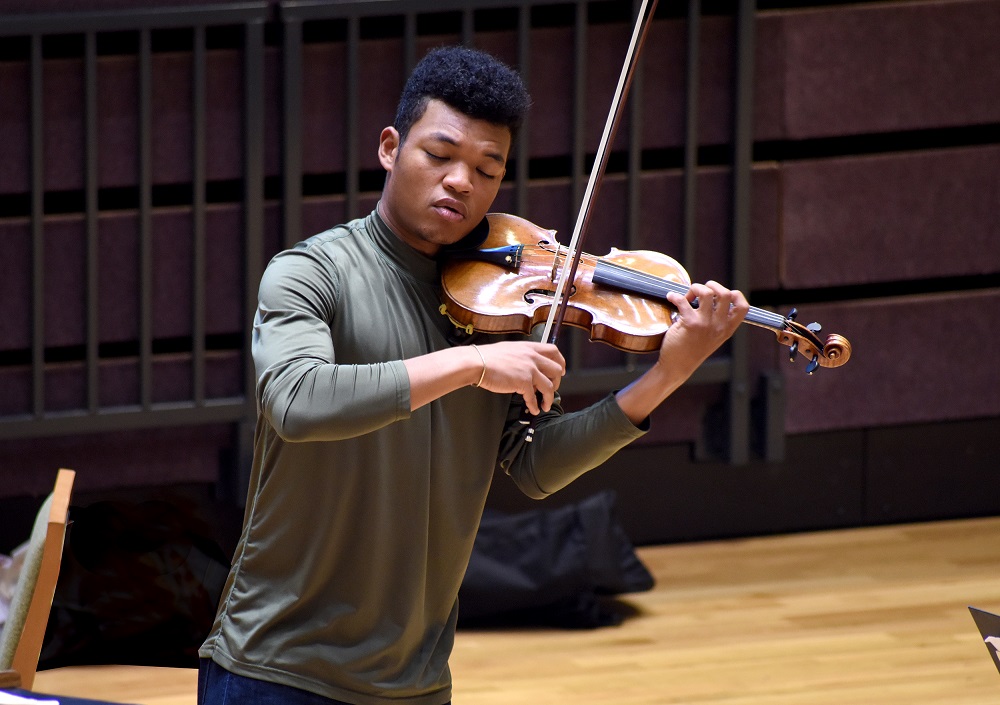 Conductor Lionel Bringuier, who had stood in at very short notice, held soloist and orchestra in a lovely balance, and the orchestral sound felt gloriously buoyed along in the big tutti sections. Among many noteworthy details, the flute line floated in beautifully after the first movement cadenza, and the cellos had a terrific time during their hurdy-gurdy moments in the finale.
Orchestra and conductor were even finer, however, in a top-notch performance of Tchaikovsky's Sixth ("Pathétique") Symphony, finely shaded and precisely sculpted. The opening alone seemed to contain fifty shades of dark, each one very distinctive, with piercing winds and shadowy strings. The great major-key theme, when it finally appeared on the strings, was suffused with longing and surging with passion before being subsumed into a cauldron of passion in the central development. Hard-edged timps lent extra drama to a thundering climax, out of which crawled a love theme that seemed to cling on in defiance despite all its adversity; a marvellous moment. The waltz was assertive and deliberate, while Bringuier's tempo for the march, slightly slower than usual, gave it an extra edge of precision, leading into a finale that rose to heights of passion before sinking into depths of despair and a long-held silence before the audience dared to clap. Conductors who step in at short notice are always heroes, but there was definite chemistry here, alongside palpable drama. I hope it's a relationship the RSNO can cultivate again.
As a curtain-raiser, David Monrad Johansen's Pan couldn't hold its own in such great musical company. It's tonal, descriptive, and pleasant to listen to, but also pretty circular and seems to spend its time waiting for a climax that never quite arrives. An interesting novelty, but ultimately rather bland, and I doubt I'll be seeing Johansen's name on many more concert programmes.
The calm determination with which Goosby approached the score freed him to inject lyrical colour and dynamic brilliance into his phrasing
rating
Explore topics
Share this article