Glennie, Lubbe, Ticciati, O/Modernt, Kings Place review - a Pergolesi-based dud |

reviews, news & interviews
Glennie, Lubbe, Ticciati, O/Modernt, Kings Place review - a Pergolesi-based dud
Glennie, Lubbe, Ticciati, O/Modernt, Kings Place review - a Pergolesi-based dud
Expressive Schoenberg masterpiece the best of slim pickings
Saturday, 19 October 2019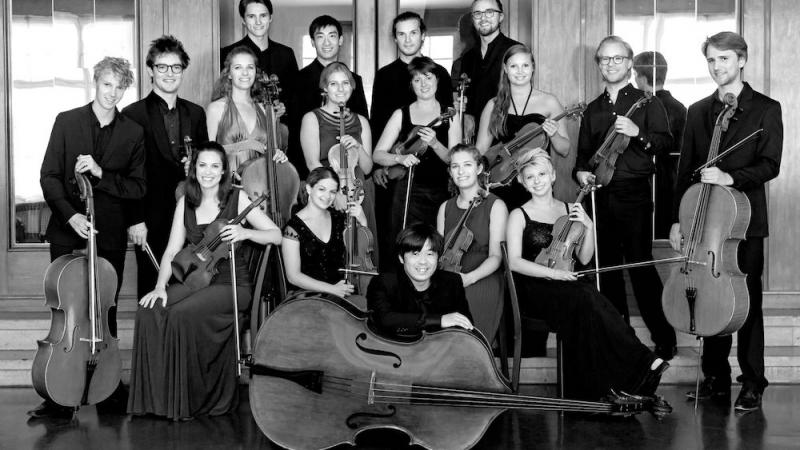 O/Modernt Chamber Orchestra with their director Hugo Ticciati
Some of the greatest pieces of the string orchestra repertoire are based on pre-existing pieces: the fantasias by Tippett and Vaughan Williams, on Corelli and Tallis respectively, treat their starting material with invention and sweep, creating something new, bigger and better than their sources. But throughout Lera Auerbach's Dialogues on Stabat Mater (after Pergolesi) last night I felt nothing other than the desire to hear the Pergolesi original, unadorned and unmeddled-with.
The shallowness of Auerbach's work was only thrown into greater relief by the masterpiece that followed it:
Schoenberg
's
Verklärte Nacht,
which gave O/Modernt and Hugo Ticciati something worth getting their teeth into.
Percussionist Evelyn Glennie, surely the main draw of the evening, spent most of the time lurking anonymously at the back. The one time she took centre-stage was for the opening improvisation, and this was difficult to take seriously. If you asked a comedy sketch group to parody an experimental piece on the subject of motherhood, for untuned percussion and violist also doing overtone singing, then what they'd come up with would be Mother of Sound. It was, sadly, a bit risible. And for all the delicate textures Glennie coaxed from her battery of instruments, the gap between the sincerity of her and Gareth Lubbe and the thin musical content was wide. It was at least short.
Pergolesi's Stabat Mater, written in 1736 in the final weeks of his short life, is an extraordinary piece, its harmony pushing at the edges of what was possible at the time, and its emotional impact shattering. It is written for two solo singers and string orchestra: in Auerbach's Dialogues the singers are replaced by solo violin and viola. Much of her piece is straight or straight-ish transcription of the original. Other sections veer off into wildly dissonant and modernist textures that don't seem to bear much relation to the Pergolesi. Very rarely is there any of the promised dialogue, a middle ground between the two composers. There were one or two striking episodes of hushed stasis, the players playing so quietly I was conscious of the bow-hair moving slowly over the strings, but these were fleeting moments in a very long piece. Evelyn Glennie's vibraphone seemed an unnecessary add-on, sitting outside the ensemble and serving no obvious function. It blended as well as you would expect a vibraphone to blend with a string orchestra: not at all.
All of this made it more frustrating that the playing was very good. Hugo Ticciati is a wonderful musician, visibly engaged with the other O/Modernt players and audibly doing his best to advocate for the piece with committed and passionate playing. He and Gareth Lubbe (pictured above) combined well in their duo passages, but their skill was wasted on this music.
The Schoenberg that followed the interval is a proper masterpiece, heard here in its 'orchestral' scoring, although, with only 17 players led by Ticciati from the violin, it was really an expanded chamber music. The players found a wonderful range of colour, from the creepy darkness of the opening, to the later ecstatic wide-spaced chords that sound like the sun rising. The harmony owes a lot to Tristan and Isolde, restless, never resolving, full of angst and high emotion. But O/Modernt also found beautiful moments of little or no vibrato, like a palate-cleanser in the middle of a rich meal. The only misjudgement was Lubbe adding vocal overtones to the final chord. But, I suppose, overtone singers gonna overtone sing.
The concert should have ended there, but Albert Schnelzer's Apollonian Dances were tacked on, possibly just to get Evelyn Glennie back on stage. A perfectly serviceable piece by a composer I don't know, well-scored and with passages of suitably Apollonian abandon, it felt superfluous after the dark brooding of the Schoenberg.
Glennie's vibraphone blended as well as you would expect a vibraphone to blend with a string orchestra: not at all
rating
Explore topics
Share this article