First Person: young composer Chris Brooke on his fanfare for the Coronation Bandstand Project
First Person: young composer Chris Brooke on his fanfare for the Coronation Bandstand Project
Music for Youth's big venture celebrated by one of its musicians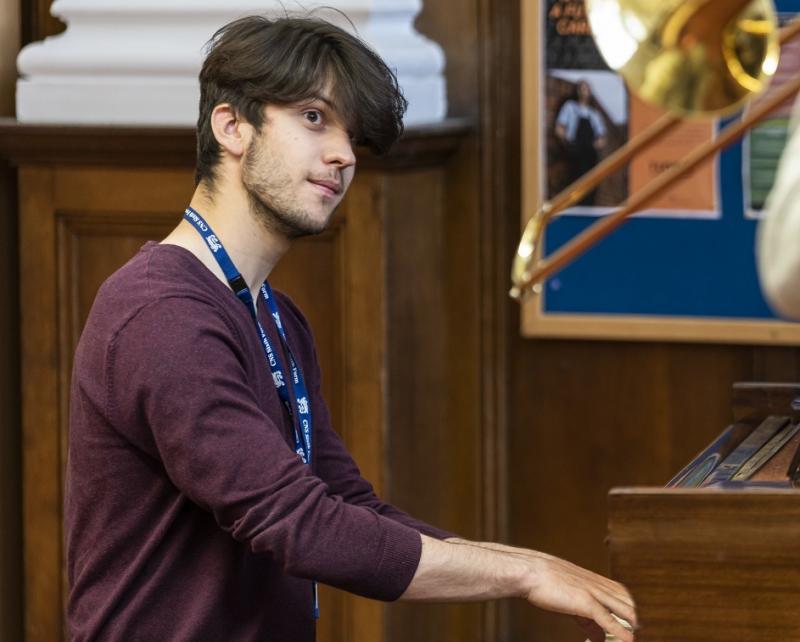 Chris Brooke, composer of 'Looking Forward'
Having started my musical journey with the clarinet at the age of seven, I've enjoyed 12 years of making music since, playing in recitals and concerts both as a soloist and in an array of local ensembles. I have always had an interest in writing music – experimenting with it for about as long as I've been playing – but I started studying composition formally in 2017 with David Stowell at Guildhall Young Artists Norwich.
I've since been lucky enough to continue writing music both to develop myself as a composer, and also for competitions, commissions, and fellow musicians. As a musician I've been motivated to explore a range of genres and opportunities, playing a variety of instruments along the way. I'm very excited to be taking up an undergraduate place at the Guildhall School of Music and Drama studying classical composition in September 2023.
With writing the fanfare for Music for Youth's Coronation Bandstand Project, I found intrigue in the challenge of balancing different aspects of the brief. I was eager to stay true to my own style and voice as a composer whilst preserving the sentiment of the piece. I was inspired by 20th century composers like Arthur Bliss and Paul Dukas, whose music I found to be both progressive and coloured, but also palatable and consonant. I named the piece Looking Forward – representing both looking to a new era of the British monarchy, but also the future of music in Britain with an event that brings together such a massive number of young musicians to perform across the country. The fanfare itself features two melodic ideas, one bright and bold, and another that is lyrical and reflective. These take the listener on a journey through themes of determination and uncertainty, but with a prevailing sense of triumph and optimism.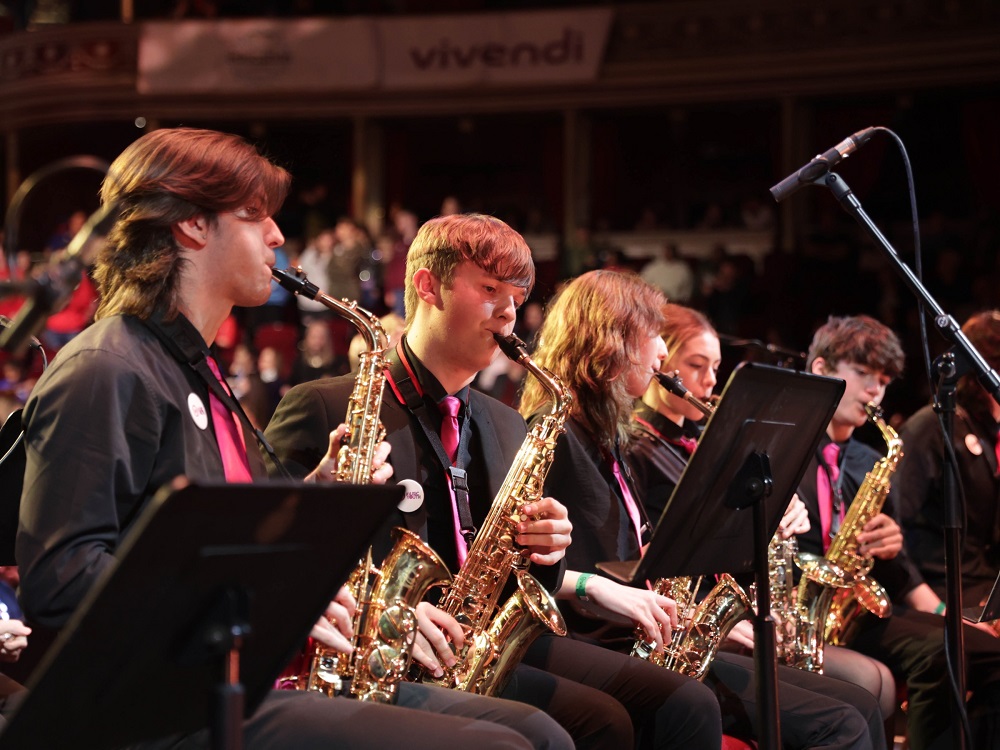 Music for Youth is a national youth music charity who provide free, life changing performance opportunities to thousands of young musicians. I've been fortunate enough to be involved in a number of events hosted by Music for Youth in the past, where I've performed alongside my peers in venues such as the Royal Albert Hall (pictured above among the saxophonists) and Symphony Hall as part of Norfolk Music Service's Ensemble programme at the National Festival and Music for Youth Proms.
After benefitting so much from these incredible experiences and opportunities for so many years, I am grateful to have received the commission to write the fanfare for the MFY Coronation Bandstand Project. The fanfare will be performed by all participants, which is really exciting. The Coronation Bandstand Project is a brilliant national event which will see thousands of young people performing on bandstands in public parks at multiple events across the country, bringing communities, families, and friends together over the bank holiday weekend and enabling young people and music to play an important part in celebrating this historic occasion.
Being part of an event that champions young people making music is something I'm very passionate about as I really believe in the importance of music and the arts in both education and wider society. To have my music be played and heard by so many people around the country is a prospect that is both exciting and a touch daunting, but I'm overall very proud to have contributed to such a massive occasion and can't wait to hear the final result.
This is a brilliant national event which will see thousands of young people performing on bandstands in public parks across the country
Explore topics
Share this article