Edinburgh Fringe 2017 review: Concerto for Comedian and Orchestra - gentle, old-fashioned humour |

reviews, news & interviews
Edinburgh Fringe 2017 review: Concerto for Comedian and Orchestra - gentle, old-fashioned humour
Edinburgh Fringe 2017 review: Concerto for Comedian and Orchestra - gentle, old-fashioned humour
Vikki Stone's musical comedy show needs edgier material to live up to its potential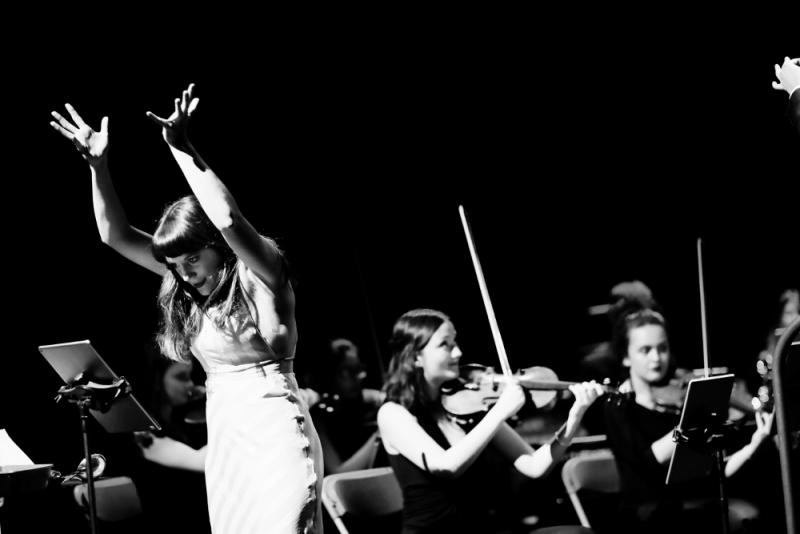 Vikki Stone: subverting classical clichés with the National Youth Orchestra of Scotland Camerata
It's a tricky thing to get right, musical comedy. For every Victoria Wood, Tim Minchin or Bill Bailey, there are others – plenty of them at the Edinburgh Fringe, in fact – who find it more of a challenge to meld together the two forms so that they complement each other rather than compete.
Comedian and composer Vikki Stone – trained at London's Royal Academy, and a respected purveyor of comedy songs (as well as presenter of the BBC Proms podcasts) – is nothing if not ambitious in her Concerto for Comedian and Orchestra, which was given a one-off Fringe performance with the crack young musicians of the National Youth Orchestra of Scotland Camerata (pictured below, with Vikki Stone), following performances at the Glastonbury and Latitude festivals. It's a full-scale, hour-long piece and, as its name suggests, brings together stand-up storyteller and classical ensemble, across several movements that play wittily with classical conventions – whether we're allowed to clap between them; a slow movement on a slow subject; even the addition of a movement 1a to accompany the arrival of those pesky latecomers.
Stone's Concerto has got a lot going for it, not least its wry subversions of well-worn musical clichés. Top of the list is the viola joke, which Stone resorts to as a self-aware last resort when all else fails, only to have her viola section unexpectedly turn against her. Her comparisons between orchestral instruments and kitchen implements are spot-on (although pity the poor bassoonist, compared with a spork), and she choreographs her delivery with her self-composed music beautifully – brass parps covering up for her swearing, for example.
But in the end, Stone's Concerto feels more like the gentle, good-natured, rather old-fashioned humour of someone like Gerard Hoffnung than anything more cutting or contemporary. She attempts to spin together a poignant, Daniel Kitson-style tale of lost loves and preposterous coincidences with her music-mocking material, with the result that neither feels properly mined for laughs.
The young NYOS Camerata musicians played brilliantly, however, going way beyond the call of duty in Stone's sometimes merciless send-ups. And young rising star conductor Ben Glassberg was a wonderfully precise, demanding presence on the podium – and mute sidekick to Stone, too.
It's a neat concept with bags of potential, and with some sharper, edgier material, Stone's Concerto for Comedian and Orchestra could be something of a masterpiece.
Stone resorts to the viola joke a self-aware last resort, only to have her viola section unexpectedly turn against her
rating
Explore topics
Share this article