Dandy, BBC Philharmonic, New, Bridgewater Hall, Manchester review - energy and fierce attention |

reviews, news & interviews
Dandy, BBC Philharmonic, New, Bridgewater Hall, Manchester review - energy and fierce attention
Dandy, BBC Philharmonic, New, Bridgewater Hall, Manchester review - energy and fierce attention
Gustav and Alma Mahler, and pictorial music, are linked in a fascinating programme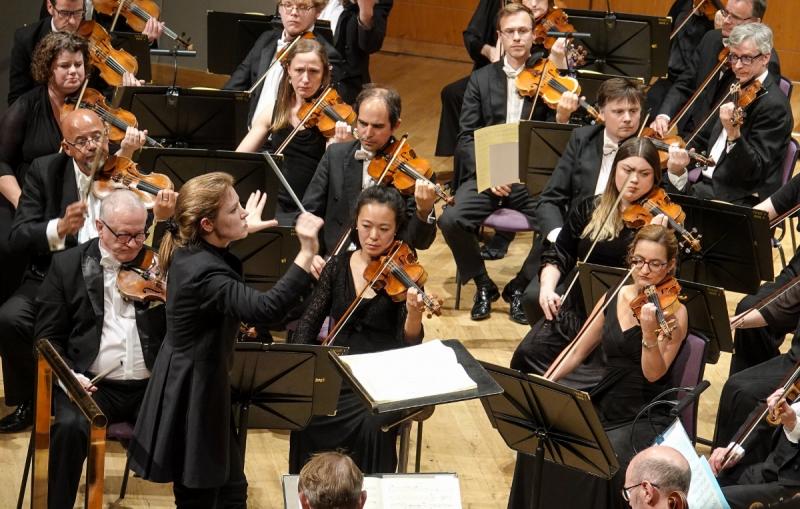 Subtle handling of orchestral textures: Gemma New conducts the BBC Philharmonic
Saturday's concert by the BBC Philharmonic was in large measure about the Mahlers – Gustav and Alma. The former's First Symphony formed the substantial second part of the programme: Frau Mahler was the inspiration of the piece that opened the evening. New Zealand-born Gemma New returned to Manchester to conduct: we saw her last October on the Hallé rostrum, and the energy and fierce attention she brought then were even more evident this time.
That first piece was Die Windsbraut, by Alissa Firsova (daughter of Elena and of Dmitri Smirnov), a short essay in putting pictorial ideas into music, being based on Oskar Kokoschka's famous painting of the same name. (Alma met him soon after Gustav Mahler had died and their relationship inspired much of his work: this one clearly shows the two of them side by side, she with eyes closed, he with open eyes and meditative stare, in the centre of a whirling storm of impressionistic colour).
Alissa Firsova's own programme note takes you in detail through the storyline she sees behind this image: if I'd not read it I would have been aware of the brewing of a storm and the passion of the two protagonists, giving way to a prolonged period of tranquillity, with atmospheric use of percussion sound effects, and then a return to the storm in even more climactic manner, before a quieter ending – and something very like a final cadence to seal it all.
There is a multitude of rhythmic and melodic ideas jostling for attention, and at least one theme that's recognizably a real tune: the brass have some fine moments, and in fact the instrumentation throughout is almost worthy, and a little reminiscent, of Gustav himself.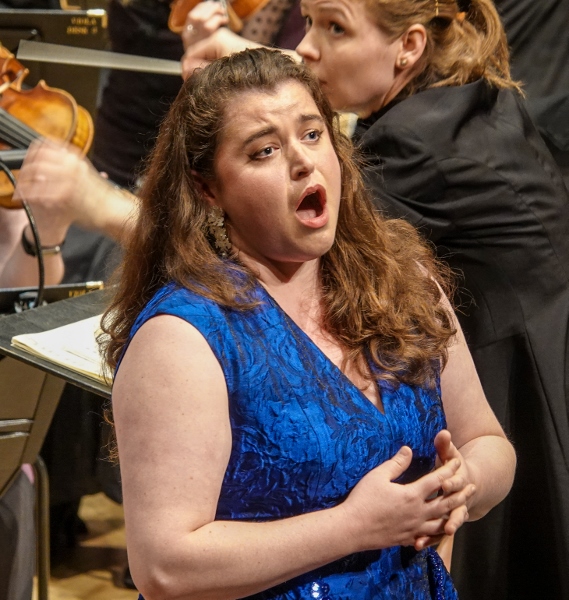 From one evocative picture to a whole sequence of them: Jess Dandy (pictured) sang the contralto solo, first written for Clara Butt, of Elgar's Sea Pictures song cycle. Thomas Beecham once said that Clara Butt's voice could be heard "on a clear day, on the other side of the Channel", and it needs power to do justice to the solo role in some of the orchestral writing in the work, which dates from almost the same time as the Enigma Variations and has the same delight in surging sound (with an organ part to boost it) as well as delicate effects. Jess Dandy was content for the low-lying voice tessitura to flow into the orchestra's lines in the opening seascape, but projected her own personality into focus for "In Haven (Capri)". Then for the big central setting of Browning's "Sabbath Morning at Sea", and the remainder, she brought as much passion and poetry in her singing as Elgar did to his writing.
The final two songs were also marked by Gemma New's subtle handling of the orchestral textures, with lovely dancing rhythms, idiomatic phrasing and a beautiful and sensitive ending to "Where Corals Lie" and a wonderfully dramatic treatment of "The Swimmer". I'd love to hear this conductor tackle more of Elgar's works.
New had plenty to say in Mahler's First Symphony. Clarity of articulation and careful pacing were apparent in the opening movement, the gradually gathering tension skilfully handled before an explosion of excitement, with the Philharmonic brass in splendid voice, as the movement hit its high-point. She has, too, a knack of radiating energy and receiving it back from an orchestra, as the Ländler-like second movement showed in its rollicking rhythms, while the Trio section had a very Austrian charm as she brought one telling phrase after another to the forefront. The klezmer-ish music of the third movement was full of the most gorgeous hesitations and anticipations (with the strings, led by Yuri Torchinsky, especially winsome).
And that ultra-upbeat finale had bounding optimism and confident emphasis, alternating with disarming tenderness and, at times, a rare kind of emotional honesty. Rhythmic discipline swept the music forward and the final pages were every bit as climactic as expected.

I'd love to hear this conductor tackle more of Elgar's works
rating
Share this article