Currie, LPO, Vänskä, Royal Festival Hall |

reviews, news & interviews
Currie, LPO, Vänskä, Royal Festival Hall
Currie, LPO, Vänskä, Royal Festival Hall
Artistry galore from percussionist Colin Currie in a Finnish world premiere, but why is the music like washing on a line?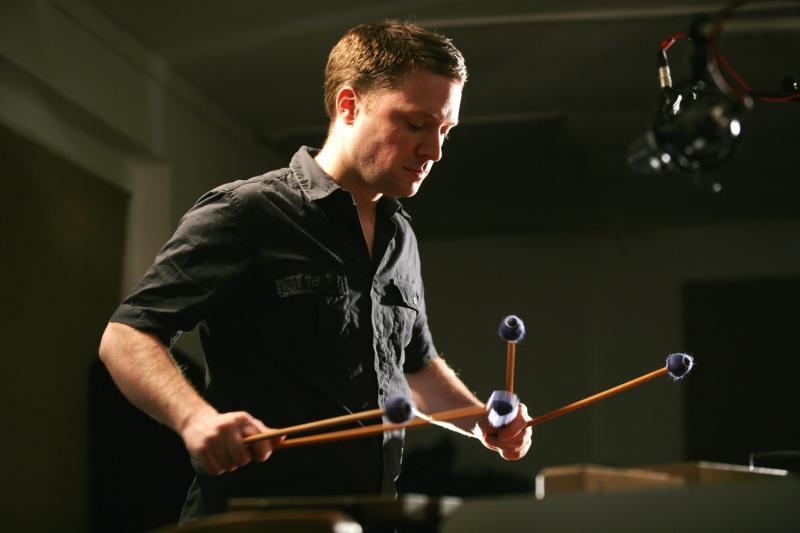 Colin Currie: skill, panache, taste, and four plums on sticks
A mischievous part of me firmly believes that from the mountain of dubious art works produced in the world since the 1980s, the most dubious of all have been the percussion concertos. I know I'm being somewhat harsh, for I've thrilled along with most audiences to James MacMillan's Veni, Veni, Emmanuel – far and away the best piece ever premiered by Evelyn Glennie, instigator of this percussion avalanche.
But these ears have also been witness to enough trivial and meretricious concoctions to feel at least some trepidation before the launch of another percussion world premiere.
Having Colin Currie doing the thumping, shaking, stroking and tinkling is a big step in the right direction: he's a player not just of great skill and panache, but of good musical taste as well. He's premiered pieces by genuine, 100 percent proof composers, by Elliott Carter, Simon Holt, Alexander Goehr, and others. Last night's catch was the Finnish Kalevi Aho, a favourite of the concert's conductor Osmo Vänskä; a composer, moreover, of 15 symphonies, and 19 concertos for almost every instrument except the kitchen sink. I half expected Aho to drag that out for this premiere of Sieidi, a percussion concerto partly commissioned by the London Philharmonic. Instead Currie hit more conventional instruments: tom-toms, tam-tam, marimba, vibraphone, snare drum, wood blocks, temple blocks, plus two ancient drums, the djembe and darabuka – the whole strung out in front of the orchestra like a line of washing.
The spatial effects were briefly striking, while Currie's furious drumming was exciting: it always is
We're in ritual territory here. The title, Aho tells us, is a Lapland term for some landscape feature – like a rock, rock face, or mountain fell – once used as the site for worship. Processing in blocks chiefly violent or pensive, Aho's music certainly conjured some awesome communion of man, nature, and the ancient gods, though I wished the communion had ended earlier. For 35 minutes Currie progressed from one instrument to another, from right to left and back again, varying in speed, attack and playing technique, but beating out essentially similar chord patterns and tattoos.
Behind him, Vänskä's musicians wove their own tapestry, marked by menacing fortissimo jabs, droning bass lines, tremulous violins, moody saxophone solos, snake-charming undulations, and dramatic commentary from three separate percussion kits arranged at the back in a half circle. The spatial effects were briefly striking, while Currie's furious drumming was exciting: it always is. But I couldn't help wishing that he was using his powers on music that went beyond being a hollow monument, and did more with percussion than hang out the washing.
For their part, Vänskä and the LPO handled the work's slashing chords and hovering atmospherics pretty smartly: nothing seemed maladroit or out of synch. But it was a relief when Brahms' First Symphony arrived after the interval. Here was meaty music at last, something Vänskä could get his fangs into – not quite true of the concert's opener, the overture from Schumann's opera Genoveva, which came and went, scarcely leaving a trace.
Disappointments, alas, continued for a time with the Brahms. Compared to Vänskä's achievements with Beethoven symphonies, or Sibelius's, the interpretation at first was lithe but impersonal, the first movement's tensions displayed in a diagram but not fully felt. But after that, each movement turned up the heat until the finale was fierily buoyant, nervously alive in the Vänskä way. Maybe he, too, had been biffed and battered by Aho's slab. Percussion concertos are dangerous things.
Having Colin Currie doing the thumping, shaking, stroking and tinkling is a big step in the right direction
Explore topics
Share this article