Connolly, Middleton, Leeds Lieder online review - epic voyage on a luxury vessel |

reviews, news & interviews
Connolly, Middleton, Leeds Lieder online review - epic voyage on a luxury vessel
Connolly, Middleton, Leeds Lieder online review - epic voyage on a luxury vessel
Lavish late-Romantic seascapes with a first-rate crew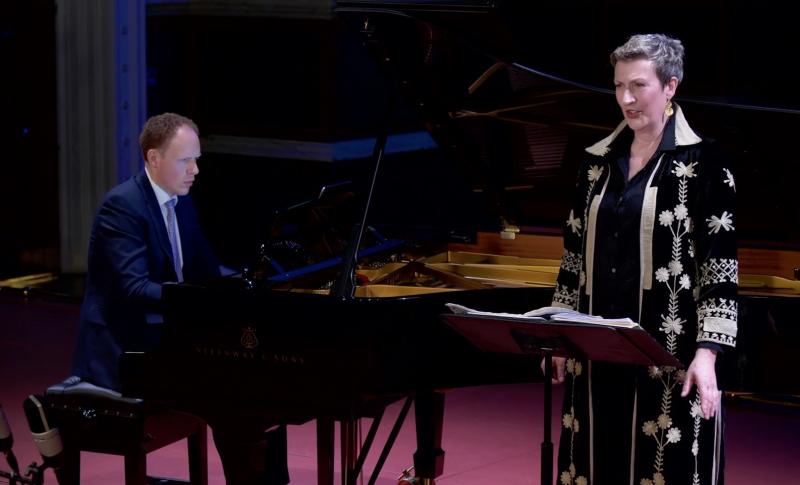 Joint captains of the song ship: Joseph Middleton and Sarah Connolly
Some lockdown-era recital programmes have doled out miserly short measures, as performers gallop through a brief, rushed hour (or less) of music as if afraid to tax the online patience of their disembodied audience.
If this final concert in Leeds
Lieder'
s spring weekend of song had a fault, it lay on the opposite side: an abundant generosity that saw Dame Sarah Connolly and pianist, and festival director, Joseph Middleton pack a full-length bill (introduced by presenter Tom McKinney) with intensely flavoured major works almost to the limits of digestion – and then add some extras to the menu.
Connolly's luxury mezzo, its full cream and hard steel ravishingly mingled, and Middleton's refined yet robust art as an accompanist would satisfy in small portions as well as large. Indeed, so rich was the fare on offer at Leeds Town Hall that viewers might want to extend the breaks that the pair took as they moved among the musical landscapes, and seascapes, of Mahler, Chausson and Elgar, with other destinations in between. Admirers of the supreme mezzo Christa Ludwig, who died at the weekend aged 93, might need to pause in particular after Connolly's fervently glowing account of Urlicht, written for the Des Knaben Wunderhorn set of songs before Mahler embedded it in the "Resurrection" Symphony. No disrespect to Connolly, of course, to say that Ludwig's Urlicht now sounds among the angels.
Before Connolly (pictured above) and Middleton delivered a quartet of pieces from Des Knaben Wunderhorn, we enjoyed a mini-recital by two musicians chosen for the Momentum programme created last year by Barbara Hannigan. Prompted by pandemic disruptions to early careers, it aims to give young artists main-stage exposure alongside established stars. Soprano Julia Mariko Smith, and pianist Christopher Pulleyn, made the most of their platform in the Town Hall, with expressive and persuasive readings of pieces by Strauss, Grieg and Debussy that showcased not just the range and flexibility of Smith's voice but also her dramatic talent for following the emotional arc of a song, whether in Grieg's Zur Rosenzeit or Debussy's Musique.
The whole evening, in fact, turned not just on vocal prowess but story-telling flair, which Connolly brought to each of her Mahler songs, from the skipping fantasia of Rheinlegendchen to the poignant foreboding of Wo die schönen Trompeten blasen. These fragments from a nightmare-haunted nursery need a light touch as much as a sharp, biting edge. Connolly gave us both, until the final rhapsody of Urlicht drifted up to its transcendent plane.
Also written (or rather finished) in the early 1890s, Chausson's Poème de l'amour et de la mer – in its original, voice-and-piano rather than orchestral version – made a sumptuous centrepiece for the recital. Chausson wraps lush harmonic and melodic memories of Wagner and Liszt around Maurice Bouchor's steamily Symbolist verses. Fully in command of his sinuous, wandering vocal lines, Connolly kneaded, moulded and caressed the sensuous poetry with both grace and discipline. This kind of woozily atmospheric, post-Tristan writing can too easily dissolve into a vague colour-wash of sound. Connolly, though, had the vocal rigour, as well as the communicative power, to chart a firm course through the swell and surge of Chausson's musical seascapes. Middleton, meanwhile, played not so much first mate as co-captain here. The piano part not merely traces the mood of the songs but sails off at intervals into chromatic horizons of its own, where delightful, Debussy-like sea creatures dwell. He made these pianistic interludes enchant and tantalise, as Connolly transformed the poems' account of a doomed love-affair into something nearer to a true dramatic cantata than a suite of lavishly perfumed and tinted Symbolist moods.
Four English songs, none of them lightweights, separated Chausson's virtual chamber-opera from the finale, Elgar's Sea Pictures. John Ireland's "Earth's Call", EJ Moeran's "Twilight", and Ivor Gurney's "By a Bierside" and "Thou didst delight mine eyes" all engage emotions that complicate and menace the pastoral daintiness you might expect from these names (not so much, perhaps, from the adventurous Ireland). Both Connolly and Middleton captured the strain of anxious elegy that shadows the idyll in these pieces, above all in Gurney's setting of John Masefield, "By a Bierside", with its haunting interrogation of the notion that "It is most grand to die".
After the modal melancholia and bittersweet lyricism of the English inter-war decades, the closing return to Elgar's Sea Pictures – again, in its incarnation for mezzo and piano rather than full orchestra – almost felt like a revival of breezy, late-Victorian cheerfulness. Not without a cloud or two over the coast, of course: the piano hints at the unease behind the tidally flowing lullaby of "Sea Slumber Song", while the climactic "Sabbath Morning at Sea", with its verses by Elizabeth Barrett Browning, proclaims rather than proves its faith in divine nature for an age when the idea of a personal God has receded deep into impenetrable sea-mists.
Connolly, who has lately made this work her own after its long years in the velvet grip of Yorkshire's own Janet Baker, channelled all Elgar's capacity for defiant splendour, questing wonderment and hymn-like rhapsody. I did wonder, though, if "Where Corals Lie" felt too grand for its own good – more a march than a sparkling skip along the tropical strand. I missed, too, the vital fifth finger from Elgar's maritime handful, which Connolly and Middleton omitted: "The Swimmer". We had, though, an unheralded bonus to compensate. Dame Sarah and Julia Mariko Smith returned for an encore of Fauré's wistful duet "Pleurs d'Or", where sadness at the passing seasons melts into gorgeous, healing harmony.