Classical CDs Weekly: Bruckner, Mahler, Nielsen, Schnittke |

reviews, news & interviews
Classical CDs Weekly: Bruckner, Mahler, Nielsen, Schnittke
Classical CDs Weekly: Bruckner, Mahler, Nielsen, Schnittke
Austrian sacred music, a memorable live concert from Manchester and Russian violin sonatas
Violinist Roman Mints
Bruckner: Mass No. 3 in F minor Soloists, Bavarian Radio Choir, Bamberg Symphony Orchestra/Robin Ticciati (Tudor)
Good Bruckner recordings aren't just the preserve of elderly conductors. Robin Ticciati's version of the youthful F minor Mass is both musically satisfying and emotionally involving: his non-interventionalist approach reaping huge dividends. He's helped by the performers: the Bamberg players' burnished warmth irresistible alongside supple, rich singing from the Bavarian Radio Choir. Their dynamic control is glorious – sample the "Gloria"'s full-throated opening, the choir's tone dropping to a velvety whisper at the start of the "Qui tollis peccata mundi" section. The ungainly strangeness of Bruckner's late symphonies means he's destined to remain a cult figure and an acquired taste, but his sacred music is always approachable. This mass is full of bold drama, and Ticciati relishes the impetuosity and quirkiness. There's a deliriously exciting depiction of the Resurrection in the "Credo", massed voices erupting after an untypically brief but very Brucknerian crescendo.
Other delights include a tiny "Sanctus" (Bruckner's shortest movement?) and an indecently romantic "Benedictus", shaped by Ticciati with a maturity which belies his youth. The "Agnus Dei" closes proceedings in a mood of utter calm , a tiny oboe solo blessing the final bars. Ticciati's quartet of soloists are excellent , tenor Dominik Wortig especially strong. Impeccable engineering too, the sound ideally refulgent. Lovely.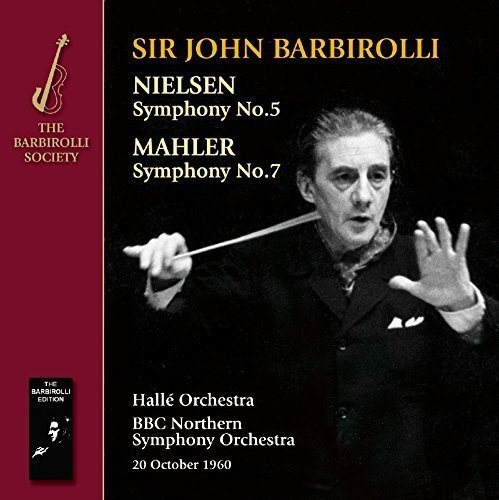 Nielsen: Symphony No.5, Mahler: Symphony No.7 Hallé Orchestra and BBC Northern Symphony Orchestra/Sir John Barbirolli (Barbirolli Society)
Rather improbably, these performances date from the same concert. Nielsen 5 and Mahler 7 are among the most physically exhausting symphonies in the repertoire. But, back in October 1960, the BBC combined Manchester's two orchestras under Sir John Barbirolli's baton and blasted through both works in a single sitting. These pieces can be exhausting to listen to, so it's to the credit of all concerned that these discs offer a heady listening experience. There are forgiveable flubs and splits in the playing, and the mono sound isn't state of the art. But the performances carry enormous conviction, all the more remarkable considering that both works were virtually unknown in the UK at the time. Barbirolli's Nielsen 5 is gruff but sure-footed, with expansive tempi which never feel sluggish. The first movement's side drum cadenza is among the most unhinged (if inauthentic) I've heard. Nielsen's fast fugal writing in the second half is brilliantly handled, and the final chord blazes.
This Mahler 7 has appeared before. Its virtues are similar to the Nielsen: Barbirolli's reading is weighty but incredibly assured, the tempi offering nowhere for these players to hide. The first movement coda has a brazen majesty, and the first Nachtmusik's spooky horn solos are as good as any on disc. Massed strings smoulder, and woodwind solos are full of character. Mahler's rambling finale is held together with dogged concentration, the music's sheer joy never in doubt. There's an electrifying sense of intent – how you wish you'd been in the Free Trade Hall that night. Umpteen technically brilliant modern performances of both symphonies can be downloaded for a pittance, but Barbirolli's readings ooze heart and soul in abundance. For an authentic listening experience, lock yourself in your front room and devour both discs in a single sitting.
Schnittke: Works for Violin and Piano, Suite in Old Style for viola d'amore, harpsichord and percussion Roman Mints (violin), Katya Apekisheva (piano) (Quartz)
The works collected on these two discs straddle Alfred Schnittke's compositional career, so we get examples of the nervy early stuff and the dessicated late works. But this is a thrilling set; Schnittke's sentiments might not be positive but the vigour and power with which his thoughts are expressed make his music compelling. Violinist Roman Mints writes movingly in the booklet about his relationship to Schnittke's violin sonatas, emphasising that "these few pieces contain his entire artistic trajectory, his whole life." He describes programming the sonatas for a concert, realising that "playing everything in chronological order… would probably drive some of the audience to kill themselves…" So we get the three pieces in reverse, interspersed with three shorter works. All of which make ideal entry points: the Gratulationsrondo's Mozart pastiche is drily funny, and Stille Nacht's take on Gruber's Christmas carol is deliciously unsettling, and understandably unpopular with Austrian audiences. There's a glorious miniature Polka from 1980, and Mints switches to the viola d'amore for an effective arrangement of the highly approachable Suite in Old Style with harpsichord and percussion backing.
The spare Third Violin Sonata is the hardest to absorb. Composed under great strain after Schnittke had experienced several severe strokes, we should be pleased that the music exists at all. No. 2's opening is startling, the piano's sharp G minor chords answered by the violin at irregular intervals. You daren't breathe for the first few minutes. The sounds conjured are extraordinary, my favourite being a passage seven minutes in where solo violin flurries sound like swarming insects. Sonata No.1 contains wonderful things: a sublime Passacaglia and a pithy, sharp-witted last movement. Mints is terrific throughout: this set feels very much like a labour of love and all concerned give their all – Katya Apekisheva's piano accompaniments are flawless, and there's some wonderfully goofy percussion in the Suite. Good sleeve design too.
There's an electrifying sense of intent
Explore topics
Share this article
Subscribe to theartsdesk.com
Thank you for continuing to read our work on theartsdesk.com. For unlimited access to every article in its entirety, including our archive of more than 10,000 pieces, we're asking for £3.95 per month or £30 per year. We feel it's a very good deal, and hope you do too.
To take an annual subscription now simply click here.
And if you're looking for that extra gift for a friend or family member, why not treat them to a theartsdesk.com gift subscription?