Classical CDs Weekly: Bruckner, Elgar, Prokofiev |

reviews, news & interviews
Classical CDs Weekly: Bruckner, Elgar, Prokofiev
Classical CDs Weekly: Bruckner, Elgar, Prokofiev
Stellar Antipodeans, English late romanticism and Soviet ballet music
Pungent Prokofiev from Dima Slobodeniouk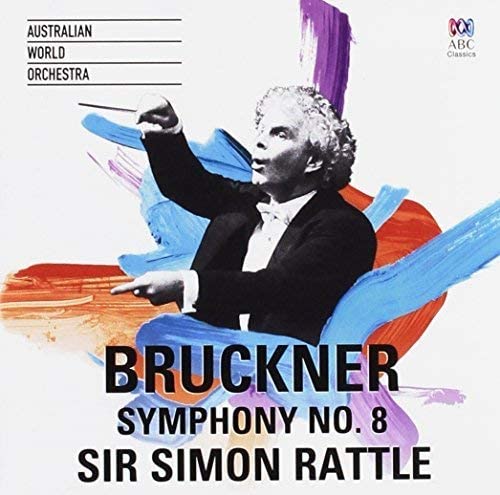 Bruckner: Symphony No. 8 Australian World Orchestra/Sir Simon Rattle (ABC Classics)
I love Bruckner's mature symphonies, but they still baffle me. Mostly in terms of how certain performances work, or don't work, and the near-impossibility of understanding and explaining exactly why. Then there's the question of tempo, and how incredibly expansive performances can feel shorter than quick ones. A BBC Music Magazine poll in 2016 asked conductors to nominate their favourite symphonies, and Sir Simon Rattle included Bruckner 8 in his top three. He's recorded two impressive accounts of the "complete" Bruckner 9 in Berlin, but this live version of No. 8 was taped in Sydney in 2015 with the Australian World Orchestra, "the only professional orchestra representing one nationality, coming together from all over the world", founder Alexander Briger's aim being to redress the fact that Australian musicians hold key posts worldwide but weren't recognised back home. There are some starry names among the 95 players: composer Brett Dean is in the viola section, and the horns are led by the LA Philharmonic's Andrew Bain. Crucially, this performance does work.
That the musicians don't assemble regularly isn't a bad thing, this performance having an edge and excitement that's palpable. Rattle's flowing tempi in the first two movements are ideal, and the playing is consistently marvellous, the string tone deep and rich. Brass and winds aren't too homogenised, and timpanist Tony Bedewi shines throughout. Rattle's scherzo really swings, the wonderful return to C major just after the first minute nicely done, the trio full of charm. The start of Rattle's Adagio is intriguing, the syncopated rhythm halting and nervy. The big moments are spectacular but heartfelt, horns and Wagner tubas wonderful in the soft coda. And the long, discursive finale holds together very well, helped by pounding timpani strokes and sonorous brass. Really good, then – physical excitement and spiritual sustenance combined in a handy 80-minute package, with excellent sound to boot. To my ears, this is one of the best things that Rattle has done, and it's very reasonably priced – take a punt.
Elgar: Sea Pictures, Falstaff Elīna Garanča (mezzo-soprano), Staatskapelle Berlin/Daniel Barenboim (Decca)
It's to mezzo-soprano Elīna Garanča's huge credit that I found myself listening to the texts Elgar set in his Sea Pictures more closely than usual. She's superb – rich-toned, and with excellent diction, her efforts highlighting my problem with this song cycle, namely that the poems set are a tad variable. "Where Corals Lie" and "Sea Slumber Song" work for me, but "The Swimmer" is too wordy by half. This is still a lovely performance, Daniel Barenboim's well-drilled Staatskapelle Berlin nail Elgar's style, the textures never too thick.
All fine, though you really need this disc for Barenboim's Falstaff. This long, Straussian "symphonic study" was a flop when premiered in 1913, though Elgar claimed to have enjoyed writing it more than anything else he'd written. It's a grower, a piece that needs repeated hearings to work its magic. I'm always floored by the quirkiness of the opening theme, an earworm that's impossible to sing. Try it and see. Barenboim understands this music's subtlety and psychological depth, and his performance has both belly laughs and pathos. Falstaff's descent into sleep and the bittersweet "Dream Interlude" are sweetly done here, and Elgar's curt ending is painful but appropriate. It's played with real warmth and affection, the Berlin brass and winds especially impressive.
Prokofiev: Suites from The Gambler & The Stone Flower Lahti Symphony Orchestra/Dima Slobodeniouk (BIS)
Prokofiev's entire career is neatly encapsulated in this anthology, containing music written over a 40-year period. The Op. 8 Autumn Sketch is one of his earliest orchestral works, a disconcertingly downbeat nocturne already sounding very much like Prokofiev, though the riper string writing recalls Rachmaninov. It's beautifully performed here by Dima Slobodeniouk's Lahti forces. They're also impressive in the Four Portraits and Dénouement adapted from his rarely-staged Dostoyevsky opera The Gambler, Prokofiev assembling each character study by tearing out the relevant pages in the opera's vocal score and sorting the pages into four piles. BIS's rich, punchy sound suits these pieces well, and it's good to hear the orchestral piano so clearly. Knowing the source material isn't a prerequisite for enjoying the portraits; each one stands up well as a pungent orchestral showpiece. You can visualise the grandmother's heavy gait and sense Pauline's perceptiveness. The Dénouement has plenty of oomph, helped by piercing trumpets.
All good, but the disc's main selling point is a hefty selection of music drawn from The Stone Flower. This was Prokofiev's last full-length ballet score, drafted in the late 1940s against a background of failing health and hostile officialdom. Writing an accessible, folk-tinged ballet must have seemed a good way of regaining official favour, though The Stone Flower was only premiered, unsuccessfully, in 1954, after Prokofiev's death. I'm a fan; this fairy tale about Uralian stone cutters isn't as good as Romeo and Juliet or Cinderella, and some movements weren't even orchestrated by Prokofiev, but there are some choice moments. My favourite being the little "Maidens' Dance", its soaring tune utterly characteristic, deserving of a high ranking in a hypothetical list of Top 10 Prokofiev Melodies. Slobodeniouk's selection includes numbers drawn from the complete score as well as the suites extracted by the composer. They make for a pleasing taster: the five short movements making up the Gypsy Fantasy are fun, and we end with a raucous wedding dance. If you're curious to hear more, invest in Noseda's recording of the whole ballet, still available on Chandos.
Elgar's opening theme is an earworm that's impossible to sing. Try it and see
Explore topics
Share this article