Classical CDs Weekly: Brahms, Ligeti, Lakshminarayana Subramaniam, Svend Erik Tarp |

reviews, news & interviews
Classical CDs Weekly: Brahms, Ligeti, Lakshminarayana Subramaniam, Svend Erik Tarp
Classical CDs Weekly: Brahms, Ligeti, Lakshminarayana Subramaniam, Svend Erik Tarp
Horns, tubas and Indian violins, plus a ballet set in a Danish circus
Saturday, 06 October 2018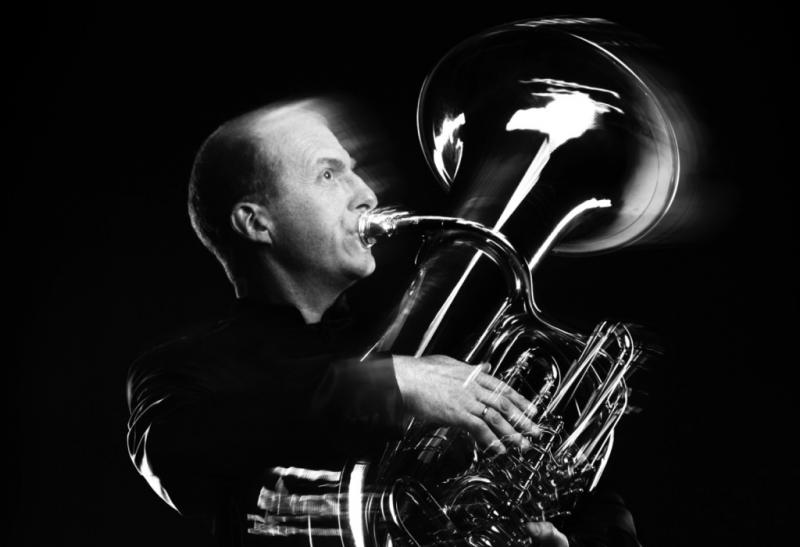 Nimble fingers: tuba virtuoso Øystein Baadsvik
Brahms & Ligeti: Horn Trios André Cazalet (horn), Guy Comentale (violin), Cyril Huvé (piano) (Calliope)
This is a reissue from the last years of the early digital era (ie 1989), but it's a seriously good one. György Ligeti's 1982 Horn Trio is a fascinating piece, 'un hommage à Brahms' which contains some striking tunes and virtuosic valveless horn writing but never sounds remotely like Brahms' own horn trio. Ligeti did acknowledge that the work had "a little to do with Beethoven", the violin's first entry obliquely quoting the opening of the Op81a Piano Sonata. There's plenty of autumnal melancholy in the opening movement, the three soloists shuffling through a foggy landscape with their eyes cast downward, followed by a mercurial syncopated scherzo. André Cazalet's horn does its best to disrupt the final seconds of the ensuing march. All highly intriguing but a little cool, until the closing "Lamento, Adagio" begins, an emotionally fraught finale which really plumbs the depths. Reach the end and you're left numbed, the horn reduced to a imperceptible low growl, with violinist Guy Comentale floating many octaves above. Pianist Cyril Huvé provides terrifying, percussive support. Ligeti himself was impressed with this recording, and his typed letter of thanks is reproduced in the booklet.
Decent recordings of the Brahms Horn Trio are plentiful. This one is up there with the best of them, with marvellous accounts of the introspective first and third movements. Cazalet gets to really let rip in Brahms' exuberant "Allegro con brio", with Huvé and Comentale in hot pursuit. How could a composer so young write something so emotionally rich?
Lakshminarayana Subramaniam: Journey L. Subramaniam (violin), Øystein Baadsvik (tuba), Trondheim Symphony Orchestra/Jaakko Kuusisto (BIS)
This collaboration between the "Paganini of Indian classical music" and a top Norwegian tuba player proved impossible to resist. It's a blast. Lakshminarayana Subramaniam's CV includes collaborations with Herbie Hancock and Peter Brook, and Øystein Baadsvik's virtuosity has led to awards from the International Tuba Euphonium Association. I'm not making this up. Subramaniam's Concerto for Indian Violin and Tuba is a sumptuous, sweet-natured treat, written after a meeting between the two musicians in 2014. Subramaniam plays the Indian violin, visually similar to its western counterpart though tuned and held differently, with a husky low register which blends well with the tuba. This isn't a conventional concerto. Themes get repeated more than they're actually developed, though you wouldn't want to cut a single bar. Baadsvik's last movement cadenza is extraordinary. This sort of thing has been done before: André Previn conducted and recorded Ravi Shankar's Concerto for Sitar and Orchestra back in the day. Though Subramaniam's music is much more fun, seemingly aware of its incongruities and revelling in them.
Besides the concerto we get three shorter pieces. Written between 1987 and 2010, they've presumably been revised to incorporate Baadsvik, though no information is provided in the booklet. Eclipse features vocals from Subramaniam's wife Kavita Krishnamurti, and daughter Ambi plays violin in A Tribute to Bach, her solo line's baroque figurations presumably a nod to JSB. A glorious oddity – handsomely recorded, and accompanied with aplomb by Jaako Kuusisto's Trondheim Symphony Orchestra. If you only buy one Indo-Scandi crossover disc this month, choose this one.
Svend Erik Tarp: Orchestral Works Vol. 1 Aarhus Symphony Orchestra/Tobias Ringborg (Dacapo)
Claus Røllum Larsen's sleeve note ranks Danish composer Svend Erik Tarp alongside his better known contemporary Vagn Holmboe in importance, lamenting the fact that Tarp's profile has dipped hugely since his death in 1994. Tarp first came to prominence in the early 1930s, his breezy neoclassicism proving immediately popular with audiences. There are nods to Stravinsky (check out the cor anglais riff in the second track) but Tarp's music is softer edged. Brilliantly crafted though; you can imagine this stuff being enormously enjoyable to perform. His 1940 Overture to a Comedy is a find: seven minutes of bubbly froth with a delightfully cool centre, and it's an ideal curtain raiser to a suite from the 1942 ballet The Dethroned Animal Tamer, an everyday saga of circus folk behaving badly. Tarp's lions steal the show, illustrated with melancholy parallel fifths and mournful wind solos. The suite lasts little more than 12 minutes: I'd happily pay decent money to hear the whole score.
Two concertante works are also included. Tarp's Concertino for flute can't hold a candle to Nielsen's brilliant concerto, but it's fun, with a scintillating last movement. The Concertino for violin is more substantial despite its compact size, its gorgeous middle section demonstrating Tarp's melodic gifts. And there's a four-movement Suite on Old Danish Folk Songs, a set of slightly too well-behaved song transcriptions. Superb performances: flautist Lena Kildahl and violinist Stanislav Pronin are impressive in the solo works, backed by sharp, witty playing from Tobias Ringborg's Aarhus Symphony Orchestra. Their unnamed principal trumpet deserves a shoutout. Nice sleeve art and fulsome sound, too.
Tarp's lions steal the show
Explore topics
Share this article