Classical CDs Weekly: Borup-Jørgensen, Mahler, Philippe Grisvard & Johannes Pramsohler |

reviews, news & interviews
Classical CDs Weekly: Borup-Jørgensen, Mahler, Philippe Grisvard & Johannes Pramsohler
Classical CDs Weekly: Borup-Jørgensen, Mahler, Philippe Grisvard & Johannes Pramsohler
An amazing Danish musical seascape, moving Mahler, French baroque violin exhumations
Musical archaeology from Johannes Pramsohler and Philippe Grisvald
Axel Borup-Jørgensen: Marin Danish National Symphony Orchestra/Thomas Sôndergård (OUR Recordings)
Axel Borup-Jørgensen: Marin Danish National Symphony Orchestra/Thomas Sôndergård (OUR Recordings)
The physical effort involved in composing Marin was a huge strain on the Danish composer Axel Borup-Jørgensen (1924-2012). This ear-stretching musical seascape was made possible by its creator winning a prize in the mid-1960s, the reward including a commission for a large orchestral piece to celebrate the 40th anniversary of the Danish National Symphony Orchestra in 1970. Borup-Jørgensen delivered, in spades: a shaggy monsterpiece with the orchestral strings divided into 55 parts, using something referred to, mysteriously, as "optical notation". Making a fair copy took the composer over 1000 hours, the process entertainingly described by his daughter in the booklet. A young Herbert Blomstedt conducted the premiere, following a score with pages so enormous that an ingenious means of turning them soundlessly had to be devised. You couldn't make it up. Still, this handsomely recorded new performance of Marin with the same orchestra under Thomas Søndergård is a triumph. It sounds like nothing else you'll have heard, 19 minutes of deep rumblings, dissonant note clusters and pregnant silences. Importantly, it does really suggest a vast, swelling ocean. We're not a million miles away from the stormier bits of Debussy's La Mer or Sibelius's Oceanides. The recording comes with an accompanying DVD including Morten Bartholdy's CGI animated realisation of Marin, an entertainingly crazed vision of an undersea world, its denizens based on the composer's own drawings. I listened to the work before watching the film and was anticipating something darker and murkier: the crystalline brightness of the artwork came as a surprise. Still good to have though, as is the bonus documentary about Borup-Jørgensen. Which suggests that he was a genuine talent, a likeable maverick with an acute ear, able to analyse a work by Webern using graphics rather than words. It's touching to see him recalled so fondly by fellow musicians.
Marin's vastness seems to have been a blip, Borup-Jørgensen generally preferring to write on a smaller scale. The couplings are fascinating: 1989's Für Cembalo und Orgel (with harpsichordist Mahan Esfahani) is bewilderingly brilliant, as are two pieces for solo recorder. The second of them, Pergolato, was the composer's last work, an elegant, melodic farewell. The disc closes with Coast of Sirens, soprano Bodil Gümes' multitracked vocals heard against a shimmering chamber backdrop. The whole package is handsomely designed and well-annotated: a treat, in other words. What's stopping you?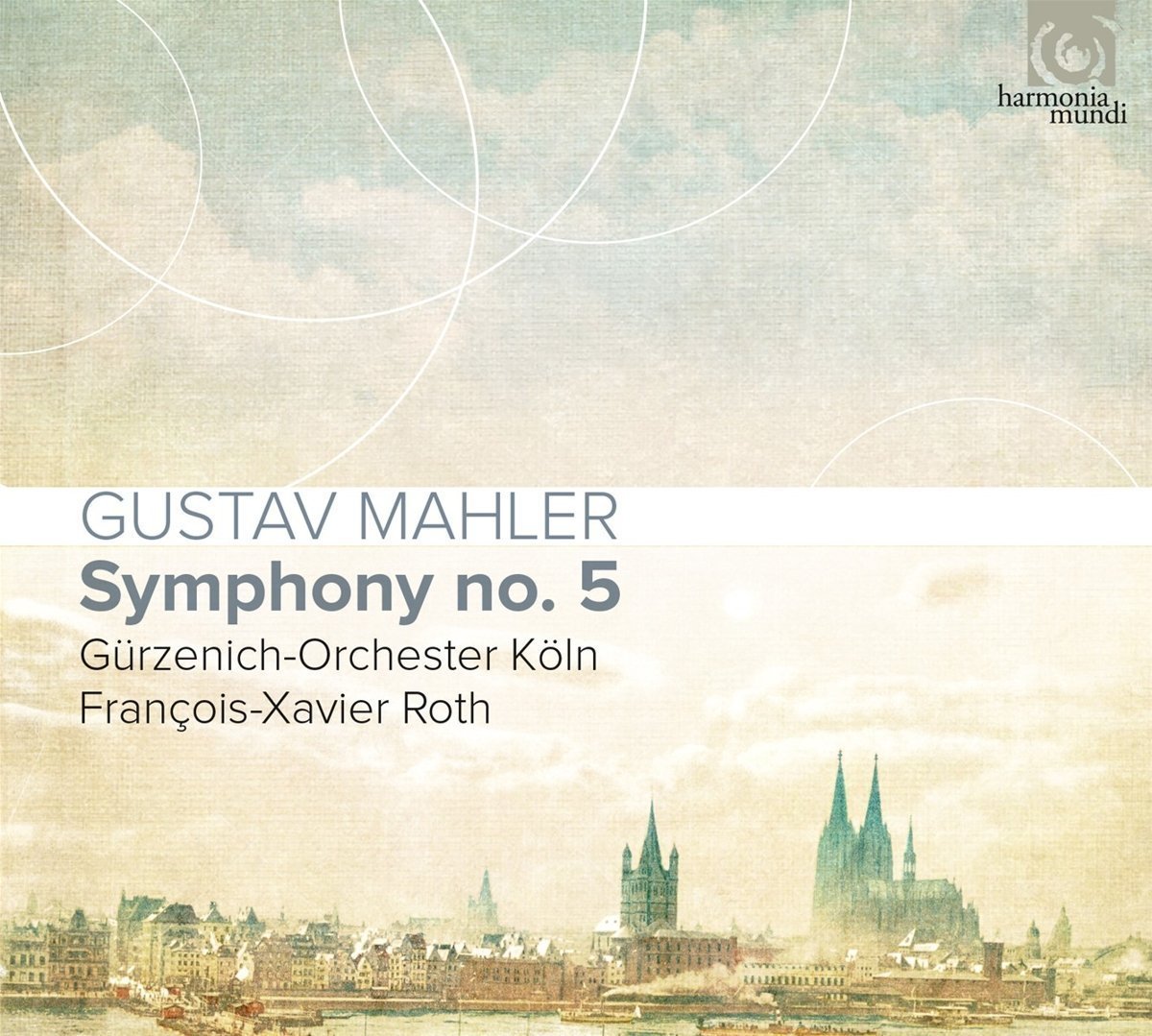 Mahler: Symphony No. 5 Gürzenich-Orchester Köln/François-Xavier Roth (Harmonia Mundi)
This is exceptionally good, a vivid, dramatic and deeply moving account of a symphony that's surprisingly difficult to get right on disc. Cologne's Gürzenich-Orchester gave the first performance of Mahler's 5th in 1904, and they've already recorded a decent version under Markus Stenz. François-Xavier Roth's account is better still; his performance has a sharpness and clarity that's dazzling. I can usually predict whether I'll enjoy a reading of Mahler 5 by listening to the first tutti, 20 seconds after the solo trumpet fanfare. It's marvellous here, a widescreen blast of brassy noise. You can hear every note, and there's an even better chord seven minutes in, a technicoloured outburst which wouldn't sound out of place in Messiaen. It's what Mahler wrote, though, and his scoring sounds unerringly modern at times. There's bite aplenty in the second movement and a very mellow, European-sounding solo horn in the vast scherzo.
For al the clarity Roth can summon up plenty of orchestral warmth when needed, understanding that this score looks back as well as forward. His "Adagietto" is ideally paced, a well-earned wallow before the perkiest of finales. The symphony's closing chorale whizzes past, sounding exuberant rather than impatient. I loved it. Mahler recordings nowadays tend to be live performances: this one was taped in the studio, so the playing is refreshingly fluff-free. Oddly, the notes aren't translated into English, but welcome this as a chance to practice your French or German.
French Sonatas for Harpsichord and Violin Philippe Grisvard (harpsichord), Johannes Pramsohler (violin) (Audax Records)
More high quality exhumations from baroque violinist Johannes Pramsohler, whose many talents include sniffing out long-forgotten repertoire which genuinely does deserve to be reheard. Eleven compact sonatas spread over a pair of CDs may seem lot to take in, but he and harpsichordist Philippe Grisvard understand and nail the distinct character of each work. This is music history with lashings of entertainment thrown in. France in the early 17th century hosted a swathe of composers keen to assert the values of abstract, "absolute" music. Like the extravagantly named Jean-Joseph Cassanéa de Mondonville ("chamber music can perhaps offer today's audience more than just audacity…"), whose Sonata in G minor gleams, its fast-moving finale a real tonic. Most of these pieces are described as keyboard sonatas with violin accompaniment. Grisvard's energy never flags, despite some punishing writing in three sonatas by Louis-Gabriel Guillemain. Pramsohler knows exactly when to step back and cede the limelight. Delicious moments abound, my favourite being the middle movement of Michael Corrette's Sonata in E minor; Grisvard matched note for note by Pramsohler's avian chirpings.
The pair tap into the melancholy grandeur at the start of Luc Marchand's A minor sonata, throwing in a compelling account of the closing "Carillon du Parnasse". You wonder whether they take the middle movement "Larghetto" of Mondonville's Sonata in A Major a tad too quickly, but their flowing pace works a treat, the lyricism never tipping over into sentiment. An outstanding collection, in other words, with erudite notes and handsome packaging.
Danish composer Borup-Jørgensen was a genuine talent, a likeable maverick with an acute ear
Explore topics
Share this article