Classical CDs Weekly: Beethoven, Mahler, Sondheim |

reviews, news & interviews
Classical CDs Weekly: Beethoven, Mahler, Sondheim
Classical CDs Weekly: Beethoven, Mahler, Sondheim
Epic piano sonatas, a vibrant romantic symphony and a handsome tribute to a theatrical giant
Saturday, 14 November 2015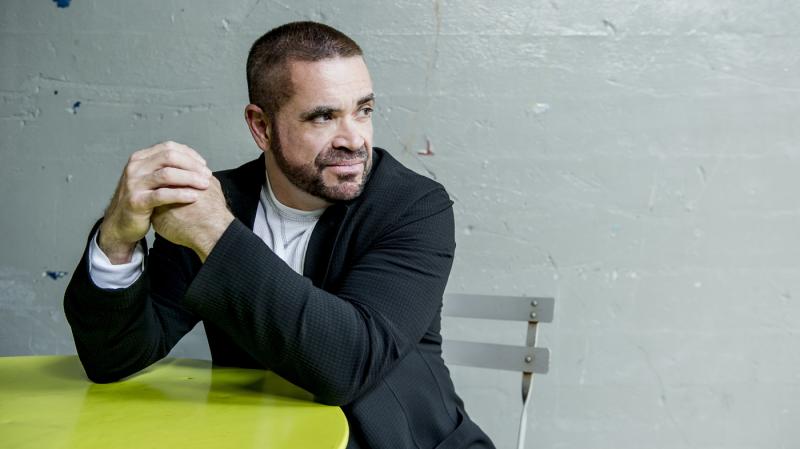 Sondheim evangelist Anthony de Mare
Beethoven: Piano Sonatas 8, 21 and 32 Boris Giltburg (Naxos)
These three piano sonatas neatly sum up Beethoven's early, middle and late style. Each one is in the key of C, and they're dispatched with some intelligence by the young Israeli pianist Boris Giltburg. Beethoven in growly mood can all too easily sound muddy and inarticulate. Giltburg has the necessary weight, but the faster passages have a dazzling clarity. There are superb things in the first movement of his Pathétique – every chromatic run is immaculate, and the very vocal banter between left and right hands a few minutes in is as witty as it's technically impressive. I like the unruffled calm which Giltburg brings to Beethoven's tender Adagio. The Rondo snarls. The Waldstein is a friendlier piece, but no less striking; repeated listening highlights the quirks. Like the first movement's main theme, which in a lesser composer's hands would be nothing more than a stodgy accompanying figure. Giltburg's drive is infectious, though it's a relief when he relaxes in the unsettling middle movement, giving us a glowing account of the finale's lyrical introduction.
All capped by a deeply satisfying traversal through No. 32. The Arietta's sequence of variations are brilliantly characterised, leading to a pleasingly self-effacing close. It's quietly overwhelming, and you'll need a quiet sit down when all is finished. Don't hesitate – Naxos's sound is rich, Giltburg's sleeve notes are smart but readable, and it's at budget price
Mahler: Symphony no. 1 Utah Symphony/Thierry Fischer (Reference Recordings)
Mahler 1's beginning is one of the most original things he wrote, and it sounds superb here: descending fourths in piccolo and bass clarinet suitably otherworldly, followed by a trio of impeccably balanced offstage trumpets. It's magical, and one of the work's many surprises is what follows. Here, the movement's very genial, folksy main theme is taken at a nicely flowing tempo, accentuating its affability. Wonderfully played too, by an orchestra many won't have heard of, under a conductor usually associated with French repertoire. Readers with long memories may remember a pioneering 1960s and 1970s Mahler cycle recorded by the Utah Symphony under Maurice Abravanel, frustratingly difficult to find now. Abravanel's zeal compensated for the occasional lapses in ensemble. There are none in this performance. Thierry Fischer's approach is refreshingly big-hearted and low on angst; the first movement's brassy coda suitably cheery. The scherzo's trio doesn't always sound this charming, the rhythms so sweetly pointed.
The slow movement's black humour isn't underplayed, though the klezmer interludes are slightly under-characterised. Fischer does let rip in the extended finale – the opening outburst full of fury, softening nicely before the Tchaikovskian big tune appears. It sounds delectable, the string portamento applied with real care. There's no mid-movement sag, and the closing minutes are great. Nice to hear the extra zing to the horn sound near the end, which suggests that this live performance does have the players standing up – I've seen several performances where this hasn't happened. Highly recommended in other words; the booklet tells us that Fischer performed the whole cycle with the Utah players, so one hopes that more were taped. Perfect for Mahler sceptics – this composer's most concise, approachable symphony, captured in glowing sound. But why do labels persist in referring to it as "Titan"? Does anyone still use this subtitle?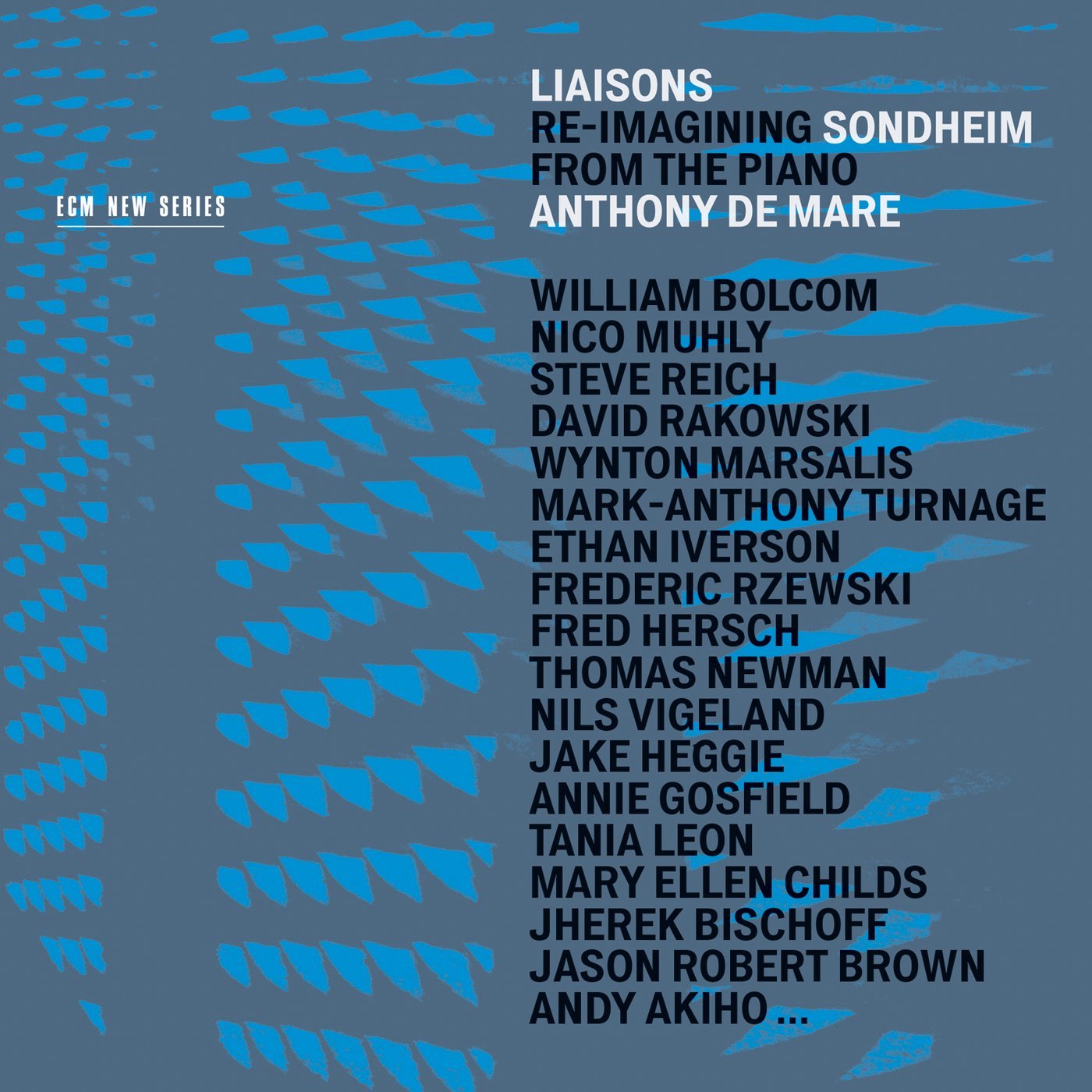 Liaisons – Re-imagining Sondheim from the piano Anthony De Mare (ECM)
Stephen Sondheim writes here of his ambivalence when songs from his musicals are 'interpreted' by those who make adjustments to harmonies or melodic lines: "As much as my ego gets a lift when people sing my stuff, in every case I've winced." He seems to have approved of this superb ECM triple album, which contains no singing, but plenty of harmonic and rhythmic tweaking. Pianist Anthony de Mare commissioned 36 contemporary composers to each 're-imagine' a Sondheim song as a solo piano piece. The results are predictably eclectic, but there's barely a dud track. We get jazz, classical pastiche and moments where the tunes wander off in peculiar directions. Duncan Sheik's "Johanna in Space' is a good example: a delicious fantasia based on a Sweeney Todd number, de Mare partnered by Sheik's evocative backing track. William Bolcolm's "A Little Night Fughetta" mixes Bach, "Send In the Clowns" and a number from Sondheim's 1964 show Anyone Can Whistle. It's beautiful, and will prompt you to skip forward to sample Ethan Iverson's atmospheric take on the later song. "Finishing the Hat" is arranged by Steve Reich for two pianos. So good that it justifies buying the whole set, it sounds simultaneously like both composers. Wynton Marsalis's "That Old Piano Roll" is a brilliant five-minute journey through different jazz piano styles.
Michael Daugherty's "Everybody's Got The Right" suggests a meeting between Ives and Ligeti. Frederic Rzewski's "I'm Still Here" goes off at interesting tangents but never loses sight of the original's lyricism. Andy Akiho sets the long opening number of Into the Woods for prepared piano, the witch's clangorous entry achieved via credit cards buzzing on the piano strings. Thomas Newman's "Not While I'm Around" has a tenderness and intelligence that's not always apparent in his film scores. I'm barely scratching this wonderful collection's surface. Listen to it with notebook in hand so you're able to compare these versions with the originals. Marvel at de Mare's virtuosity, able to convince in multiple genres, and wonder at Sondheim's unmatched gift for writing a good tune. Magnificently recorded and beautifully produced too, and a reminder of why CDs will always be better than downloads.
As much as my ego gets a lift when people sing my stuff, in every case I've winced
Explore topics
Share this article