The Seckerson Tapes: Stephen Sondheim 80th birthday tribute |

reviews, news & interviews
The Seckerson Tapes: Stephen Sondheim 80th birthday tribute
The Seckerson Tapes: Stephen Sondheim 80th birthday tribute
Luminaries from Broadway and the West End celebrate the master of musical theatre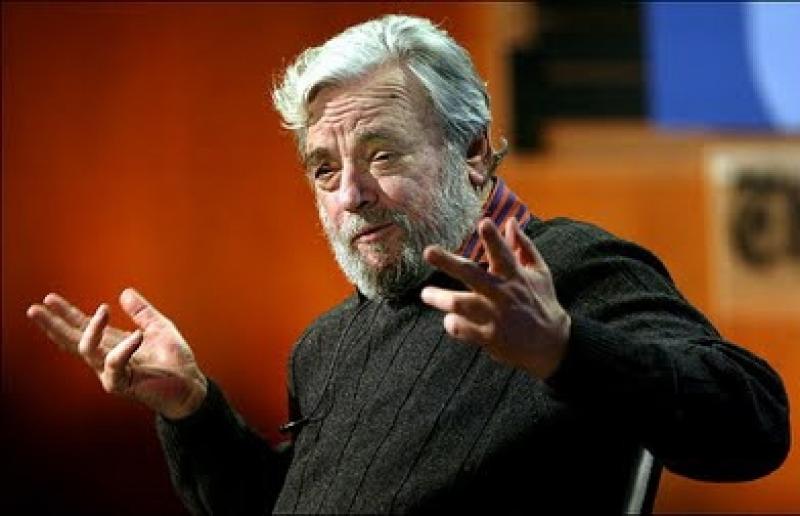 Stephen Sondheim turns 80 today
Commissioned by Josef Weinberger Ltd on the occasion of Stephen Sondheim's 80th birthday today, In Good Company is a unique three-part collage of intimate conversations I have had with some of Sondheim's closest colleagues and collaborators.
Michael Cerveris, Ted Chapin, Barbara Cook, Daniel Evans, Maria Friedman, Angela Lansbury, Patti LuPone, Cameron Mackintosh, Julia McKenzie, Hal Prince, Jonathan Tunick
and
John Weidman
share their experiences, their recollections, and their often very personal insights into what makes this man such a colossus in the world of musical theatre.
Since receiving the commission from Josef Weinberger, this project has been two years in the making. Tracking down and tying down such a busy and illustrious group of interviewees was never going to be easy. And the list could have kept growing had not time called a halt. The brief was initially to produce an 80th birthday gift for Steve – a few friends and collaborators paying their respects. But with each conversation (and roughly nine hours of material was recorded) it became clearer and clearer that Sondheim fans all over the world would relish being privy to material that was initially intended for his ears only. That's what makes what you will hear over some two-and-a-half hours so special.
These are the personal ruminations of a cast of characters who've played a big part in Sondheim's creative process – both in the preparation and realisation. There are others, of course. Many others. This could have been a three-week - not a three-podcast - event.
The conversations took place in apartments, in dressing rooms, in offices, both in London and New York. There was a gale blowing down Riverside Drive when I dropped in on Barbara Cook; Patti LuPone was prostrate backstage after another gruelling performance as Mama Rose berating amateur photographers in the front stalls; Jonathan Tunick was multi-tasking as ever, emailing scoring sheets whilst talking about them; for producer/director Hal Prince it was another day at the office – all that was missing was the cigar; Cameron Mackintosh called me back into his office having remembered a good one-liner as I was leaving: "You know what's going to happen," Steve once said to him, "I'll get the caché and you'll get the cash."
I need to thank Thomas O'Connor for his tireless work in setting all these interviews up and my brilliant producer Bill Lloyd for his technical and mental wizardry. We have the kind of telepathy which comes of working together on BBC Radio 3's Stage & Screen for six years. Lastly John Schofield and Sean Gray at Josef Weinberger for making it all happen.
RECORDING ACKNOWLEDGEMENTS:
We are grateful to the following record companies for the use of extracts from their recordings of Sondheim's works:
Angel Records (EMI), Columbia Broadway Masterworks (Sony/Columbia/Legacy), DRG Records, First Night Records,
New York Philharmonic, Nonesuch Records (Warner), RCA Victor / Legacy (Sony BMG)
Being Alive, Company, Barcelona, Sorry Grateful (from the 2006 Broadway Revival of COMPANY)
Credit: Nonesuch Records (Warner)
You Could Drive A Person Crazy (from Barbara Cook Sings Mostly Sondheim: Live At Carnegie Hall)
Credit: DRG Records
Ballad of Booth (from the Original Cast Recording of ASSASSINS)
Credit: RCA Victor / Legacy, (Sony BMG)
Finishing The Hat, Children and Art (from the Original Cast Recording of SUNDAY IN THE PARK WITH GEORGE)
Credit: RCA Victor / Legacy, (Sony BMG)
Me and My Town, With So Little To Be Sure Of (from the Broadway Cast Recording of ANYONE CAN WHISTLE)
Credit: Columbia Broadway Masterworks (Sony/Columbia/Legacy)
Anyone Can Whistle (from Barbara Cook Sings Mostly Sondheim: Live At Carnegie Hall)
Credit: DRG Records
Franklin Sheppard, Inc. (from the Original Broadway Cast of MERRILY WE ROLL ALONG)
Credit: Masterworks Broadway (Sony BMG)
So Many People (from the Original New York Cast of SATURDAY NIGHT)
Credit: Nonesuch Records (Warner)
Liaisons, A Weekend In The Country (from the Original Broadway Cast of A LITTLE NIGHT MUSIC)
Credit: Columbia Broadway Masterworks (Sony/Columbia/Legacy)
Send in the Clowns (from Hey Mr. Producer!)
Credit: First Night Records
Next, A Bowler Hat, Someone in a Tree (from the Original Broadway Cast of Pacific Overtures)
Credit: RCA Victor / Legacy, (Sony BMG)
By The Sea, My Friends (from SWEENEY TODD Live at the New York Philharmonic)
Credit: New York Philharmonic
Wait, My Friends, By The Sea (from the Original Broadway Cast of SWEENEY TODD)
Credit: RCA (Sony BMG)
Wait, The Worst Pies in London (from SWEENEY TODD 2005 Broadway Revival)
Credit: Nonesuch Records (Warner)
I Wish I Could Forget You (from the Original London Cast of PASSION)
Credit: First Night Records
Loving You (from the Original Broadway Cast of PASSION)
Credit: Angel Records (EMI)
Loving You (from Barbara Cook Sings Mostly Sondheim: Live At Carnegie Hall)
Credit: DRG Records
Beautiful Girls, The Road You Didn't Take (from the Original Broadway Cast of FOLLIES)
Credit: Angel Records (EMI)
In Buddy's Eyes (from Barbara Cook's Broadway)
Credit: DRG Records
In Buddy's Eyes (from the Original London Cast of FOLLIES)
Credit: First Night Records
I'm Still Here (from Elaine Strich At Liberty)
Credit: DRG Records
Comedy Tonight, Lovely (from the Original Broadway Cast of A FUNNY THING HAPPENED ON THE WAY TO THE FORUM)
Credit: Angel Records (EMI)
I Remember (from EVENING PRIMROSE)
Credit: Nonesuch Records (Warner)
The Last Midnight (from the Original Broadway Cast of INTO THE WOODS)
Credit: Masterworks Broadway (Sony BMG)
Isn't He Something, Brotherly Love (from ROAD SHOW)
Credit: Nonesuch Records (Warner)
Tonight, America (from The New Broadway Cast Recording of WEST SIDE STORY)
Credit: Masterworks Broadway (Sony BMG)
Getting Married Today (from the Original Cast Recording of PUTTING IT TOGETHER)
Credit: RCA Victor, BMG Classics (Sony BMG)
Broadway Baby (from the Original London Cast Recording of SIDE BY SIDE BY SONDHEIM)
Credit: RCA Victor / Legacy, (Sony BMG)