Classical CDs Weekly: Beethoven, Cunningham, Yoffe |

reviews, news & interviews
Classical CDs Weekly: Beethoven, Cunningham, Yoffe
Classical CDs Weekly: Beethoven, Cunningham, Yoffe
Beethoven piano concertos, pages from a box of string quartets and a Shakespearean/African libretto from Alexander McCall Smith
Saturday, 21 January 2012
Howard Shelley gives us definitive Beethoven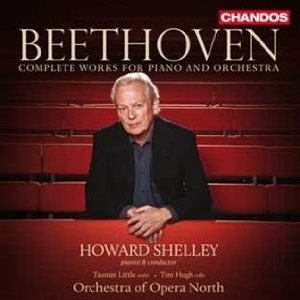 Beethoven: Complete Works for Piano and Orchestra Howard Shelley (pianist and conductor), Orchestra of Opera North (Chandos)
Lavish Beethoven box sets continue to appear. I've enjoyed Chailly's symphony cycle, and another good one with Christian Thielemann and the Vienna PO has just dropped into the intray. Symphonic overload has been thwarted by this comprehensive collection of Beethoven's music for piano and orchestra. Howard Shelley directs as well as plays, but there's no slackness in terms of orchestral response. Shelley previously recorded matchless accounts of the Grieg and Schumann concertos with these forces, and it's not hard to see why he returned; this is svelte, affectionate orchestral playing, with a particularly seductive principal oboe. And Shelley knows just when to step back when Beethoven's solo line slips into note-spinning mode, letting his Leeds players sing. The first two concertos have rarely sounded this genial; we need reminding that Beethoven can be one of the wittiest of composers. There's a subtle shift of tone as we move onto the last three concertos; Shelley recognises that things are getting more serious but still provides plenty of earthy warmth, the shift into C major at the close of No 3 providing plenty of emotional uplift.
The bonuses may prove even more tempting. Shelley can't solve the structural problems of the rambling Choral Fantasy, but he has fun trying. And I've always loved the Triple Concerto, a work which has had its detractors. Here, the excellent extra soloists are Tasmin Little and Tim Hugh. We get the rarely heard piano transcription of the Violin Concerto, complete with thumping timpani in the cadenza. The Rondo in Bb, a possible original finale to Concerto no 2, is enjoyable, but the best novelty is Shelley's own performing edition of an Eb concerto written by the teenage Beethoven. It's lightweight, but doesn't sound like the music of anyone else. This is a wonderful box. It's easily the equal of starrier sets from the past – Barenboim, Kempf, Perahia etc. Buy it.
Tom Cunningham: The Okavango Macbeth Edinburgh Studio Opera/Bawtree (Delphian)
The Lion King is Hamlet with, er, lions. Tom Cunningham's chamber opera, composed to a libretto by Alexander McCall Smith, is Macbeth with monkeys or, more specifically, baboons. It also has better tunes than Elton John's. Baboon society is fiercely matriarchal, and McCall Smith was intrigued by the possibility that some female baboons "might well be expected to have Lady Macbeth traits". Conceived and premiered at The No 1 Ladies' Opera House, a converted garage in Botswana, Cunningham's unpretentious opera is a joy. He has worked extensively as a choral conductor, and he writes intensely singable music. McCall Smith's libretto neatly condenses the original narrative, adding a group of human primatologists who observe the baboons' behaviour from a distance. They can't intervene, but merely observe: "Even death must be watched: dispassionately, written down, as you'd record the weather."
And this does feel like a proper opera, rather than a string of unconnected solos and choruses. My favourite moment was the sweetly harmonised chorus lamenting Duncan's death, which swiftly expands into something sublime. Beth Mackay's Lady Macbeth chills and charms, and we understand exactly why Roan Busfield's Macbeth is so besotted by her. The instrumental writing is pungent and lush by turns. Delphian's recording, drawn from live performances in Edinburgh last April, is beautifully balanced. Small-scale perfection. I only wish I'd heard this performed live.
Watch the opening of The Okavango Macbeth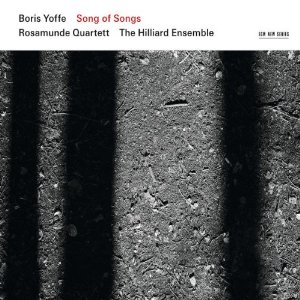 Boris Yoffe: Song of Songs Rosamunde Quartett, The Hilliard Ensemble (ECM)
A friend of mine told me that this was a perfect ECM disc. It certainly ticks all the boxes, from the exquisite, monochrome sleeve art to Manfred Eicher's typically sensitive production. And Paul Griffiths's sleeve notes are a pleasure to read. Boris Yoffe was a composition student of Wolfgang Rihm, who writes in the booklet that Yoffe "had remained immune to teaching". Rihm trusted his intuition that Yoffe could deliver, and when the young composer began writing a string quartet every day ("mostly one page") he was able to turn up to his final examination with a large boxful. Rihm and his colleagues "looked at the box for a long time. We passed the examination". It's a lovely anecdote. And within seconds of listening to this disc you get a sense of what Rihm felt – this music is fully formed and has a fabulous, understated self-confidence. There's no swagger, no pushiness – Yoffe's quartet writing is subtle, softly shaded and knows exactly what it's saying.
Each of the work's five movements incorporates texts from the Hebrew Song of Songs, sung by the Hilliard Ensemble. What Yoffe does brilliantly is meld the contrasting sounds of string quartet and voices; when the two sound worlds overlap it's as if the strings are breathing, sighing, like a second vocal quartet. The quartet writing is slowly paced, soft in terms of dynamics and always intensely melodic, though never lapsing into new-age blandness. Again, Rihm puts it most eloquently, writing that Yoffe's music "doesn't complain. Stays beautiful and giving. Unmisunderstandable." He's right.
Conceived and premiered at The No 1 Ladies' Opera House, a converted garage in Botswana, Cunningham's unpretentious opera is a joy
Explore topics
Share this article