Classical CDs Weekly: Axel Borup-Jørgensen, Purcell, Ostrobothnian Chamber Orchestra |

reviews, news & interviews
Classical CDs Weekly: Axel Borup-Jørgensen, Purcell, Ostrobothnian Chamber Orchestra
Classical CDs Weekly: Axel Borup-Jørgensen, Purcell, Ostrobothnian Chamber Orchestra
Danish modernism, countertenor duets and Russian string music
Saturday, 28 September 2019
Frederik Munk Larson, flanked by producer Preben Iwan and composer Borup-Jørgensen's daughter Elisabet Selin
Floating Islands: Guitar music by Axel Borup-Jørgensen Frederik Munk Larsen (guitar) (OUR Recordings)
Carl Nielsen cast a long shadow over the generation of Danish composers who succeeded him, and there's mention here of post-war musicians trying to reconcile "Danishness" with modernity. One of them was Axel Borup-Jørgensen, a maverick modernist who ploughed a very individual furrow from the late 1940s until his death in 2012. I'd urge anyone curious to seek out the OUR label's glorious Marin, a lavish visual take on one of Borup-Jørgensen's more extravagant orchestral pieces. Then buy this compilation of solo guitar pieces, beguilingly performed by Frederik Munk Larsen. Borup-Jørgensen concentrated on chamber and instrumental music in his final decades and was an accomplished guitarist himself. The earliest work here is 1974's praembula: Opus 72, a linked sequence of 12 enigmatic mood pieces lasting barely 15 minutes. Larsen's playing has us hanging on every phrase, daring us to hold our breath during the frequent silences. Easier to assimilate are the five morceaux composed shortly afterwards. No III's unearthly slow waltz channels Satie, and it's followed by 45 seconds of gnomic stuttering. Quite wonderful; as with the likes of Morton Feldman we've no idea why Borup-Jørgensen's music works its magic. It just does.
2000's Tristrophoni: Opus 163:1 makes extensive use of guitar harmonics, preparing us for five of Borup-Jørgensen's "floating islands". Written entirely for harmonics, they're extraordinary, ephemeral pieces. Larsen summons them to life with rare sensitivity. The album closer, Swebend, is magical, music so soft, so delicate that it's barely present. A superb disc. Larsen's account of meeting the composer is fascinating, and it's good to see examples of Borup-Jørgensen's exquisite penmanship: his scores are works of art. Wonderfully engineered, too: if you only buy one avant-garde guitar anthology this year, buy this one.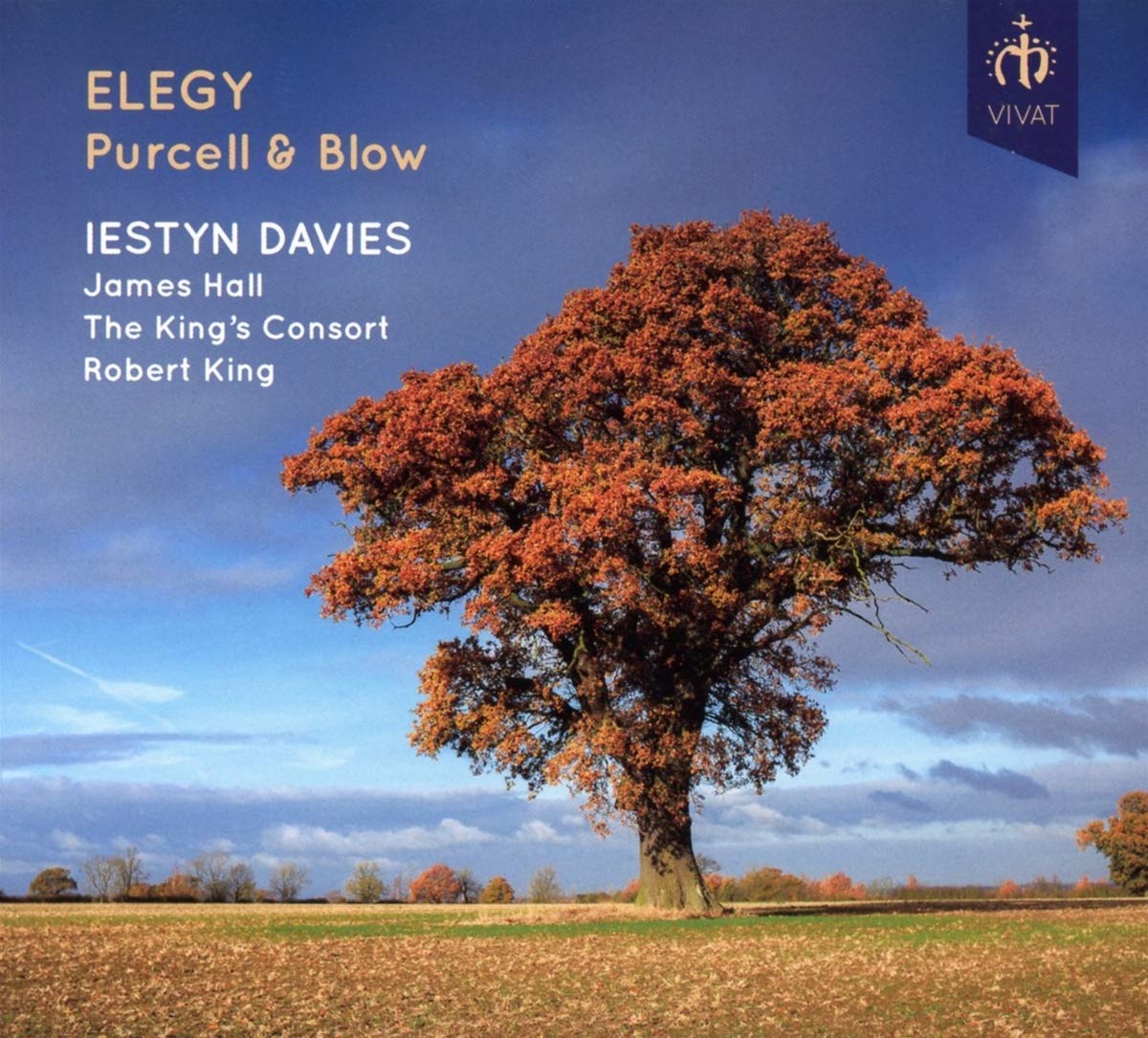 Elegy – Countertenor duets by Purcell and Blow Iestyn Davies, James Hall (countertenors), The King's Consort/Robert King (Vivat)
Henry Purcell and John Blow both served as boy choristers in the Chapel Royal. Blow became organist at Westminster Abbey, vacating the position in 1679 to allow his younger friend and colleague to take over. As a sampler for both composers' talents, this collection of countertenor duets couldn't be bettered. There's also a brilliant little chaconne from Purcell's semi-opera Dioclesian, with a pair of soft-voiced tenor recorders entwined over the descending bass line. That the vocal duets work beautifully is in part due to how well the voices of Iestyn Davies and James Hall are matched, and how much fun they seem to be having. Well-known numbers like Sound the Trumpet really sparkle, and it's a joy to hear them forming a quartet with a pair of soprano recorders (Rebecca Miles and Ian Wilson) in Hark how the songsters.
Davies is compelling in Purcell's The Queen's Epicedium, its lyrical, drawn-out solo line contrasting with Blow's freer setting of the text's English translation. Blow's extended Ode on the Death of Mr Henry Purcell sets lines by Dryden, extolling the virtues of "the matchless man,/Alas, too soon retir'd". It's an affecting, affectionate tribute. Robert King's slimmed-down King's Consort offer lively support, with delicious contributions from guitar and bass viol. Full texts are provided too – a desirable anthology.
Russian Masquerade – Music by Prokofiev, Scriabin, Arensky and Tchaikovsky Ostrobothnian Chamber Orchestra/Sakari Oramo (BIS)
Prokofiev wrote 20 Visions Fugitives, the collection's title taken from a 1903 poem by Konstantin Balmont. He wrote that "In each fugitive vision I see worlds/Full of the changing play of rainbows." You do get the occasional rainbow in this enthralling sequence of miniatures, though the prevailing mood is shadowy and edgy. Violinist and conductor Rudolf Barshai transcribed 16 of them for string orchestra in the early 1960s. As played here by Sakari Oramo's Ostrobothnian Chamber Orchestra, they're quite brilliant. The violence which just 19 players bring to the "Feroce" is terrifying, though they can turn on the charm in the lighter movements. Prokofiev's little "Con eleganza" and "Comodo" are irresistible here. The 20th century's greatest melodist? Almost certainly. It's fun to compare the Visions with Jounni Kaipanen's more recent string transcription of 13 of Scriabin's Op. 11 Preludes. There's little of Scriabin's trademark craziness here, and these tuneful, expressive little pieces are a tribute to Chopin. It's difficult not to purr with delight at various points. No 8 swoons, and Kaipanen accentuates, wittily, No 18's keyboard origins. As with the Prokofiev, Oramo secures razor-sharp playing; this arrangement is a real find.
Arensky's Variations on a Theme by Tchaikovsky is an expanded version of the second movement of his 1894 String Quartet No 2. There's a neat inversion of the theme in the last movement, anticipating Rachmaninov's similar flipover in the Paganini Rhapsody. As a closer, there's Tchaikovsky's gorgeous Elegy for string orchestra. Magnificently recorded and attractively packaged, this is one of BIS's new ecopaks. When will they discover how to make biodegradable CDs?
Borup-Jørgensen's hand-written scores are works of art
Explore topics
Share this article