Classical CDs: Two clarinets and stereo snare drums |

reviews, news & interviews
Classical CDs: Two clarinets and stereo snare drums
Classical CDs: Two clarinets and stereo snare drums
Two discs of solo wind music, Baroque concerti grossi and a radiant French ballet score
Saturday, 29 January 2022
Infectiously upbeat: Van Diemen's Band
Handel: Six Concerti Grossi Van Diemen's Band/Martin Gester (BIS)
I wanted to hear this disc purely on the basis of the group's name. My instincts didn't let me down. Martin Gester and Van Diemen's Band, (based, naturally, in Tasmania) give vibrant accounts of Handel's Op. 3 Concerti Grossi, works which were never conceived as a set by the composer but were surreptitiously assembled without Handel's knowledge by a crafty London publisher in 1734. As with Bach's Brandenburg Concertos, each one is differently scored and the number of movements varies. These effervescent, joyous readings are consistently entertaining. It's difficult not to grin upon hearing Gester's gorgeous organ cadenza, separating the two movements of the D major Concerto No. 6. That the last movement is in D minor makes no obvious sense. Somehow it all hangs together.
There's some marvellous oboe playing from Jasu Moisio and Ingo Mueller throughout the disc, and Georgia Browne's recorder solo in Concerto No. 3 is poised and stylish. And the pair of solo violins in No. 2's first movement – you'll rarely hear their chattering interplay sounding so musical, and so sweetly integrated into the sound picture. Concerto No. 5's fleet finale boasts engagingly cheeky bassoons. The list of reasons to acquire this disc could run into several pages. This is eloquent, elegant music making, and the most infectiously upbeat baroque disc I've heard in months. BIS's glowing sound is another highlight, the concertos taped late in 2019 in Sandy Bay, Hobart. A treat.
Ravel: Ma mère l'Oye, Boléro etc Sinfonia of London/John Wilson (Chandos)
What's not to like here? John Wilson's Ravel orchestral anthology boasts incredibly alert and refined orchestral playing, plus vivid SACD sound. Both Boléro and Ma mère l'Oye are performed in new, corrected editions by Wilson, so it's frustrating that no details are provided in the booklet as to what's been amended. An insider has told me that this account of the full Ma mère l'Oye ballet incorporates "small but significant changes" to the five movements drawn from Ravel's original suite, but I'll need more time to establish what they are. No matter; this radiant score is performed with heartfelt affection and an irresistible sense of fun. Try the harp cadenza in the fourth tableau, the pedal notes wonderfully sonorous, or the piccolo's pentatonic flurries depicting Laideronette, "Imperatrice des Pagodes". And you don't often hear a tam-tam sounding this vivid. It's superb, but I'd urge anyone who loves Ravel to also hear the performances conducted by André Cluytens and Jean Martinon (the pair now on Warner Classics), both of whom better convey the score's fragility and magic.
The more extrovert pieces are superbly handled: Alborada del gracioso is sharp and witty, and Wilson's Boléro has charm and menace, making the unexpected key change in the final bars come as a real shock. Wilson is unique in following Ravel's manuscript, which has the two side drummers alternating each statement of the theme and placed on opposite sides of the orchestra. Listen through headphones and the effect is thrilling. The Pavane boasts a wonderfully smooth horn solo, but check out Cluytens if you want to hear the wobbly piston instrument which Ravel would have recognised. This La Valse is excellent, a work which amazes me more and more each time I hear it, the last 30 seconds echoing the close of Stravinsky's Rite. The Valses nobles et sentimentales, sophisticated fluff, are fun. The cover art is attractive, and the sleeve notes are detailed. I wish, though, that this particular conductor/orchestra combo would continue to record more offbeat repertoire. Wilson's Chandos discs of English string music, Dutilleux and Korngold were stunners; this Ravel collection, though excellent, is up against stiffer competition. You still need to buy it, though, and at nearly 84 minutes it's a bargain.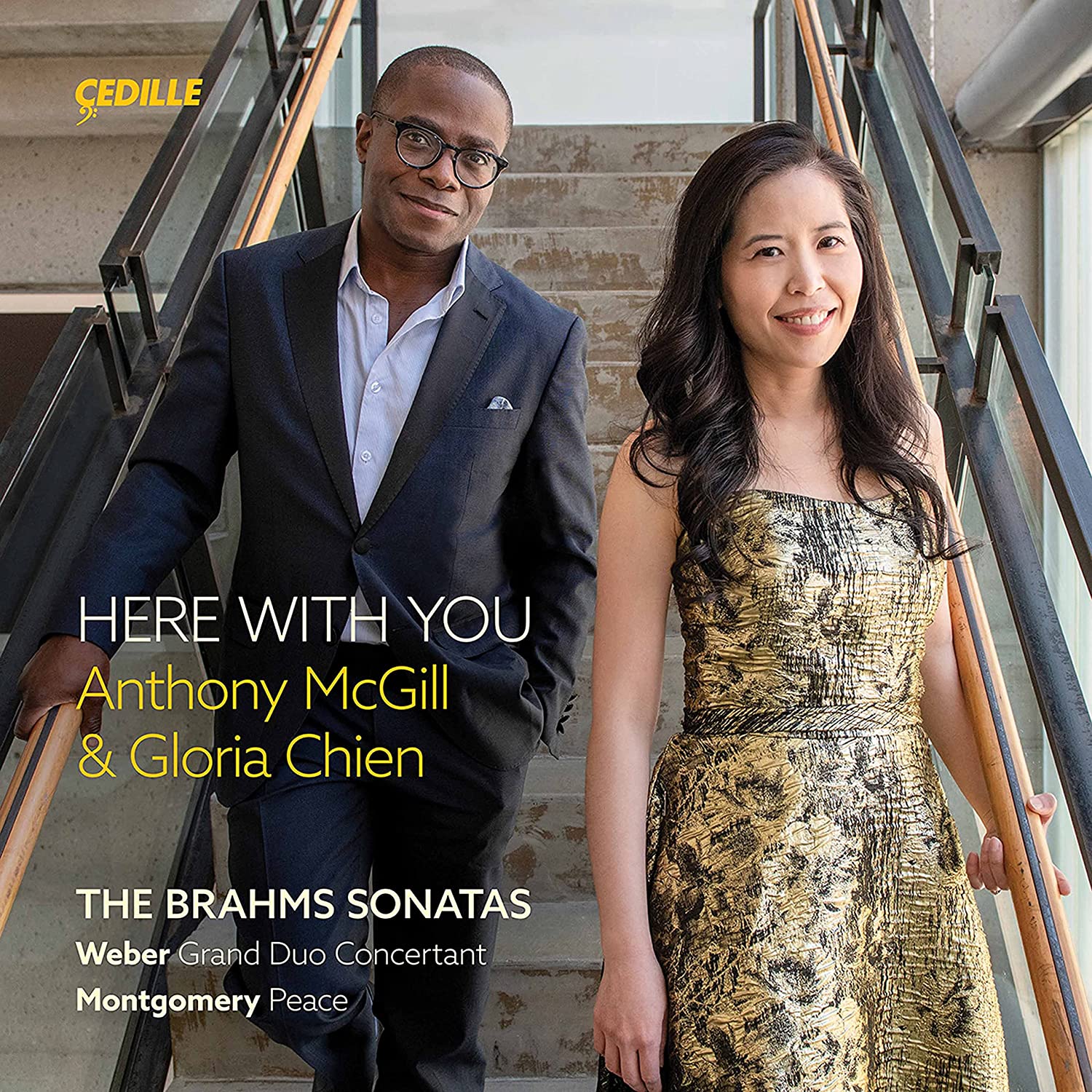 Anthony McGill/Gloria Chien – Here With You (Cedille)
Maximiliano Martín/Scott Mitchell – Origines et Départs (Delphian)
The problem with clarinet-and-piano albums is not that you have to wait for them like buses, but the core repertoire is so narrow: when they do come along, it is all too often likely to be the same bus. Both of these clarinet albums are by very fine players indeed. Anthony McGill, originally from Chicago, is principal clarinet of the New York Philharmonic, the first ever African-American to have a principal's chair in the orchestra. Maximiliano Martín, originally from La Orotava in Tenerife, is principal of the Scottish Chamber Orchestra. Both make a gorgeous sound on their Buffet-Crampon instruments. The Cedille label from Chicago, and Edinburgh-based Delphian have both lavished care on all aspects of production and presentation, and have commissioned thoughtful and substantial liner notes for these discs. One choice which the players inevitably face is whether to record the cornerstones of the clarinet repertoire, or to go truffle-hunting away from it. Anthony McGill and Gloria Chien offer mostly core repertoire: the two Brahms Sonatas and the Weber Grand Duo Concertant, with a quick four-minute excursion to take in the first recording of the clarinet version of Peace (2020) by Jessie Montgomery (b. 1981), which was originally commissioned as a violin piece to be played by Elena Urioste and Tom Poster.
The opening of the Brahms sets a prevailing gentle and autumnal tone. The first four bars are, surprisingly, played at a far slower speed than what follows, and as the two sonatas progress, it is the moments of being delicate and of tantrically holding back in which the duo present their finest work. Brahms' markings such as "grazioso" and "teneramente" are taken more literally than in many recordings. At the opposite extreme would be, say, the recording by Franklin Cohen and Vladimir Ashkenazy, in which the pianist takes pleasure in being able to land forcefully and explosively. Chien's filigree lightness of touch and impressive finger-speed suit her well in the Weber. The partnership, the quality of dialogue and musicality on offer here is first-rate throughout.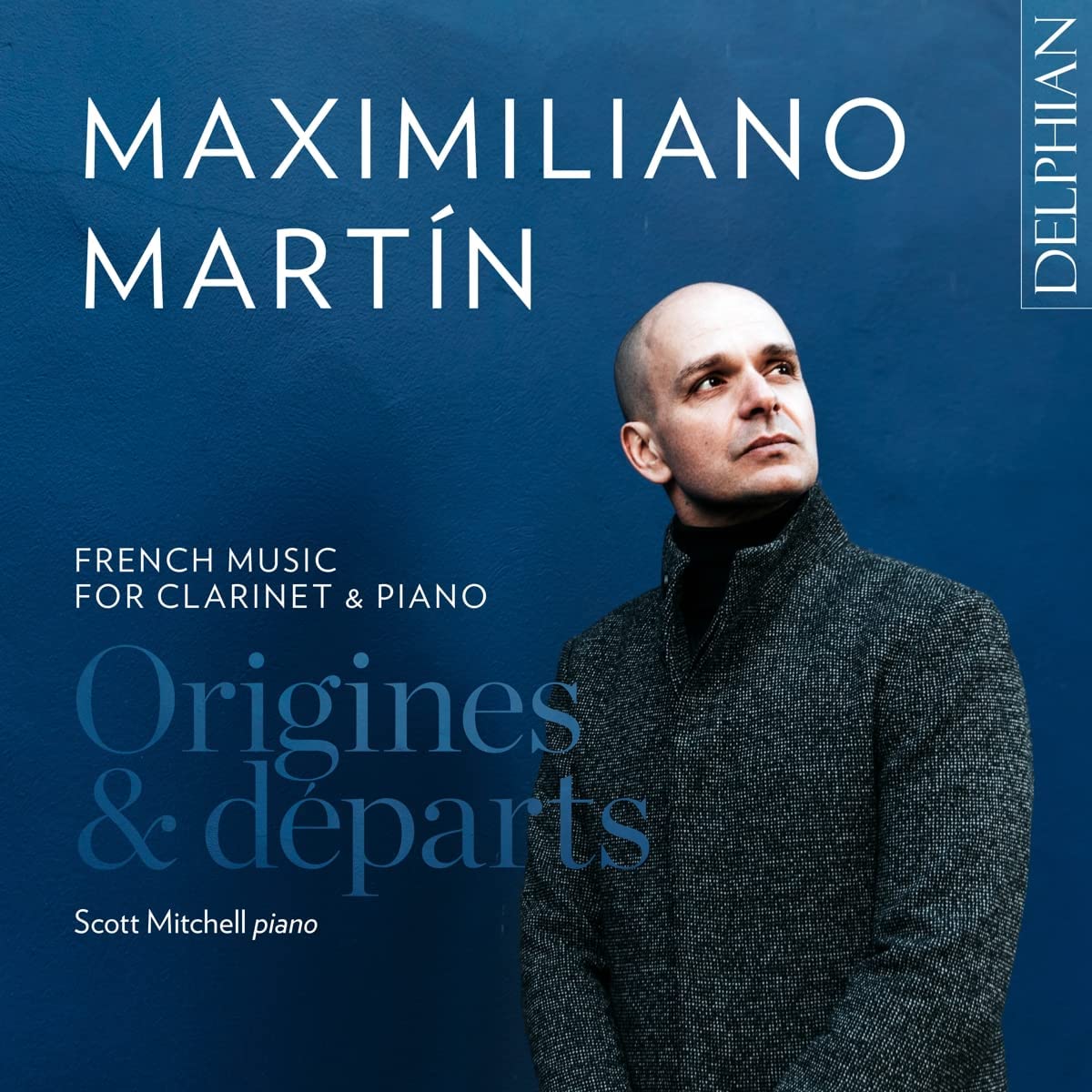 Maximiliano Martín and Scott Mitchell's recital, recorded in an empty Concert Hall in Perth, Scotland, strays more readily from core repertoire, although Martín does re-visit the Poulenc sonata which he previously recorded in 2006. Here he plays it with more heft and conviction, and with a bigger sound than on the previous outing. The album starts with a very strong performance of the Saint-Saëns sonata with a wonderful sense of its shape. He and Mitchell play the slow movement truly idiomatically, but the sound of Martín catching breath before almost every new phrase might be a distraction. The departures from core repertoire bring some good and some more mixed results. Having recorded it in 2006, Martín chooses not to give us another reading of the Debussy Première Rhapsodie from 1910, but he does give us both Debussy's delightful Petite Pièce and the "morceau de concours" of the Paris Conservatoire from the following year, 1911. Despite valiant efforts from the performers, especially some wonderfully lyrical expression in the opening section, played "simplement", exactly as marked, I thought Philippe Gaubert's Fantaisie increasingly outstayed its welcome, as does the Andante et Allegro from Ernest Chausson, written in the composer's mid-twenties. On the other hand, whereas there is already a surfeit of recordings of the salon piece "Canzonetta" by Gabriel Pierné, Martín and Mitchell's reading, beautifully and sensitively paced, is among the best available. - Sebastian Scotney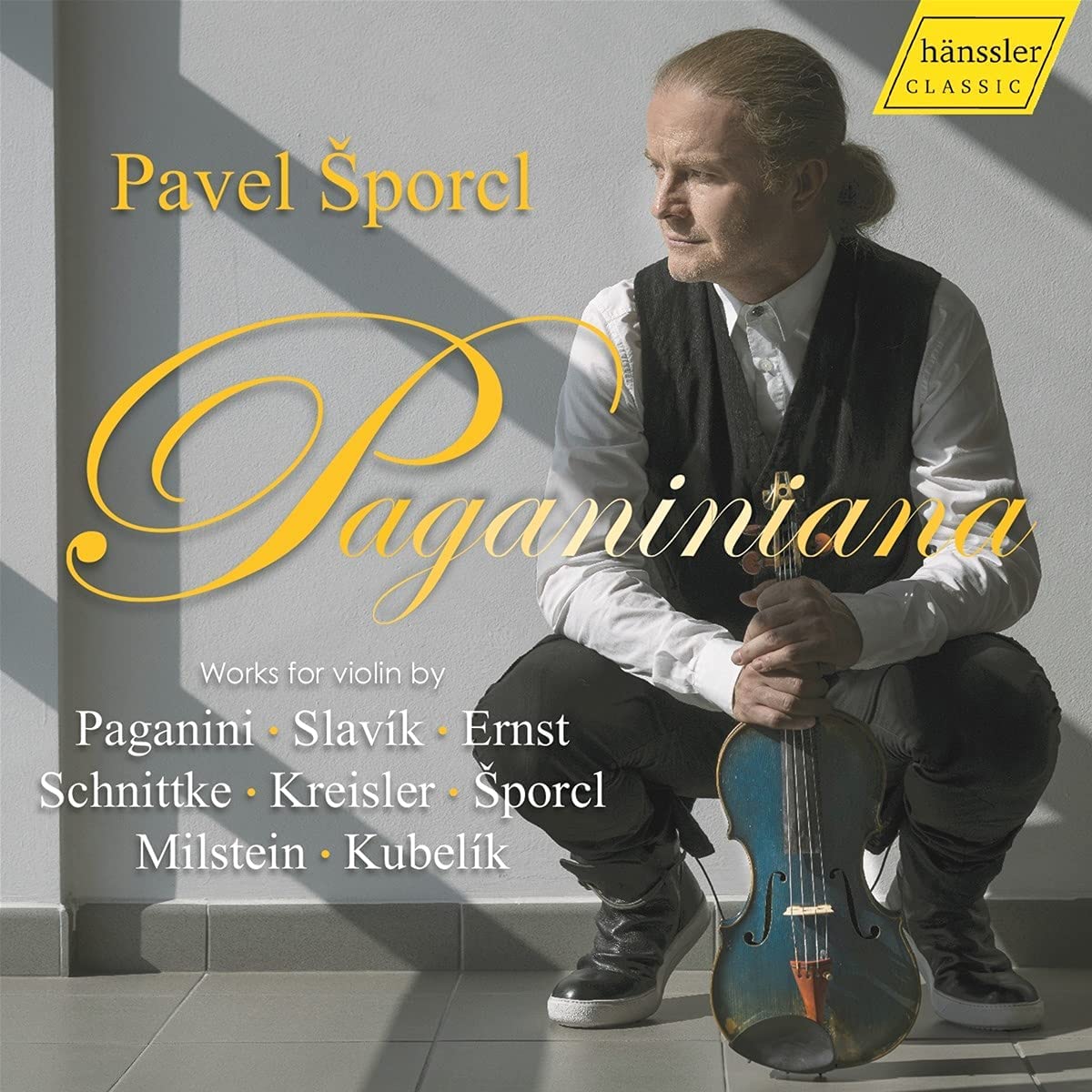 Pavel Šporcl: Paganiniana (Hanssler Classic)
Pavel Šporcl's tribute to Niccolo Paganini is an enjoyable listen, largely because the fireworks are secondary to the musical values on display. Take the ubiquitous Caprice No. 24, performed with a lightness of touch, Šporcl's flexibility of tempo making the piece sound as if it's being improvised. The Paganini is followed here by the first recording of a Caprice by Josef Slavik, a short-lived Bohemian violinist whose playing impressed Chopin. It's insubstantial but enjoyable, Slavik's appealingly lyrical opening paragraph followed by a virtuosic fast section which feels like it's from a different work altogether. Heinrich Ernst was another early 19th century violinist in Paganini's shadow who exhaustively followed his idol around Europe, attempting to uncover the older player's technical secrets. His The Last Rose of Summer is enjoyable, an Irish folk melody treated to a series of increasingly flamboyant transformations. Šporcl never lets us lose sight of the theme, however outlandish the playing.
You admire Šporcl for throwing in a curveball in the form of Schnittke's A Paganini, a 12-minute distillation of Paganini's life, taking in birth, a battle with the Devil and a drawn-out, dissonant death. Fritz Kreisler's little Recitativo and Scherzo is a calmer affair, beautifully performed, and there's an enjoyable Paganini tribute by Nathan Milstein. There's also a spiky cadenza composed for Paganini's Violin Concerto No. 1 by Jan Kubelik (father of conductor Rafael) and Šporcl's enjoyable set of variations on the Czech national anthem. An enjoyable disc, warmly recorded and well-annotated.
One choice which clarinetists face is whether to record the cornerstones of the clarinet repertoire, or to go truffle-hunting away from it
Explore topics
Share this article