Charles Owen and Katya Apekisheva on the London Piano Festival: 'It's not just playing one concert and going home' |

reviews, news & interviews
Charles Owen and Katya Apekisheva on the London Piano Festival: 'It's not just playing one concert and going home'
Charles Owen and Katya Apekisheva on the London Piano Festival: 'It's not just playing one concert and going home'
On a meeting of musical friends with a Two-Piano Marathon at its heart
Owen and Apekisheva after a performance in the festival at Kings Place
We've been friends for many years, since the mid-1990s when we were both studying at the Royal College of Music with the same inspirational piano teacher, Irina Zaritskaya. Our first duo performance was in 2001 at the Homecoming Festival in Moscow, when we realised we clicked musically.
Things gradually developed from that point onwards with more festival appearances alongside our solo careers.
Having both played at many festivals over the years, we found that one in particular really made its mark – Finghin Collins's New Ross Piano Festival. We first performed there in 2011 and loved the atmosphere of all of the pianists taking part. Gradually we built up ideas of wanting to create something together, seeing a gap in the market for a piano festival in London. When we began to think about venues, Kings Place came to mind following numerous performances there in their series such as Mozart Unwrapped and Brahms Unwrapped. The hall, though not big, feels intimate and perfect for piano recitals. We first approached Kings Place in 2013 and the conversations went from there.
The first London Piano Festival was held in October 2016, and to say it was stressful would be an understatement! Just like any first time or big venture, there was so much to learn. We were not only having to be pianists and musicians but also organisers and promoters, often dealing like businesspeople. All this was a massive learning curve. As performers, building a Festival from scratch definitely has its difficulties but is always very rewarding.
Nowadays more and more performers are actively running their own events, so we had no shortage of friends and colleagues to seek advice from. In particular Kathryn Stott was a big inspiration for us. Kathy is not only an amazing pianist and musician whom we admire, but she also curated her own festival in Australia – the Australian Festival of Chamber Music – which has been extremely successful with imaginative programming and creativity.
Programming a festival is entirely different from a season or series. There's something about the atmosphere of a festival that has to feel different from normal concert programming. The spontaneity and combinations of personalities is crucial in order to create that festival spirit. Beyond the stage performances is an even bigger event; the socialising, parties and endless laughter backstage is something that is unique to the festival scene, and something we wanted to capture and continue through our London Piano Festival too. We want every musician who performs at the festival to feel welcome and looked after, which is something as musicians we don't usually have to think about! The Festival programming has always been personal. In the beginning we mostly invited pianists we knew and admired who were of course of the highest calibre.
Nowadays we are reaching out further than our contact base and approaching pianists through their management, which is also a new task and skill we've had to learn. Making a programme creative but not too challenging is one of the hardest things about running a festival. We're always striving to find that perfect balance which will be interesting but also appeal to the audience – not playing it too safe, but not going too far out.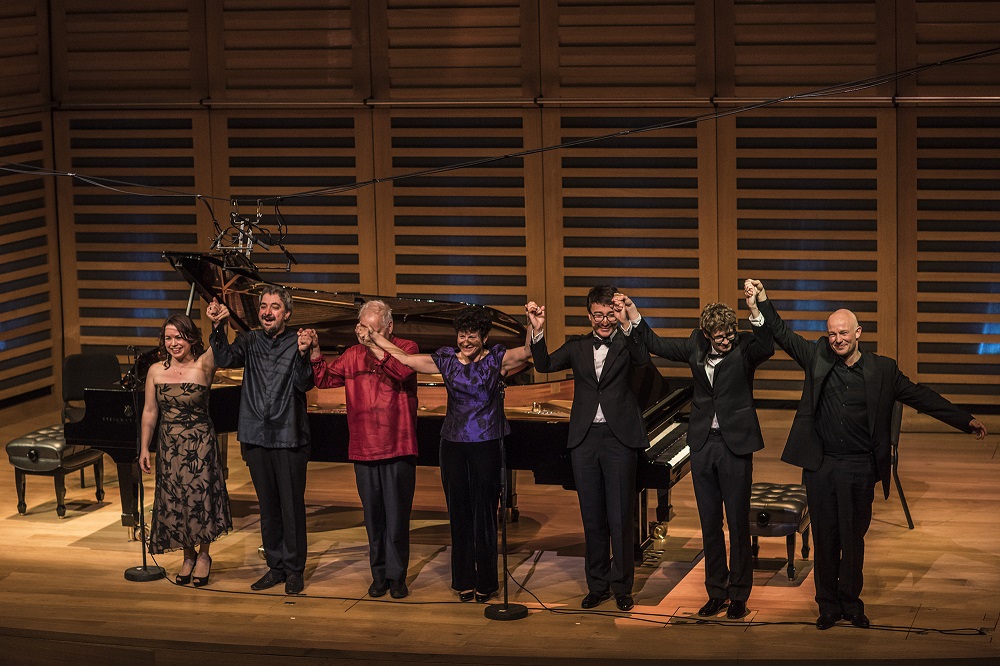 The highlight of the Festival for us is always the Two-Piano Marathon, a Saturday evening event that sees around five or six pianists from the Festival come together and perform in duos (pictured above, last year's bow: Apekisheva, Konstantin Lifshitz, Stephen Kovacevich, Margaret Fingerhut, Samson Tsoy, Pavel Kolesnikov and Owen). We felt that this could be something that really stands out as a unique central event, and feel that it's not just about playing one concert and going home (like pianists are used to doing!). There's no competition but simply sharing and exchanging ideas.
The repertoire we programme for the Two-Piano Marathon is usually rarely heard in London concert halls, so it's exciting to be able to offer a platform for many substantial works. Hearing different combinations of pianists playing together creates a wonderful atmosphere in the hall, varying from established partnerships like ours to pianists who have only met for the first time just days before. In the same way that four solo string players can come together to perform fantastic quartets, two pianists performing duos for the first time can really be magical. The spontaneity of it all is something we really treasure.
As well as programming existing repertoire, we realised the amount of two-piano repertoire isn't going to last us forever! Since 2016 we've commissioned three pieces by leading composers. In 2016 Nico Muhly wrote Fast Patterns for us and 2017 saw Elena Langer write RedMare. Our biggest ever commission is by Jonathan Dove (pictured left) this year. Firstly it's lovely that Jonathan has called the piece Between Friends, which has a number of connotations. Jonathan dedicated the work to a friend of his who sadly passed away last year, with whom he used to play two pianos. Jonathan has attended two of our previous Two-Piano Marathons and really picked up on the spirit of the event and the friendships – both old and new – that are evident in the performances. It's always exciting to play new works and we're thrilled to be continuing to add to the two-piano repertoire.
The buzz of the Festival is something we look forward to each year. During the first LPF in 2016 we walked on stage to perform in the Two-Piano Marathon and were welcomed by massive applause, it still makes us emotional thinking about that moment. We feel so proud to have created something that is enjoyed by audiences of all ages, whether they're jazz fans, under 10s or classical lovers. We're equally enthralled when we sit in the hall as audience members and hear revelatory playing by our friends and colleagues. One of our key agendas with the Festival was to emphasise the importance of the piano as an instrument, and hopefully we've done just that.
Next year is our fifth anniversary, so let the planning commence…
The spontaneity of it all is something we really treasure
Explore topics
Share this article