Britten 100: Death in Moscow |

reviews, news & interviews
Britten 100: Death in Moscow
Britten 100: Death in Moscow
Outstanding countertenor Iestyn Davies chronicles Russian premiere of Britten's last opera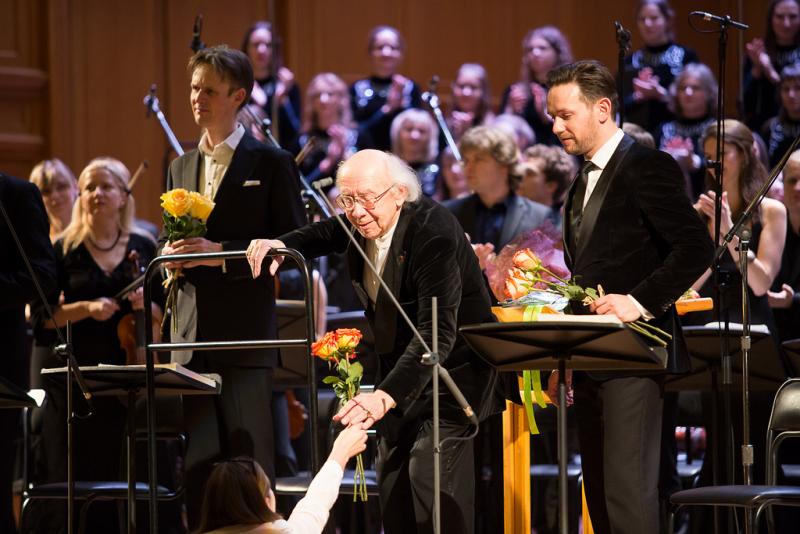 The great Gennady Rozhdestvensky receives Russian roses while Ian Bostridge and Iestyn Davies look on
"A cold coming we had of it," grumble the three kings in T S Eliot's poem "The Journey of the Magi" later set by Britten as his Canticle IV. "Just the worst time of year for a journey," they complain, carried onwards by the ungulate bass notes of the piano.
Barely 48 hours after having stepped foot on the harsh, wintry Russian soil my two travelling companions (Ian Bostridge and Peter Coleman-Wright) and I lined up on the stage of the Small Hall of the Moscow Conservatory and delivered Britten's five Canticles, weary eyed and journey worn. One could say this was life imitating art, save for the absence of any dromedaries.
Outside, the snow had begun to fall, rapidly covering the huddled passers by buried in all manner of furs, evidence of the sudden decline in temperature. Yet the warm glow of the Conservatory lights began to swell as the evening's concert drew to a close and back on stage we took our bows to the applause of an audience experiencing this strange, haunting and beautiful music, many for the first time. A sea of faces beamed appreciation in our direction, some familiar, some less so. To our left were the welcoming faces of the British Council and Britten-Pears Foundation and to our right, mouth agog and eyes glazed over with an equal combination of pure joy, age and worldly experience, was the face of Gennady Rozhdestvensky the Russian maestro who had himself met Britten and amongst other things given the first Russian performance of A Midsummer Night's Dream in 1965.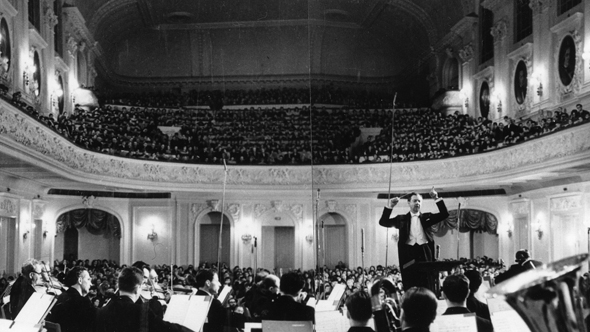 This notable gathering was now to give the Moscow premiere of Britten's final operatic work Death in Venice some forty years or so after the composer's own excursions to this country. His relationships with Rostropovich (the composer conducting the Moscow Conservatory world premiere of his Cello Symphony in 1964 pictured above) and Shostakovich are well documented, but his music has enjoyed a less significant conference with the Russian ear. So with winter encroaching all around us and the last fruits of summer a distant memory, the scene was set for the first telling of this tale of ambiguous death. But this was an occasion for birth and of new beginnings: every bit a Venetian voyage of trepidation in a country where middle-aged men engrossed in the beauty of young Apollonians is hardly en vogue.
Yet it was the mission of the British Council and Richard Jarman, General Director of the Britten-Pears Foundation, to celebrate Britten's work and connections with Russia, for as Jarman has said, "I got the impression that there was a keen and curious audience for all sorts of music in the city [Moscow] and that Britten's name and reputation were still familiar. Seasons of Benjamin Britten in Russia is an opportunity to refresh the audience's knowledge and to present some new and unfamiliar works."
No greater evidence of this sort of work was needed than at our first rehearsal. Framing the stage were ranks of student singers making up the chorus. Similarly desks of student instrumentalists jostled for elbow room with the occasional professor from the Conservatory and the opera school's elite crowded somewhere in the middle, eager to make an impression with the odd line here and there: "Signor, would you like a chair?", "Buy my beautiful lace!", "Stampa…Newspapers!", and so on. Last time I visited Venice it was indeed this crowded. And at the front we three stood awaiting the maestro. This was not about us peering behind the curtain and pointing at our hosts but about them taking something unfamiliar from us and making it their own.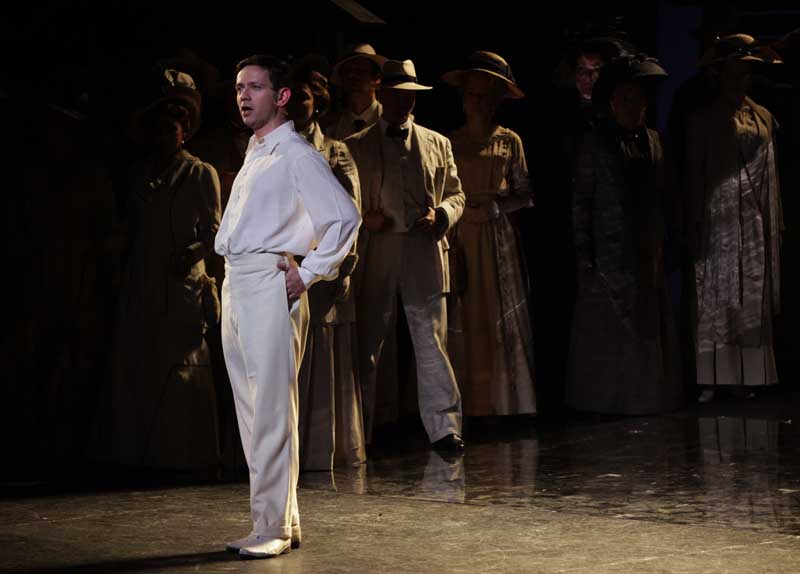 My English-speaking colleagues and I were lending the helping hand, bridging the gap between this performance and our own experience of this music begun in Deborah Warner's 2007 ENO production (the author pictured left as Apollo in a Milan staging of Warner's production). The hard thing for anyone performing this opera is that everything that happens revolves around one man and so you need a strong Aschenbach from the off. Ian Bostridge is just that. Tall and commanding in the role, he had to establish a crucial unspoken connection between himself and the large throng of musicians behind him (Bostridge and Rozhdestvensky during the performance, below).
Yes, we were all facing Gustav von Aschenbach and working our way around his troubled mind but we also faced Britten and his legacy. It reminded me of what that great Britten scholar Donald Mitchell has written about this opera: "that there is no verbal communication between the two principles in Death in Venice certainly creates a situation ripe for music". The second principal, of course, being the dancer Tadzio. However, this was a concert performance without a dancer, without the very linchpin around which Aschenbach hangs out his desires and fears. Mitchell continues: "music can do everything that cannot in this case be spoken". And there it is, the music was central to this performance, central to the whole year of the Britten celebration in Russia.
Gennady Rozhdestvensky was particularly keen that we dropped all formalities at the door and refer to him as "Gennady" from the first downbeat. A friend from the outset. Buoyed along as he was by his incredibly energetic wife, the pianist Viktoria Postnikova, rehearsals were noted for their brevity in detail. We had been warned of this. In fact we seemed to be fortunate that during each of the five days we spent on this work Gennady was present, such was his enthusiasm for this particular performance. Legends abound of 15 minute rehearsals and one take recording sessions which I could argue makes him the musician's perfect conductor, leaving everything for the "moment" - but I would get in a lot of trouble in the future when angling for extra rehearsal time from recital halls.
Underlining friendships and bonds between the two countries was evidently paramount to the success of this week of work and performance. Paul de Quincey and his team at the British Council in Moscow must be praised for this. One evening we shared exceptional Georgian cuisine – food from the country, not Hanoverian puddings - with veteran author Martin Amis and the young Granta listed writer Ned Beauman, both over for some very serious literary discussions. It was a surprise to learn that this was Amis's first visit to Russia, since he has penned Koba the Dread, about Stalin, and House of Meetings, a story of life in the Gulag. It 's a testament to his writing powers that he remains one of Russia's most popular English-language authors.
On another evening the British Ambassador entertained two dozen to dinner from both sides of the Old Divide in what is possibly one the finest of all ambassadorial residencen, facing the Kremlin as it does across the Moskva river and containing a suite of rooms each fashioned after the Grand Tour. After-dinner speeches revealed the encouraging news of the increasing strength and presence of the British Council's arts programme in Russia.
The temperature outside did not rise as the week progressed and one at a time we each took it in turn to succumb to some version of a cold or other, passing as we were back and forth between the heat inside our hotel and the freeze outside. First Ian slithered away to his room, no doubt fearful of the catastrophe of a Death in Venice without both Tadzio and Aschenbach and then my turn came when the lack of sleep and probably close proximity to the ailing tenor took its toll. Sleep was all we could hope for. Lots of sleep.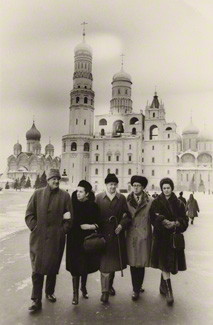 Meanwhile Peter Coleman-Wright, fit as a fiddle, full of energy for his multiple characters in the story was whisked away by Madame Postnikova on an "amber shopping" experience followed by a tour of Novodevichy Cemetery, the Who's Who of Russia's dead, amongst whom lie Rostropovich (pictured left with his wife Galina Vishnevskaya, Pears, Britten and Marion Stein, one of the photographs in the National Portrait Gallery's Britten exhibition), Prokofiev and Shostakovich. Their presence of sorts brought to mind the poignancy of this premiere, bereft of the presence of its two main creators in Britten and Pears. How strange to give a "first" performance four decades after a piece's inception.
But, what a perfect hall the Great Hall of the Moscow Conservatory is in which to give such a performance. Packed to the rafters, its acoustic remained flawless as the bells of St Mark's rang out, the gondolas bobbed up and down and the beach hosted the percussive gyrations of the young Polish boy and his rivals. So masterful is Britten's creation that somehow the lack of any dramatic staging only heightened the imagery that abounds in every page. Gennady let the music roll out almost by itself, offering the occasional cue to a lone bassoon or errant hotel porter. It made for a long first half. I was amused to have heard two things in the interval. First, a woman had been seen leaving with a downcast face, 'this is even worse than Shostakovich!" and second, upon commenting on the pacing of the opening act a suggestion was offered that perhaps the older one gets the less likely one is to conduct with direction towards to the end, whatever that end should be. Pictured below, Rozhdestvensky holds the score aloft at the end of the concert.
The second act to my mind offers the finest example of the composer's work, a climax of experience and understanding of his art. No matter where you stand with regards to interpreting the ambiguous Aschenbach very few can be so stony hearted not to relate the final page of music to any other finality than that of the life of Benjamin Britten himself. Whether he was driven to compose something so terminal or not we won't ever know but drawing the piece slowly but surely upwards and inwards until it vibrates with just one final note concludes many more stories than that told by Thomas Mann. Sentimentality perhaps, but like the Sea Interludes of Peter Grimes evoking all that is Aldeburgh beach and the North Sea, one cannot hear those final pages of Death in Venice without a sense of the frail composer, wilting under a blanket in his wheelchair staring out to his beloved Suffolk for the last time or of the heartbreaking interview with Pears describing how Britten "died in my arms".
Like our three Magi who had begun this journey seven days before, we were present at something like a birth. "Were we led all this way for birth or death?" they ask. Certainly, there was a birth, but only at the price of marking the passing of time and lives lived. And so we left the magnificence of Moscow behind us, collecting our belongings for a dawn taxi ride out through the brown slush of the suburbs our heads lolling forward, sleeping in snatches, with the voices ringing in our ears: "I should be glad of another death".
Share this article