BBC Proms live online: London Sinfonietta, Paterson review – varied perspectives on city life |

reviews, news & interviews
BBC Proms live online: London Sinfonietta, Paterson review – varied perspectives on city life
BBC Proms live online: London Sinfonietta, Paterson review – varied perspectives on city life
A well-conceived programme allows a range of musical voices to speak
Wednesday, 02 September 2020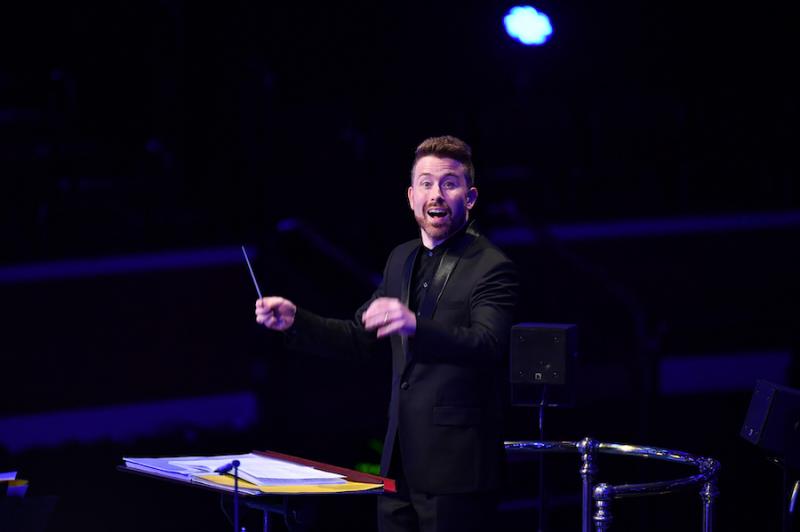 Geoffrey Paterson conducts the London Sinfonietta
In reviewing Sunday night's LSO Prom I was impressed by the innovative and exciting programming and that was also a hallmark of Tuesday's Prom, although this was more true to form for the London Sinfonietta.
Since its inception the Sinfonietta has sampled both ends of the
contemporary spectrum
and everything in between, and that was the case here. The theme was "city life" but the music was also united, as the conductor Geoffrey Paterson said, by having pulse – and sometimes more than one at the same time.
The most pulsing – if not pulsating – piece was Philip Glass's Façades and actually the regular flow in the strings took a few moments to settle. After that this flat bedrock provided the perfect blank backdrop for a pair of soprano saxophones. Façades has long been a favourite backing track of documentary makers and it is clear why: although you can find it on many a "chillout classics" playlist it actually has a distinctly unrestful, haunting quality. The sax melodies – mostly plain scales – were played hypnotically by Simon Haram and Amy Green and the piece doesn't outstay its welcome, not always the case with Glass.
One of the strengths of this programme was the bold juxtapositions between pieces, and the uneasy tread of the Glass gave way to Julia Wolfe's East Broadway, in which Clíodna Shanahan (pictured below by Chris Christodoulou) beat the hell out of a toy piano for four minutes, accompanied by audio playback on a cheap and gaudy boombox set up by the keyboard. Looking very much like Schroeder from Peanuts, Shanahan was committed and virtuosic, right up to the final brutal forearm smashes.
Conlon Nancarrow spent his life in Mexico City, hand-punching holes into piano rolls, as the only way his polymetric complexities could be realised in the mid-20th century. Some of his works were later arranged for live players by Yvar Mikhashoff, and here we heard Studies no. 6 and 9. It is rare that music this uncompromising in conception is so immediately appealing, and the insouciance of the music, with various rhythmic strands proceeding in their own time, as if oblivious to each other, is enchanting, if incredibly difficult to play. Like the music of Ligeti (who was a big fan of Nancarrow) there is the feeling of a musical vehicle constantly on the verge of lurching out of control, but never quite doing so. Glued together by bassist Enno Senft's walking lines, this witty but generous spirited performance was a delight.
Tansy Davies' neon alternated sections that she has described as a "pounding grinding groove" with more spacious elements in between. It often sounded like the bastard child of Nancarrow and Stevie Wonder but with a more acerbic, punky aesthetic. Timothy Lines (bass clarinet) was worked hard and there was noisy percussion from a selection of boxes and tin cans; the promised groove did indeed groove.
This led to the quieter contemplation of Edmund Finnis's in situ, which with the Davies piece proves that the Sinfonietta remains a home to the lower-case title. His music was more contemplative, allusive, reflecting music by Josquin and Rameau among others in a contemporary mirror. The music was subtly scored and had a refreshing gentleness after the brittle Davies.
Which cannot be said of Anna Meredith's extraordinary Axeman. This is a bruising, scorching four minutes of rock guitar heroics, all wailing and grimy feedback – with the catch being that it is performed by that most sedate of instruments, the bassoon. The brilliant Jonathan Davies (pictured above), wired up to a distortion pedal and then fed through a guitar amp, produced the most extraordinary range of sounds and an exhilarating turning-on-its-head of musical expectations.
The finale actually felt a bit flat after that one. Steve Reich's City Life is his mid-1990s tribute to his home city of New York, combining the live ensemble with field recordings of the city that he made himself. Spoken phrases are then picked out instrumentally in a device he created in the brilliant Different Trains (1988). But in City Life the recordings somehow don't feel as integrated, sitting more on the surface and even getting in the way of the music. The exceptions are the third movement where a sample prompts an agglomerating process which unfolds with the singlemindedness of early Reich, and the fourth, exploring the "heartbeat of the city" literally through a heartbeat sample. Geoffrey Paterson kept a benevolent hand on the tiller here as throughout – conducting minimalist music can be a bit thankless – and Ian Dearden's sound projections came over well on the livestream, although I suspect he may have been the one person involved relieved there wasn't an audience, as pleasing everyone in the hall is beyond any sound engineer.
Looking very much like Schroeder from Peanuts, Shanahan was committed and virtuosic, right up to the final brutal forearm smashes
rating
Explore topics
Share this article