10 Questions for Cellist Raphael Wallfisch |

reviews, news & interviews
10 Questions for Cellist Raphael Wallfisch
10 Questions for Cellist Raphael Wallfisch
On composers in exile, the forgotten beauty of English cello concertos, and why you shouldn't mess with Beethoven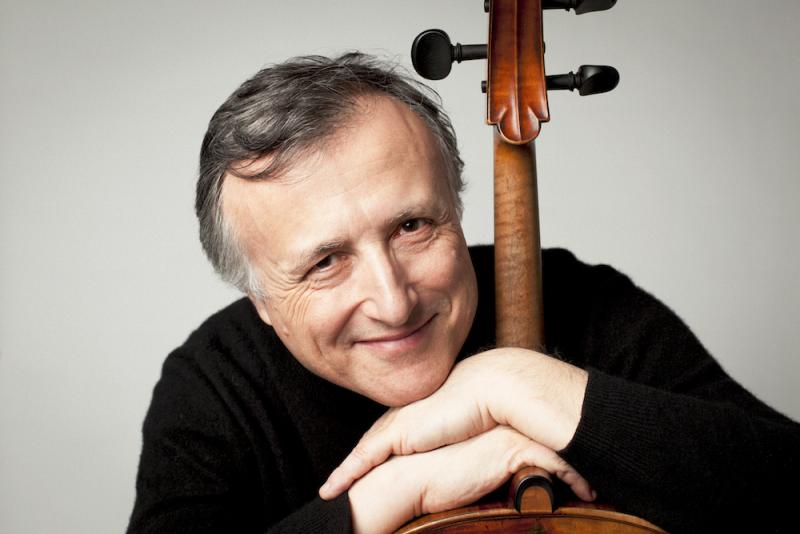 Raphael Wallfisch: 'The Finzi is the greatest British cello concerto, in my opinion'
Cellist Raphael Wallfisch thinks outside of the box. His concert repertoire spans the popular concerto choices – the Elgar, the Dvořák – but he doesn't stop there, and makes a point of seeking out the lesser-known and the little-heard.
He has a particular taste for English
cello
concertos of the 20th century, and his advocacy has revived the fortunes of cello works by Bliss, Bax, Moeran, and particularly Gerald Finzi, his performance of the Finzi Cello Concerto a surprise hit of the 2001 Proms.
His recording projects are equally adventurous. By the end of this year, Wallfisch will have released five CDs in his series "Voices in the Wilderness," exploring the cello music of Jewish composers who fled the Nazis. Wallfisch has a personal connection here, as his mother, Anita Lasker-Wallfisch, was a cellist in the Women's Orchestra in Auschwitz, and moved to the UK in 1946, soon after her liberation from the Bergen-Belsen camp. "Voices in the Wilderness" traces the careers of composers who fled to America (Karl Weigl, Erich Korngold, Mario Castelnuovo-Tedesco), Britain (Hans Gál, Franz Reizenstein, Berthold Goldschmidt), and Soviet Russia (Mieczysław Weinberg). Emigration and displacement have resulted in neglect for many of these composers, and Wallfisch has found many little-known gems among their cello works, now finally coming to light.
But none of this is to suggest that Wallfisch avoids the big-names, and so our conversation begins with Beethoven.
The Gál concerto is a real challenge, but it has the best tunes ever
GAVIN DIXON: Your group, the Trio Shaham Erez Wallfisch, will be performing the complete Beethoven piano trios at the Wigmore Hall next season, as part of celebrations for the 250th anniversary of the composer's birth. But we play Beethoven all the time, so how do you make it special for a celebration?
RAPHAEL WALLFISCH: The anniversary is a wonderful excuse for programming. And with the piano trios, we have almost all the periods of Beethoven. That means we can show his incredible development of style and courage, from the Op 1 set right up to the "Archduke" – that piece is the biggest treat ever! Even though I've played this repertoire quite a lot, you just know that however much you rehearse, however much you play, you'll never get to the end of it, because it is so wonderful, so all-encompassing of every emotion you will ever feel. It is physically challenging to play, and everybody knows it so well. It is like reciting Hamlet or Macbeth. So you've got all of those challenges, at the same time! You don't need to do anything to it. You don't need to find a new interpretation. It is what it is. If you try to be as truthful to the best text you can find, and to your instinct, then you can play with conviction. You can always celebrate Beethoven, you don't need an anniversary.
What do you think of period instruments in Beethoven?
Of course you can play all of the chamber music on original instruments, on old pianos, which is very interesting, but I don't think it is the answer, especially with Beethoven, because Beethoven was a man who was impatient to improve, to develop, develop, develop. But he ended up living in his own head, not hearing what was going on.
Turning to your "Voices in the Wilderness" project, I notice one of the upcoming releases is of works by Mieczysław Weinberg, whose music has enjoyed a sensational revival in just the last few years. He is an anniversary composer too, this year his centenary. Was that the impetus? Undiscovered music by Weinberg seems to be appearing all the time...
... and so it should, it has been suppressed for long enough. The CD includes a recording of Weinberg's newly discovered Concertino. It is a reworking of the more famous Cello Concerto, just for cello and strings. He wrote it for Rostropovich, but they just found it in a draw – it had never been played. I'll also be performing the Cello Concerto live this season, in Poland and Nancy. You can keep going on and on with Weinberg, with all the music for cello and piano, there is just so much music to do.
The Paul Ben-Haim concerto sounds interesting. Ben-Haim is considered the father of Israeli classical music, so does this work sound Israeli?
A bit. It has some low flute playing, and a lot of harp. There is no doubt where it is coming from, it has real identity. And it is extremely well-orchestrated and well-written. So I'm thinking – come on cellists, this is a great piece, come on! And even in Israel they don't play it. I know many cellists there, and they say to me, "Blimey, are you converting to Orthodox Judaism?"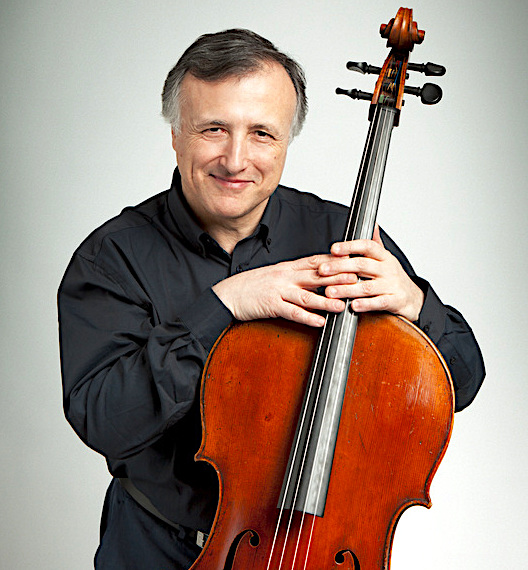 What is your favourite concerto from this series?
I must admit my favourite is Hans Gál. That is just the most touching, beautiful piece. As a cellist, this concerto is a real gift – it is like having a Brahms cello concerto. I really hope that people take it up. It is a real challenge, but it has the best tunes ever.
Was it written when he was in Britain or before he left Germany?
Actually, he wrote it when he was in the internment camp on the Isle of Man. It wasn't a bed of roses there. And then his son committed suicide. Dark, dark times. I met him once, years later when he was living in Edinburgh. But I didn't know his music then – now I am very happy to.
I understand the Finzi Cello Concerto is a particular favourite of yours. Do you have any performances lined up?
Yes, the Finzi is the greatest British cello concerto, in my opinion. It is a piece that I just adore. I'm going to Moscow in November, playing there for the first time – and I'm playing the Finzi! They asked me "What is this Finzi?", and I said "You wait, you'll see". I'm really looking forward to it.
Looking further ahead, do you have any further projects you can tell us about?
The other one that is very much on my mind is a new big work, written for me by Jonathan Dove.
A concerto?
No, it is going to be a kind of cantata, with Simon Keenlyside singing. Dove's long-time friend Alasdair Middleton is the librettist. He is compiling the texts at the moment. It will be with the City of Birmingham Symphony Orchestra. The performance is in 2021, which is the CBSO's centenary, so they are commissioning a lot of new works to celebrate.
Have you had much input in the work?
So far, no, apart from him asking me what I can and can't do – can you do this? Can you do that? – the rest is up to him. Frankly, if you can find a composer who knows how to write lyrically, that's going to be a good cello piece. That is what people are going to want to play in future, which is the most important thing.
Frankly, if you can find a composer who knows how to write lyrically, that's going to be a good cello piece
Explore topics
Share this article