theartsdesk at the Setúbal Music Festival 2018: youth leads the way |

reviews, news & interviews
theartsdesk at the Setúbal Music Festival 2018: youth leads the way
theartsdesk at the Setúbal Music Festival 2018: youth leads the way
Community spirit infusing high-level events in a Portuguese port
The drummers of Sant'Iago Olodum leading the annual percussion parade
"Get those creatures off the stage, or I won't answer for what I'll do". The exclamation of the Prima Donna in the backstage prologue of Richard Strauss's Ariadne auf Naxos, about to share her grand opera with lower forms of theatrical life, seems to have been shared by a head teacher at the first Setúbal Music Festival in Portugal eight years ago, faced with the arrival of special-needs children to join his pupils.
It was a sink-or-swim moment, but artistic director Ian Ritchie stood firm, and the festival has gone swimmingly ever since. All levels now work together without anything other than creative friction to produce performances of extraordinarily high quality, assisted by what Ritchie calls "stardust" from distinguished visitors.
Those visitors have their own impressive spots in the limelight, too, but only on condition that they also work alongside the locals to make good art in a city which has had more than its fair share of social problems. Its beautiful location at the mouth of the Sado Estuary - the local colony of bottle-nosed dolphins and the mountainous Arrábida national park to the north are both attractions - its fine old town and its reputation for the best seafood in Portugal, which Lisboans travel 50 km south of the capital for at weekends still haven't been enough to fulfil Setúbal's promise as a stopover destination. Except, of course, as far as those of us who come for its extraordinary festival are concerned – I last visited four years ago, and fell in love - who hope it stays as it is. Certainly there's no better way to showcase the turn-of-the-century buildings on its wide and handsome central avenue than the opening percussion parade of participating schools.
Some events are free, and none costs more than 10 euros, thanks to the long-term vision of the Helen Hamlyn Trust and the Municipality of Setúba. All must make the citizens proud of the ever-proliferating number of attractive and challenging locations. That should be the task of any festival worth its salt. On which note the salt pans and the tide mill of the bird reserve at Mourisca, though they've been used as a venue before, were new to me. And there we witnessed the most moving event of all. London-based German-Egyptian singer and composer Merit Ariane, having given an ambitious through-composed recital with her top-notch ensemble in a Setúbal townhouse late the previous evening, presented the fruits of long, hard work in Nest, a total work of art involving 11 local and international players alongside Setúbal children (pictured below).
The prelude was an Ivesian melee of birdsong along the boardwalk to the mill. Then, in a flowing drama that took us through song and dance, music and movement from Bosnia, Egypt, Syria and Bob Marley as well as original compositions, the chorus of special-needs participants sang both lustily and musically. That was where the tears flowed - and I wasn't alone. Merit later told me she only succumbed the next day when a teacher of the special-needs group phoned her to thank her for giving the young people wings for a day in their otherwise difficult lives.
A new venue for the festival was the recently-restored Convento de São Paulo in the hills outside town. Schoolchildren had devised - and two of them guided us very authoritatively through - four site-specific performances celebrating Setúbal in the festival theme of "Home" (there are at least five Portuguese words for that elusive concept where we have the one - lugares, lar, em casa, raizes, origens). The sequence moved from a tree-shaded terrace outside the monastery to an indoors meditation on Setúbal at Work, with magnificent recitation by a very fine actor, Susan Silverio, an ensemble of saxophones and tuba on the roof above the cloister, with views across the bay, and finally, downstairs, local ladies as vociferous traders followed by vigorous jazz treatment of a local anthem, "Rio Azul". Our young guide told us with pride that the composer was the great-grandfather of his best friend.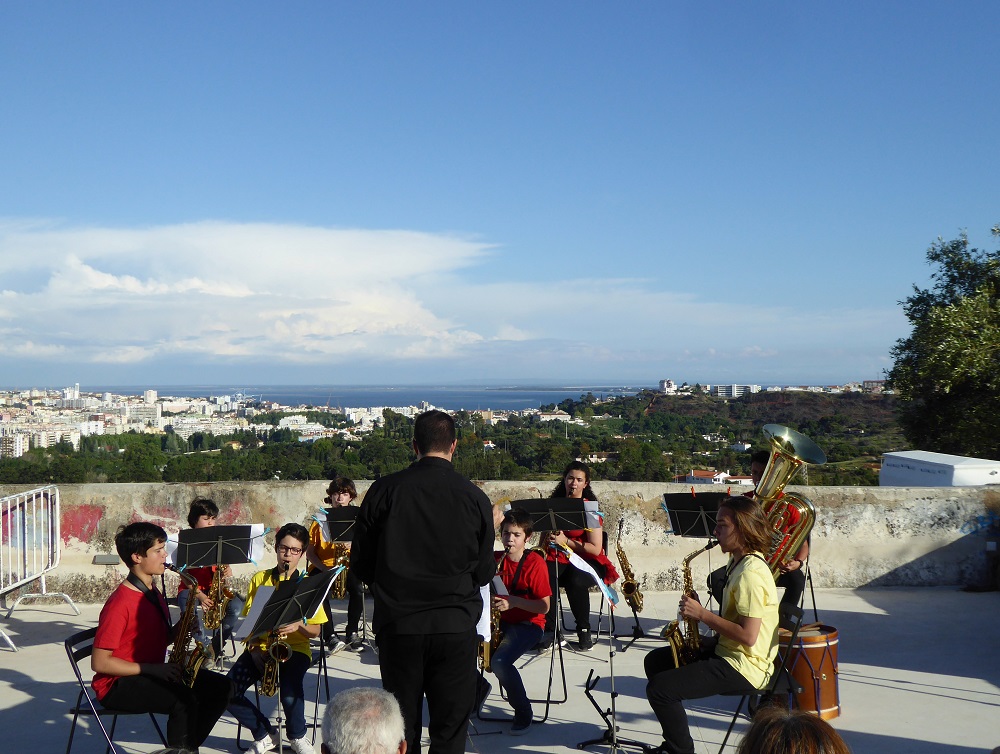 The music of the Portuguese province virtually surrounding Setúbal, the Alentejo, rich in cork-tree groves and fertile land, manifested itself at the first evening concert in the town's expensively-constructed arts centre in the fabulous personage of radiant folk diva Celina da Piedade, her first-rate band and a proud male chorus, the Amigos do Independente. Non native speakers might have assumed their serious demeanour and military rhythms hinted at nationalism. Not a bit of it, in a narrow sense, anyway; their texts, and Celina's, are – I was told – aristocratic in their poetry of gentle hills and streams.
Celina, accompanying herself on the accordion, not only has the kind of melismatic artistry we tend to associate with the (much later) tradition of fado, but also knows how to work a crowd to sing along. And the integration here was with the local children's chorus and the phenomenal young percussion group – another exciting development of the festival – Sant'Iago Olodum. Celina was back for the Sunday morning regular spot of newly-composed school anthems, this time "Songs of Home" (O Nosso Lar) with wonderfully touching lyrics offering hope for the future (pictured below).
Another legend, jazz singer Maria João, brought liberation within the admirable confines of two new works for the festival's most impressive offspring, the Ensemble Juvenil de Setúbal, which showcases all youth abilities within an unusual group that has had many new works composed for its distribution of solo strings, woodwind and a whole range of percussion players (João and some members of the ensemble pictured below). More, perhaps, was expected from a collaboration with LSO Young Composer Eloise Gynn than actually emerged across the span of Os Gofinhos Cantam. But Portuguese-American Sara Ross has already written imaginatively for this group, not least in variations on Vivaldi, and her chameleonic Janelas (Windows) did not disappoint. What happened at its heart turned out to be developed from a suggestion Maria João had made during a late rehearsal: just improvise, like she does. That freed up the players for a movement in a way that hadn't happened before.
Perhaps it was the festival's most distinguished visiting collective, the Orquesta Sinfónica Portuguesa, resident at the opera in Lisbon, which yielded least to the spirit of the place, giving little sense of visual joy in their professional work. But under young Portuguese prizewinner, the conductor Nuno Coelho, they gave an interesting take on Britten's Four Sea Interludes from Peter Grimes, prefaced by Sibelius's first Lemminkäinen Legend and with Smetana's "Šárka" from Má vlast placed between "Sunday Morning" and "Moonlight", All these works have different concepts of home.
The second half's liaison with young players from the music conservatoires of Setúbal and nearby Palmela brought a good, strong Sibelius Finlandia. But the new work, Abertura A Pátria by António Laertes, didn't take us or the players anywhere after the Rheingold-ish prelude, and it would be hard to imagine a less inspiring group of folksong arrangements than those of Portuguese big name Fernando Lopez-Graça.
The following evening brought a far more vivacious meeting in the blue-tiled interior of Setúbal's Church of San Julião, with the very impressive amateur Coro Ricercare joined for some numbers by a chorus and percussion ensemble from the Setúbal Conservatoire. Most of the programme was sweetly consonant; the kick came from two pieces by Latvian Erik Esenvalds and the concluding explosion of Eric Whitacre's Cloudburst, which brought the audience instantly to its feet.
Palmela Conservatoire's wind and brass shone more brilliantly, too, in the sunlight around the house and gardens of the Palácio da Bacalhôa in nearby Azeitão (a gem of a far-flung town which doesn't get anything like the coverage it deserves in the Rough Guide to Portugal). A saxophone quartet of equals dazzled, and the convivial day-out feeling peaked around the beautiful Renaissance homage to an Indian tank above the vineyards.
Coelho was back for an early evening concert in the nearby church of San Simão (pictured below). Two serenade-ish early Mozart symphonies, Panufnik's early Hommage à Chopin with the vocalise arranged for flute (the excellent Ana Sofia Vilares) and Luís Tinoco's Chant for East Timor served as a half-engaging divertimento, no more. But it's good to hear the progress of the Festival Camerata even if they have some way to go before travelling to other festivals, as the unique Ensemble Juvenil can and must.
Meanwhile, the world may come to Setúbal first. As it did, in microcosm, for the superbly planned symposium on "Music, Health and Well-Being" engineered as a thoughtful day-long Monday coda to the weekend's festivities. Setúbal's vision of total integration was reinforced especially by sound and vision from the quietly inspirational Simon Procter of Nordoff Robbins Music Therapy, the remarkable Nigel Osborne (who'd recorded his contribution as he wasn't able to fly to Portugal after an operation) and Paulo Jacob, showing us how machines have transformed the performing aspirations of people with cerebral palsy and other neurological disabilities in the Portuguese town of Coimbra. It's exchanges like this which show us what European countries can bring to each other's projects and understanding. Not even Brexit, should it happen, is going to stop Utopian collaborations like this.