Georges Simenon: The Krull House review – timely revival for a noir masterwork |

reviews, news & interviews
Georges Simenon: The Krull House review – timely revival for a noir masterwork
Georges Simenon: The Krull House review – timely revival for a noir masterwork
Xenophobic hatred leads to disaster in this 1939 classic of bigotry and menace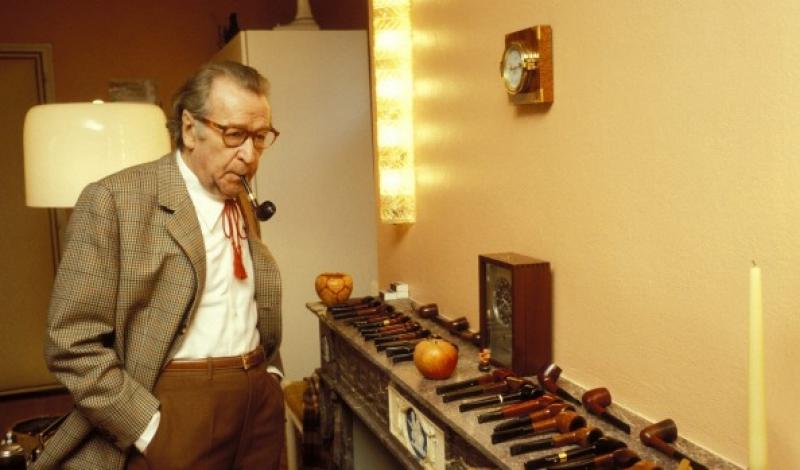 Pipes of war: Georges Simenon in 1981
Georges Simenon began to write his Inspector Maigret mysteries in the early 1930s. Not long after after, the famously productive Belgian-born novelist – who could polish off a Maigret inside a fortnight – branched out into more ambitious, less formulaic but equally addictive stories of guilt, obsession, murder and the treacherous ambiguities of justice. These romans durs, "tough novels", were painted in the deepest shades of noir.
Fierce, bleak and written with a propulsive sense of pace and focus, they unfold against an austere and pitiless moral landscape of greed, lust, pride and deceit, softened only by the elegant, compacted power of Simenon's prose. A writer who can summon a place or a person in a handful of exact, laser-like sentences, he was soon recognised by his French contemporaries – André Gide among them – as a great writer, not merely a genre crowd-pleaser.
Over the past few years Penguin have not only reinvigorated the Maigret series with their ongoing project to publish new editions of all 75 of them, re-translated by some of the top names in the business. They have reissued, again in refreshed versions, several of the finest romans durs. After such prose bombshells as The Mahé Circle and The Blue Room, this chilling, compelling new translation of The Krull House – from the excellent Howard Curtis – revives one of the most incisive of Simenon's non-series works. Published first in 1939, on the eve of the Second World War, its story of violent death and disputed guilt sits within a sinister framework of prejudice, scapegoating, persecution and mob frenzy. Timely then, topical now: The Krull House traces the consequences, for individuals and a whole community, of the belief that "the Foreigner" embodies "the cause of all the ills in the world".
In their workaday canal-side town in northern France, the Krull family represents the foreign element that arouses fear and even hatred. German incomers, their very presence here in the aftermath of the Great War – sequestered in the grim waterside dwelling where they sell supplies and grog to passing bargees and carters – affronts their French neighbours. In its lonely spot by the canal whose itinerant workers fund the family enterprise, "no longer in the country" but merely "on the edge of town", the Krull house stands as a grey emblem of the anxious, marginal immigrants who inhabit it. Aunt Maria, who runs the business and the household, has "suffered for so many years from being German that she has lost count". Patriarch Cornelius, who has never learned French, weaves baskets in his cloister-like workshop. Cowed daughters, Liesbeth and Anna help out in the shop while their morose brother, Joseph, studies hard for his medical exams. Having a respected doctor in the family will, the Krulls trust, improve the local standing of this "clan apart".
Into this sombre and shuttered home, Cousin Hans arrives – illegally – from Germany as a bringer of mischief, a young lord of misrule. A footloose chancer and con man who claims (without evidence) that he has fled political harassment in Germany, Hans carries "mysterious thoughts" into the house. Cynically, he seduces the naive, solitary Liesbeth. He alarms the repressed Joseph with a swaggering, rule-busting confidence unknown to his forever nervous relatives. To Hans, as he swindles 5000 francs from the grocer father (another German outsider) of the suitable boy intended as a match for Liesbeth, the Krulls have failed both at integration and at proud detachment. In this novel full of limits, lines and borders, first neurotically patrolled then catastrophically breached, he decides that they come across to the suspicious townspeople as both "too foreign" and "not foreign enough". When they appease the locals, they provoke contempt. When they stand apart, they inspire resentment. Perfect scapegoats, custom-made victims, the Krulls can never win.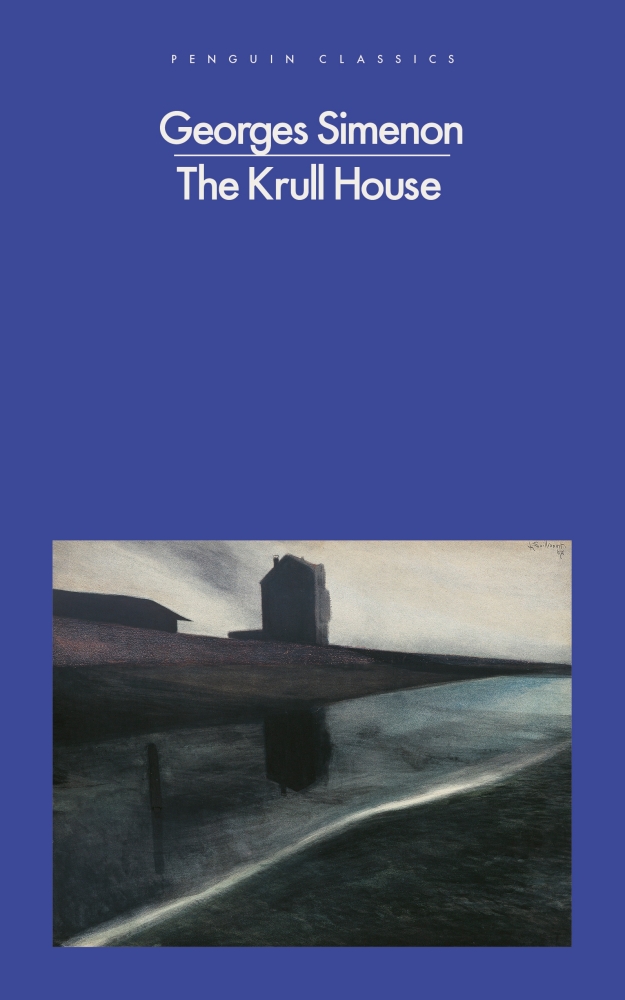 The body of a girl, raped and strangled, is recovered from the always-ominous canal. She is Sidonie, daughter of the drunken, foul-mouthed barge-dweller Pipi, who haunts the Krulls' makeshift bar. Suspicion settles first on Pipi's shambolic consort, Potut, then, more worryingly, on Joseph. His buttoned-up demeanour conceals an angry, frustrated soul given to trailing young women after dark and spying on couples as they make love in the open air. Rumours spread. Gossip turns toxic. As the air thickens through sultry summer days (no one conjures atmosphere better, or more briefly, than Simenon), a static charge of foreboding crackles around the Krulls. We soon reach that moment just "before a powder-keg explodes". A broken window-pane proclaims "the first wound to the house". Then come the scrawled graffiti: "Murderers" first of all, then "Kill!". Crowds gather; surly, drunk, provocative. Hans, with his sly knack of coming out ahead in every transaction, snatches the role of arbiter and interrogator for himself. Joseph admits his night-prowling habits but claims to have seen another man struggling with Sidonie shortly before her death. When a senior inspector calls to question the family, he declares "It stinks of Kraut here!"
We know that it can only end badly. Simenon, as cunning as he is controlled, still shocks with the eventual dénouement – not only in terms of those who suffer, but those who don't. The Krulls will pay a price for their stubborn foreignness, their scapegoat status, their botched assimilation – "too much, but not enough". But which members will face the fatal bill? The restive townsfolk treat the stand-offish Germans, in their "in-between zone" by the water, as proxies or emissaries for a time that tramples on the reassuring frontiers and divisions of the past. With impeccable insight, and fastidious prose, Simenon lays bare the internal and external harm dealt to insecure outsiders in a "chaotic universe" that swirls around them as murkily as the canal itself. In our new age of xenophobia and groupthink, The Krull House harbours a still-vital warning behind its gloomy doors.
The Krull House by Georges Simenon, translated by Howard Curtis (Penguin Classics, £10.99)