theartsdesk Q&A: Russian Choreographer Boris Eifman |

Dance reviews, news & interviews
theartsdesk Q&A: Russian Choreographer Boris Eifman
St Petersburg's creator of "psychological ballet" comes to the UK - prepared to face the critics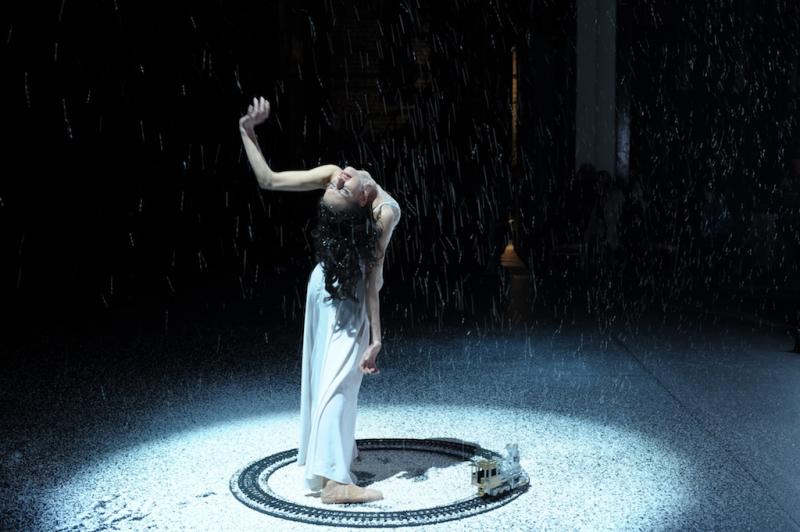 Eifman's Anna Karenina: his ballets are always drenched with emotion, Sturm and angst
No choreographer so divides American and British critics as Russia's only international dancemaker, Boris Eifman. He's "an amazing magician of the theatre", according to the late, great US critic Clive Barnes. He "flaunts all the worst clichés of psycho-sexo-bio-dance-drama with casual pride," according to the masterly New York Times critic Alastair Macaulay. Both views come from Englishmen working in America, hence a contradictory weathervane as to how his ballets will be received in Britain on this tour. Whichever side one comes down on (and one does, one does) what is undoubtedly interesting is Eifman's uniquely difficult progress through the Soviet Union as a "dissident" accused by the authorities of creating "pornography" to his heroic position today in Russia and his global fame (or indeed notoriety).
Despite the glories of Russian classical ballet, and the mighty tyranny of the Soviet political system which fed the factory success rate of the magnificent Russian ballet system, that country has never produced individual choreographers of any sustained voice - except for Eifman. Buffeted, humiliated, attacked by political Russian critics for more than 30 years, he's also become accustomed to aesthetic attacks by free-minded Western critics who describe him as the Ken Russell of ballet. When he comes to London next month with his trademark big literary ballets - Anna Karenina and Onegin (pictured below by V Baranovsky) - he is prepared for anything.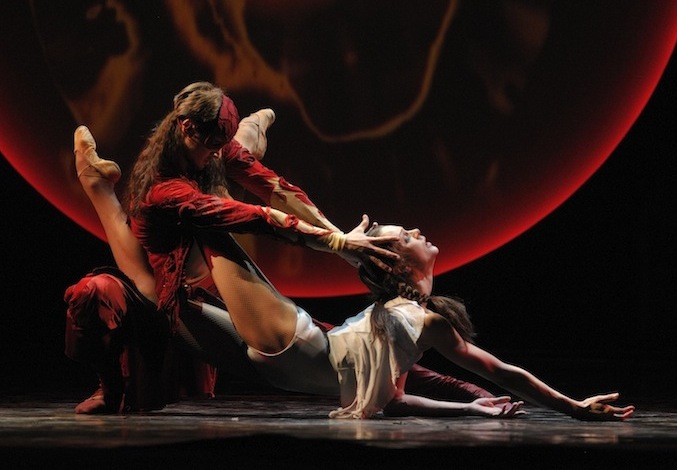 However, what took me to St Petersburg last month was something that seems to me more important, even, than Eifman's unorthodox work having survived critical Blitzkrieg for half his life - something of real moment is happening in Russian ballet. He is building a stunning, hugely overdue new resource and combined theatre and school, aimed to generate new choreography and new dance versatility.
Holland, Germany, Britain, America, France, Italy, even Australia - countries around the world have long outstripped the Russians in new choreography over the past 100 years. For the first time, it appears, Eifman's country is taking note of the desperate need to groom choreographers from their teens, and to give them somewhere to fledge their creative wings, all the stuff that happens almost routinely in the West but which has been virtually absent from Russia since, probably, the late 1920s.
Curiously, though, while the Mariinsky and Bolshoi ballets have continued to keep their priorities luxuriously appointed in classical stagings, it is the outsider who's finally aiming to address this cruel lack in Russian dance: its lack of ballet-makers for the new generations.
A year ago the Governer of St Petersburg signed off the start on the Boris Eifman Dance Academy, "to create an innovative system of dancing education in Russia of the 21st century", says the swanky brochure. The drawings and models show nothing remotely shy on the site on Lisa Chaikina Street, due to open on 1 September this year. It's a roomy four-storey building, with a high, private white wall at the front, airy glass transparency behind, designed by Studio 44. It puts the uncovering of talent first. The pupils will be sought out first from orphans, poor families and care homes. This is a social project to address the urgent Russian issue of neglected children, but also to help redress the recent collapse in the former Soviet network of hothousing children all over the land.
The Dance Palace appears even more confident in its modernity. The users will be burgeoning choreographers, who have not until now had a resource to prepare for performance, to understand the theatre, its rules and its possibilities. Eifman declares, "St Petersburg can and should be in the avant-garde - most innovative and distinguished ideas will be born here as it was in the time of Diaghilev, Stravinsky, Meyerhold, Shostakovich."
Eifman always has been an outsider, born in Siberia in 1946, who trained classically in Leningrad. Despite his subsequent job as a teacher in the hallowed Vaganova academy, he was never happy to settle in. In 1977 he left to do the virtually undoable in Brezhnev's Soviet Union - he formed his own company, the Leningrad New Ballet. After several formal renamings - signalling its steady move up the ladder of respectability - this is now augustly named the St Petersburg State Academic Ballet Theatre, which indicates how Eifman's once dissident company has become part of the establishment, just be hanging in there.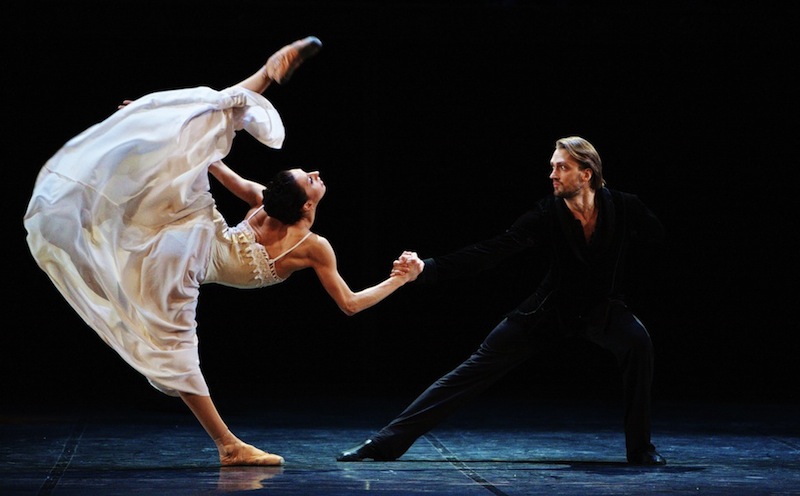 He's made around 40 full-evening ballets, a most impressive numerical achievement, sometimes based on literary classics - Anna Karenina (pictured left by Hana Kudryashova), The Idiot, Eugene Onegin, The Master and Margarita - sometimes on tortured historical personages - Tchaikovsky, Olga Spessivtseva, Rodin - always purple with emotion, Sturm and angst.
Eifman calls it "psychological ballet", the Soviet authorities called it pornography, before the onset of perestroika in the Eighties began to turn him into a folk hero. Since the fall of the USSR, Eifman - no longer harried, humiliated and pressurised to leave Russia - has gathered shelf-fuls of awards and recognition from his own country, the Order of Merit for the Fatherland, the State Prize of the Russian Federation, the Order of Peace and Harmony.
But whatever you think of his choreography, the man himself comes across in interview as simply extremely nice, normal, friendly and even cuddly (pictured by Nina Alovert below), and not nearly as oblique as many Russians meeting a British journalist. I doubt he puts a kopek of value on the national honours - just as he tries not to put a kopek of value on the bad reviews (which include mine). His audience, his public, have always come to see his work, and understandably for him, in Russia, this has been his validation.
But England... He is worried. He is bringing two of his storyballets over, two narratives of love-tragedy, Anna Karenina and Onegin.
St Petersburg can and should be in the avant-garde - the most innovative and distinguished ideas will be born here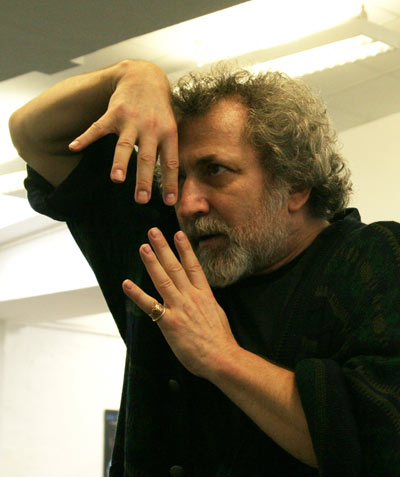 ISMENE BROWN: You get very different critical reactions to your work. Some think you're magnificent, others think you're dreadful.

BORIS EIFMAN: I do take it hard, sometimes. But the great critics, Clive Barnes, Anna Kisselgoff [former New York Times critic], the older critics, have accepted my art favourably - and this calms me down, makes me feel I'm doing right. But you see critics suppressed Chekhov, Dostoevsky, Tchaikovsky - you must take your example from them and carry on, despite the fire. Not everybody can admire my work, I know my own audience - my theatre is for people, not for critics.
I had this all from the start when I was being humiliated even by Soviet critics, and it was only the audience, the public who reassured me and helped me go on. The audience accept my work, and if my type of theatre is necessary for them, that's the only reason my company has existed for 35 years. My art is very emotional. Not everybody is ready to open his heart to it. A lot of people just want to be entertained, to say, "interesting", and go home. My performances, though, do require a lot of energy in response from the audience. A lot of people want this deep emotional shock, but others are not ready, and they close their hearts.
The Americans and the British, they think and then they dance. But Russians, they dance first and then they think
Explore topics
Share this article
Subscribe to theartsdesk.com
Thank you for continuing to read our work on theartsdesk.com. For unlimited access to every article in its entirety, including our archive of more than 10,000 pieces, we're asking for £2.95 per month or £25 per year. We feel it's a very good deal, and hope you do too.
To take an annual subscription now simply click here.
And if you're looking for that extra gift for a friend or family member, why not treat them to a theartsdesk.com gift subscription?