theartsdesk Debate: Dance's Question Time |

Dance reviews, news & interviews
theartsdesk Debate: Dance's Question Time
A stellar line-up of dance figures decide to band together and march on Westminster
Ismene: Craig, it's been suggested, not least by me, that ENB should become a regionally based touring company. Is it possible that in five years' time the regions would have enough audience and interest to sustain this?
Three weeks of Sleeping Beauty in London will pay for the loss on four weeks of doing Beauty outside London
Craig: The regions are very interested in having us tour more but it comes down to economics, not interest. The way we construct our finances is that half a week of Nutcracker at the Coliseum will fund the deficit on a 10-week mid-scale tour of a collaboration with a streetdance company for next spring. That's a real example. So I'm relying on half a week of Nutcracker to pay for that loss on this regional tour. If I don't do Nutcracker, I couldn't do the other. Another example: three weeks of Sleeping Beauty in London will pay for the loss on four weeks of doing Beauty outside London. We will lose £100-150,000 per week doing Beauty outside London, since ballet is really expensive, a lot of people on stage, a lot of people in the pit, the lorries to carry it all about, and so on. Also our support base is here in London for fundraising. We try to raise money outside, but in terms of donors the money is in London.
Ismene: One reason why people perceive dance as being so London-dominated, and particularly ballet, is that the Royal Ballet doesn't tour at all. Tamara?
Tamara: To be honest, I don't see it as a bad thing. I think there is Northern Ballet Theatre, Birmingham Royal Ballet, English National Ballet and Scottish Ballet all touring, and they do a very good job of it, and I don't think they would be very happy…
Craig: We wouldn't be very happy. [Laughter]
Tamara: I think there is a market for each company. And there is an economic reason why we are always here in London at the Royal Opera House. We make a lot of money for it. There is a reason why we do 140 shows a year in the Opera House of 14 different programmes. We need to do all those shows there.
Arlene: But I remember standing outside the stage door in Manchester for the Royal Ballet when I was a small child. We would see all the Royal Ballet dancers, Nadia Nerina, Lynn Seymour. It was a thrill like nothing else because for some reason the names of the Royal Ballet dancers are out there in a special way. Even though I realise about setting up competition and all that, I think it would be incredible if the Royal Ballet could go to the cities - maybe not Birmingham or Leeds where there's a direct competition, but there are places.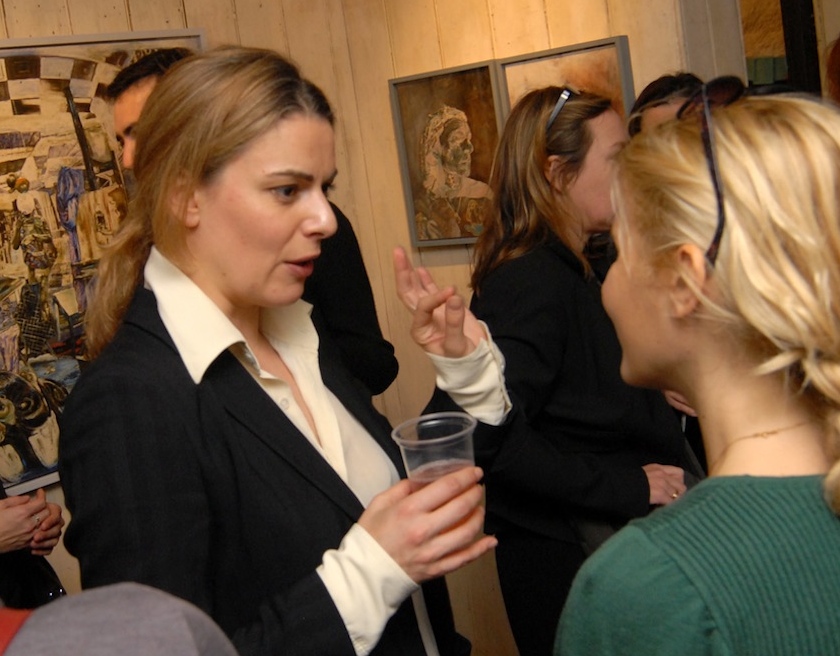 Rosie: I think it's really important to tour. We've just done a two-year tour and how a piece goes down in London is completely different from how it goes down in South Shields - a load of soldiers turned up! It keeps your feet on the ground, it makes you look at your work differently, it makes your dancers look at it differently. (Pictured left, Rosie Kay talking with audience members after the debate.)
Tamara: We do tour, we do international tours. It is very important for the reputation of the country that the Royal Ballet goes abroad.
Val: Sadler's Wells Ballet did once have a touring company and it became the "second" company. It's much better that it's Birmingham Royal Ballet.
[57:00] Ismene: We'll have a new question which is about a practical problem, if dance lost its subsidy.
Johan Christensen (dancer with Peter Schaufuss ballet): If dance were left to the free market, how would professional dancers afford the vital daily classes and physio they need, even when they're not working? Is some form of private insurance the only answer?
Caroline: Currently when it's not a free market, dancers are not affording the daily class, they aren't affording the daily physio, they aren't affording the treatment. The problem with private insurance is that premiums are already skyrocketing and they don't deal with any type of preventative treatment, and certainly not class. And that's why we're looking at some kind of national strategic intervention scheme, which is what Dance UK, Birmingham Royal Ballet, Trinity Laban, the University of Wolverhampton and the Royal National Orthopaedic Hospital have been trying to do in trying to get the National Institute of Dance Medicine and Science off the ground. This would be polyclinics all around the country where there are concentrations of dancers, potentially shared with the sports world so we'd have some kind of saving, which dancers could access whether they're in a company or an independent dancer. But this is an expensive long-term goal. It would cost the equivalent of a gym membership monthly. I don't think the free market is going to make it any easier.
A lot of dancers in England don't do the warm-ups and the classes they need, and the cost of their rehabilitation to all the theatre managers is way, way above what it should be
Arlene: I think any scheme that helps dancers do what they do would be incredible, but I have to say I've worked a lot in America and the thing that shocks me there is that whether it's for musical theatre or classical ballet companies, where you always start with class at 10am, at 9am all the dancers will be in doing their own class - preparing for class. I've worked a lot with Antonia Franceschi, one of my favourite dancers in the whole world, and she always does an hour-and-a-half class of her own before the main class. I know a lot of dancers in England, particularly in the commercial sector, don't do the warm-ups and the classes they need, and the cost of their rehabilitation to all the theatre managers is way, way above what it should be, and in fact if they took class, that money could be well used to support dancers who really need it. I remember coming once to see Twyla Tharp's company here at the Queen Elizabeth Hall, I think, and her dancers were doing a 10-hour day starting with class, and again they did their own class before class. And I was astonished at such a vast gap between the dancers I worked with and American dancers. It's because they don't have the money and nobody's going to pay for them to go and get the rehabilitation if they're not careful.
Rosie: A lot of contemporary companies like me are working on short-term contracts. Even those with full-time funding don't pay their dancers full-time contracts, it would be project-based. So you do have to rely on your dancers keeping fit and training themselves outwith the work you do with them. You try and educate them, and they're coming better educated now out of the conservatoires, they understand this need to really look after their bodies, and if you're going to make demanding work you'll give them extra training.
I have amazing dancers who work in milkshake bars because they offer the flexible hours to give them the time off to continue dancing
But this is a contradiction: it's people like us who are supposed to make the experimental, cutting-edge work but we also have the least support, and the least ability to offer class and training. I have amazing dancers who work in milkshake bars because they offer the flexible hours and they can take time off to do the project work. It's a tragedy to see these amazing artists who have to do anything in order to keep the freedom to continue to keep dancing.
Ismene: It is the basic building block of the entire dance industry, this daily class to stay good enough to work on a creation and then go on stage with it.
Audience (Corinna Chute): Being an ex-dancer and dance teacher, one priority I had was to set up a place where people could do all forms of dance and have all forms of therapy there. Now we've built a theatre with private funding, where we would like to start a charitable ballet company for out-of-work and resting dancers. I wish that in every town in the country there was a place where dancers can take morning class without money changing hands so that people with no work don't have to struggle to keep classes going.
Tamara: To be honest, I am a very privileged dancer, because all my career I've been in companies that have been able to provide daily classes, good studios, good floors, good physio, rehabilitation. But I'm also very aware that there are lots of freelances who don't have it. And when I choose to do classes outside, for any reason, I am aware how very expensive it is to take class every day in London. I don't think there is a lack of commitment among British dancers, at least in the ballet world. We all see each other in private places taking extra classes to keep getting better.
In America you see that for the corps de ballet dancing has become almost a hobby because it's not a job
I don't know how I would cope as a freelance. I tried once to insure my legs, and it was impossible, it was an outrageous amount. I cannot afford private insurance. I don't know how a person who is in and out of work can manage to maintain a level of fitness and excellence that they need for when they're back to work. In America this model of being laid off and laid on is really not sustainable for ballet companies, because you see that for the corps de ballet it's almost a hobby for them, it has become a hobby because it's not a job - even a part-time hobby. Their job is probably selling houses, or something else where they make a living and ballet is what they love, but not their job any more.
Ismene: So it's an attitude towards dance that is changing - that because dance isn't built into essential life, therefore it's a luxury, therefore you can do classes at your choice, and this feeds into the political will not to fund dance.
Tamara: Yes, they're self-funding the art form. That's why I say to you (to the dancer) that you are not supposed to self-fund other people's businesses. It's all very well for private entrepreneurs to want to produce art, but you are not supposed to fund that.
[1:07:05] Ismene: We'll take two more questions.
Clare Farrow (Dance Umbrella): Following Michael Gove's remarks, is dance a soft option in regard to education?
What annoys me is how dance is often treated in education as a soft version of PE. Such a lame description

Craig: No, of course it's not! What annoys me about the way dance is often treated in education is that it's seen as a soft version of PE. Such a lame description. It's the same thing that annoys me about how they talk of the "economic benefit" of dance - the number of hotel rooms we sell, the number of ice creams and so on. I know it's valid, but it's so much more than that.
Val: Caroline, you did some seminars three or four years ago at Sadler's Wells about people who'd done dance and made successful careers that were not in dance now. Many people were making very successful careers in commercial theatre, teaching, opera, and so on. And I thought, there are a lot of people out there who are now making loads of money and having very successful careers, and I think dance training is a really good preparation for life.
Ismene: Robert, you came into dance management relatively late - what's your impression of the difference you see in dance people and others in the theatre world? (Pictured below right, Alistair Spalding and Robert Noble talking with audience members after the debate.)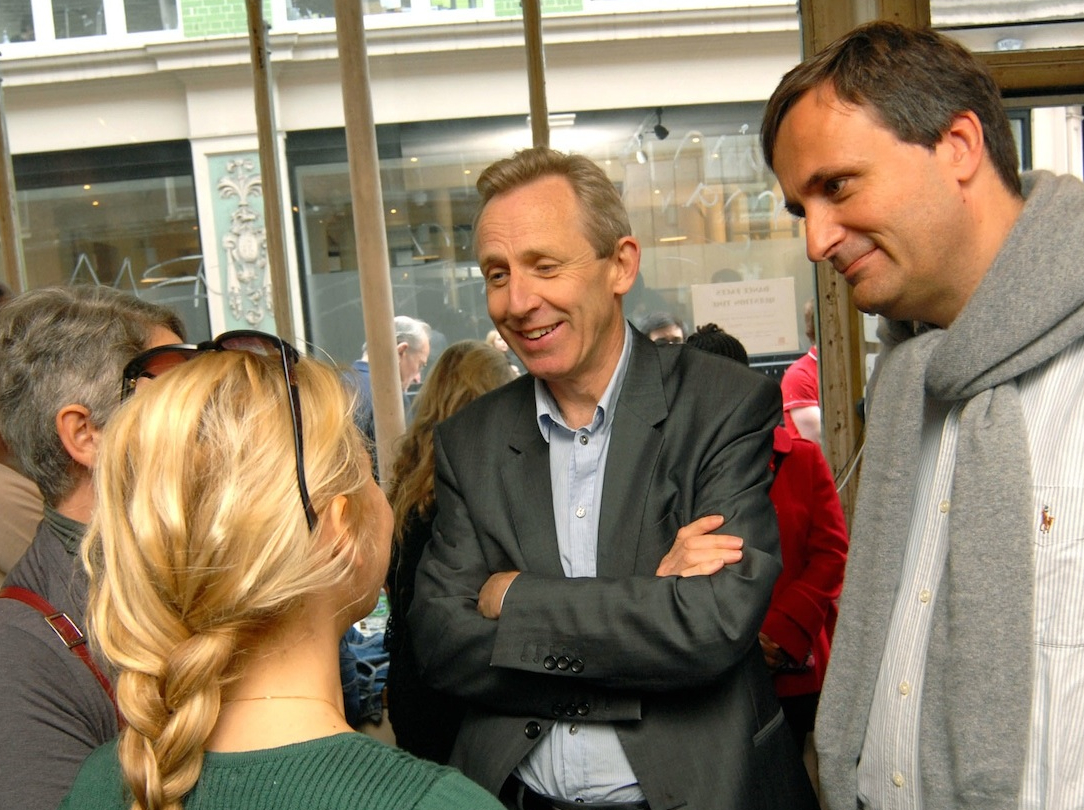 Robert: The longer I do it the more amazed I am by the professionalism, the integrity, the commitment and the talent of all the dancers I've ever been part of the management team employing, whether Matthew's company or in some of Cameron's major shows. I don't believe that Ed Vaizey has the same view as Michael Gove, but I think unfortunately we have to work very hard at educating people. There are a lot of associates I have who do not really understand dance, and again it's about us being very, very clear that dancers are as gifted and as brilliant as a Premier League footballer, though they may not be able to earn anything like as much money, and they have amazing skills and are normally much nicer people than Premier League footballers.
Subscribe to theartsdesk.com
Thank you for continuing to read our work on theartsdesk.com. For unlimited access to every article in its entirety, including our archive of more than 10,000 pieces, we're asking for £2.95 per month or £25 per year. We feel it's a very good deal, and hope you do too.
To take an annual subscription now simply click here.
And if you're looking for that extra gift for a friend or family member, why not treat them to a theartsdesk.com gift subscription?