English National Ballet, Roland Petit Triple Bill, London Coliseum |

Dance reviews, news & interviews
English National Ballet, Roland Petit Triple Bill, London Coliseum
A Frenchman celebrates the urges of the loins with much style and no shame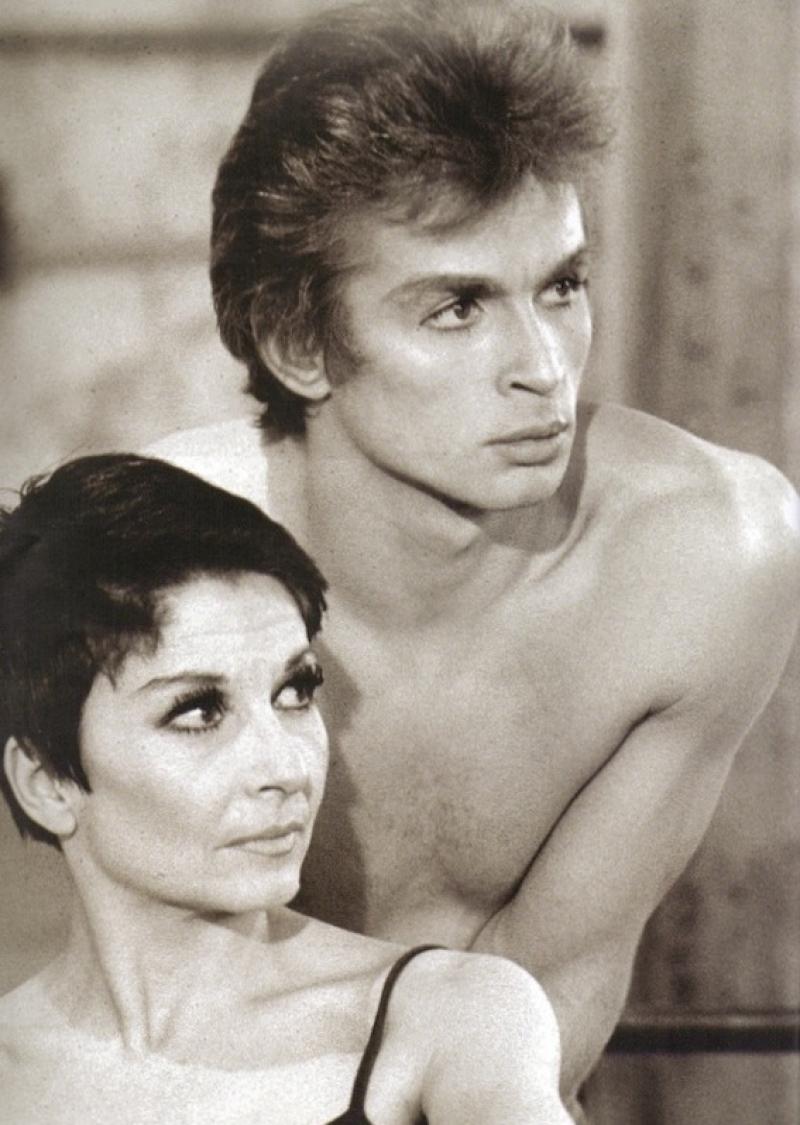 Women mean death to young men: Zizi Jeanmaire and Rudolf Nureyev in 'Le Jeune Homme et La Mort'
An obsession with sex and death underlies many of the immortal works of 19th-century classical ballet. Giselle is seduced, La Sylphide does the seducing, the Sleeping Beauty is awakened by sex, the Swan Queen is an apparition of death to Prince Siegfried who is easily waylaid by her doppelgänger, Odile of the 32 fouettées. Roland Petit brought it all out in the open with his ballets in the next century. As one observer said in 1949 of the premiere in London of his ballet Carmen, you could see the men's trouser buttons popping.
In the three of his famous works on parade last night at the London Coliseum sex and death stalk young men, in the shape of inexorably enticing women. Yes, one could swat it away as a typical Frenchman's cliché to present women obsessively in this way, but, by gum, it works as dance theatre in today's antiseptic times. Suicide, suicide, murder, all driven by desire. Last night's audience lapped it up and I suggest it will be a long time again before any British stage presents a programme of ballets celebrating the urges of the loins with so much style and so little shame.
L'Arlèsienne is about a bridal couple wrenched apart by the groom's inability to keep his mind off a dangerous former flame who, in a masterly stroke of theatrical surprise, never appears on stage. The more celebrated Forties ballets, Le jeune homme et la mort and Carmen, have effectively simplistic plots of a man driven to death by a woman.
It makes for a vividly upfront evening at the ballet, even given that English National Ballet aren't the go-to company for dancers capable of purveying this clarion archetyping with the sophistication and subtle chic that Petit and his circle in the 1940s - Zizi Jeanmaire, Jean Cocteau, Jean Babilée (pictured right in Le Jeune Homme, collection Roland Petit - and see youtube at the end) - all lived and breathed. However, ENB are fortunate to have Benjamin Pope in charge of the orchestra, Bizet for both L'Arlèsienne and Carmen, and for Jeune homme a whiffily enriched arrangement of Bach.
Oddly, the most dated last night felt the most famous, Carmen, which well predates the twinned versions for Maya Plisetskaya and Alicia Alonso in the USSR and Cuba (inferior to this one). Petit whisks through the story in tableaux, presenting the key encounters without over-literal joinings-up. The crowd scenes of tobacco girls and gypsies in the bar, the camp posing Escamillo, are cabaret sideshows to the two electric pas de deux, the famously explicit bedroom duetting, and the climactic flamenco-tinged head-to-head where Carmen goes to her death at Jose's hands like a bull to a matador's sword.
I'm not sure that the blunted impact last night wasn't the casting which through much of the evening felt misapplied. Begoña Cao, in her Zizi-like short wig, attacked the acrobatically sexy steps with her long legs like a soap-clean dancing athlete, rather than sidling into them with pungent knowingness. Still, there was a striking and credible Don José from Fabian Reimair, haughty, uptight, brought low, in a performance of personal intensity as well as dance stylishness that I wished the other two leading young men had achieved.
Le jeune homme et la mort is a weird and resonantly rough combat between a lazy lad in his garret and a bewildering woman in a yellow dress with black leather gloves, who cows him into hanging himself. The floridly Art Nouveau arrangement of Bach by Respighi has a musky period attraction to it, and there's a stunning, ambitious scene change at the very end, immediately after the lad hangs himself, which is pure Forties Hollywood melodrama.
Watch extracts of Le Jeune homme et la mort with Nicolas le Riche and Marie-Agnes Gillot of Paris Opera Ballet
Yonah Acosta, nephew to the famed Carlos, has an appealing puppydog physicality but not much dramatic finesse, and Anäis Chalendard made a brittle, bossy Mort, so that the existential, symbolic male-female entanglement was impossible to savour, hokum as it may be. (Pictured right, Yonah Acosta rehearsing with Luigi Bonino at ENB).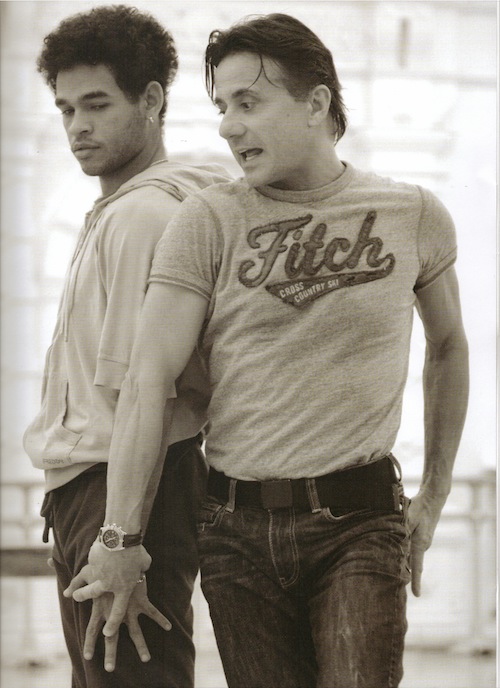 Tonight - unannounced - the Bolshoi superboy Ivan Vasiliev is guesting in the ballet as the Young Man. He was one of the last to work with Petit himself on this ballet before the choreographer died a fortnight ago.
The least known and latest (1974) of the trio of works, L'Arlèsienne, has the most daring concept: the girl from Arles in the title is merely an invisible, sinister memory, never a presence, at a charming, peasanty wedding slightly reminiscent of Nijinska's Les noces as well as La Sylphide. Before a broiling Van Gogh landscape, dressed in black and white, the guests chain in pretty, formalised gestures that assure us of the iconic immortality of happy husbands and wives in folklore. The pastoral tone of the Bizet for two-thirds of it wonderfully suits the ensemble's bold folkloric splayed hands and parallel toes (like paper dolls).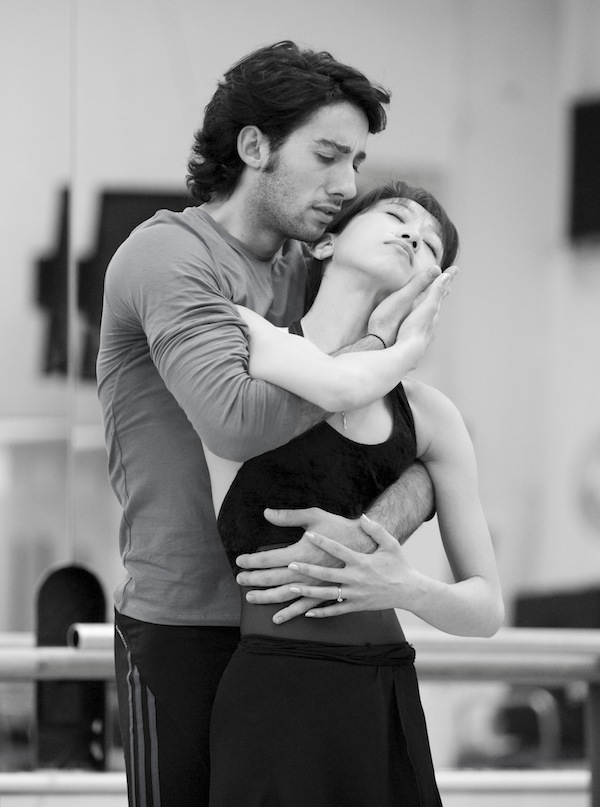 The bridal pair are supposed to complete these apparently ritual gestures but the lad keeps breaking out, fatally distracted. For us in the audience, though, to sense the missing siren, we need a much stronger acting performance as the young man than Esteban Berlanga gave, even if Erina Takahashi was sweet and humanly touching as the bride (the pair pictured left in rehearsal). In the end, the bouncy music can't carry the tragic weight Petit wants for its culmination and one's left enjoying the images it makes, rather than any emotional jolt the equal to the earlier pieces.
Overall, is it astonishing that such powerfully theatrical, even bludgeoningly theatrical ballets have been so neglected by Britain for so long? In the context of Kenneth MacMillan and Frederick Ashton's era, no. But we haven't been allowed to live dangerously for a while, and ENB's cultivating of the French landscape of chic old treasures - with their spirited resurrection of Lifar's Suite en blanc last spring as well - looks bang on the money.
Watch Zizi Jeanmaire and Rudolf Nureyev in the first part of Le jeune homme et la mort
Watch the original Jeune Homme and Mort of 1946, Jean Babilée and Nathalie Philippart, dance part of the ballet (from 1m10 to 4m)
Share this article
Subscribe to theartsdesk.com
Thank you for continuing to read our work on theartsdesk.com. For unlimited access to every article in its entirety, including our archive of more than 7,000 pieces, we're asking for £2.95 per month or £25 per year. We feel it's a very good deal, and hope you do too.
To take an annual subscription now simply click here.
And if you're looking for that extra gift for a friend or family member, why not treat them to a theartsdesk.com gift subscription?