theartsdesk Debate: Dance's Question Time |

Dance reviews, news & interviews
theartsdesk Debate: Dance's Question Time
A stellar line-up of dance figures decide to band together and march on Westminster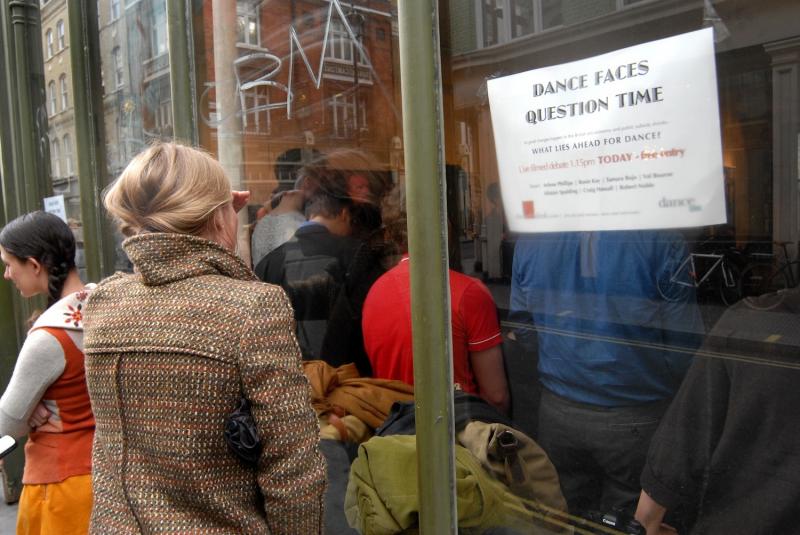 Curious passers-by in Beak Street stare into the gallery where the debate is being held
What lies ahead for dance as arts spending cuts bite? Can it survive the withdrawal of public funds that support dancers' training, choreographers' creativity, employment costs and health care? Is protest necessary? A panel of the British dance world's leading figures was brought together by theartsdesk for a major debate last Friday in central London, as dance faced its own Question Time.
Royal Ballet ballerina Tamara Rojo and English National Ballet's managing director Craig Hassall led the ballet troops, choreographer Rosie Kay and Val Bourne, founder of Dance Umbrella, headed the contemporary dance brigade, Alistair Spalding, chief executive of Sadler's Wells, and Robert Noble, deputy managing director of Cameron Mackintosh Ltd and co-director of New Adventures, represented management and dance-theatre interests, TV celebrity and choreographer Arlene Phillips and Caroline Miller, director of the lobby group Dance UK, spoke up for West End and freelance dancers. The debate was chaired by theartsdesk's Ismene Brown.
During an 80-minute discussion - the second artsdesk debate - there was unanimous consensus that dance's value was massively understated, and that dance had to make a better case to get this across to the public and politicians. Major points were that schools should not cut dance from their curriculum, that dance would have to unite its different strands or it risked being left behind by other, more coherent art forms, and that to win attention might even entail a march on Westminster. It was also revealed that MPs are hunting around for dance teachers to help them survive charity events without humiliation.
You can watch here the video of the debate, which was held in the Riflemaker Gallery in Soho, or read the edited transcript of it below, with corresponding time checks in the tape marked for each new question. Seated from left to right are Val Bourne, Craig Hassall, Rosie Kay, Tamara Rojo, Ismene Brown (chair), Arlene Phillips, Alistair Spalding, Robert Noble and Caroline Miller.
Watch a video of the debate

Ismene Brown: Thank you all for coming to this live debate, Dance Faces Question Time, in which we hope to air the big worries and issues and perhaps opportunities that lie ahead for dance in the time of cuts in public spending for arts. Questions about what we will be watching, what we're prepared to pay for, what we would like to see, how we maintain the fabric of the dance required to give us the pleasure that we take. The calibre of the panel says how urgently this discussion is needed. Every interest is represented here from performance to management, from independent choreography to West End commercial and the big ballet companies... Could I have the first question please?
[01.55] Jeanette Siddall (former director of dance at Arts Council England): Every member of the panel has made a real and positive difference for dance. If they could be granted one wish today, what would it be?
Val Bourne: Only one? I woke up one morning a few years ago and heard on the radio that suddenly all galleries and museums were going to be free because the public had the right to the works of art, and I thought, damn, why can't they have equal access to the performing arts? Now I am retired I can't afford to go to see things. It's going too far to say it should be free, but it should be affordable. People have got close, like Alistair did at Sadler's Wells, and the Jerwood Foundation started Prom events and people got in to stand for £5, and it enabled all sorts of people who'd never been there to go. That was a fantastic initiative.
Craig Hassall: At the risk of sounding like Oprah Winfrey, it would be good if dance was reintegrated into the culture of our society. Dance is seen as an "elsewhere" art form. I don't understand that, but it seems to be more in dance than any other art form. We all go to weddings and dance, we love dancing, so why is that? I work for a ballet company which is probably the most "elsewhere" art form, and we spend half our lives trying to make it affordable and accessible, all the things you say, Val. I wish it was more so.
Rosie Kay: My wish for the future generation of dancers is that we could abolish tuition fees. Where are risk-takers going to come from if you're already going to be saddled with debt? Would talented people choose to go into the dance profession or is it only going to be the domain for the privileged? (Pictured below, from left: Val Bourne, Craig Hassall, Rosie Kay, Tamara Rojo, Ismene Brown and Arlene Phillips.)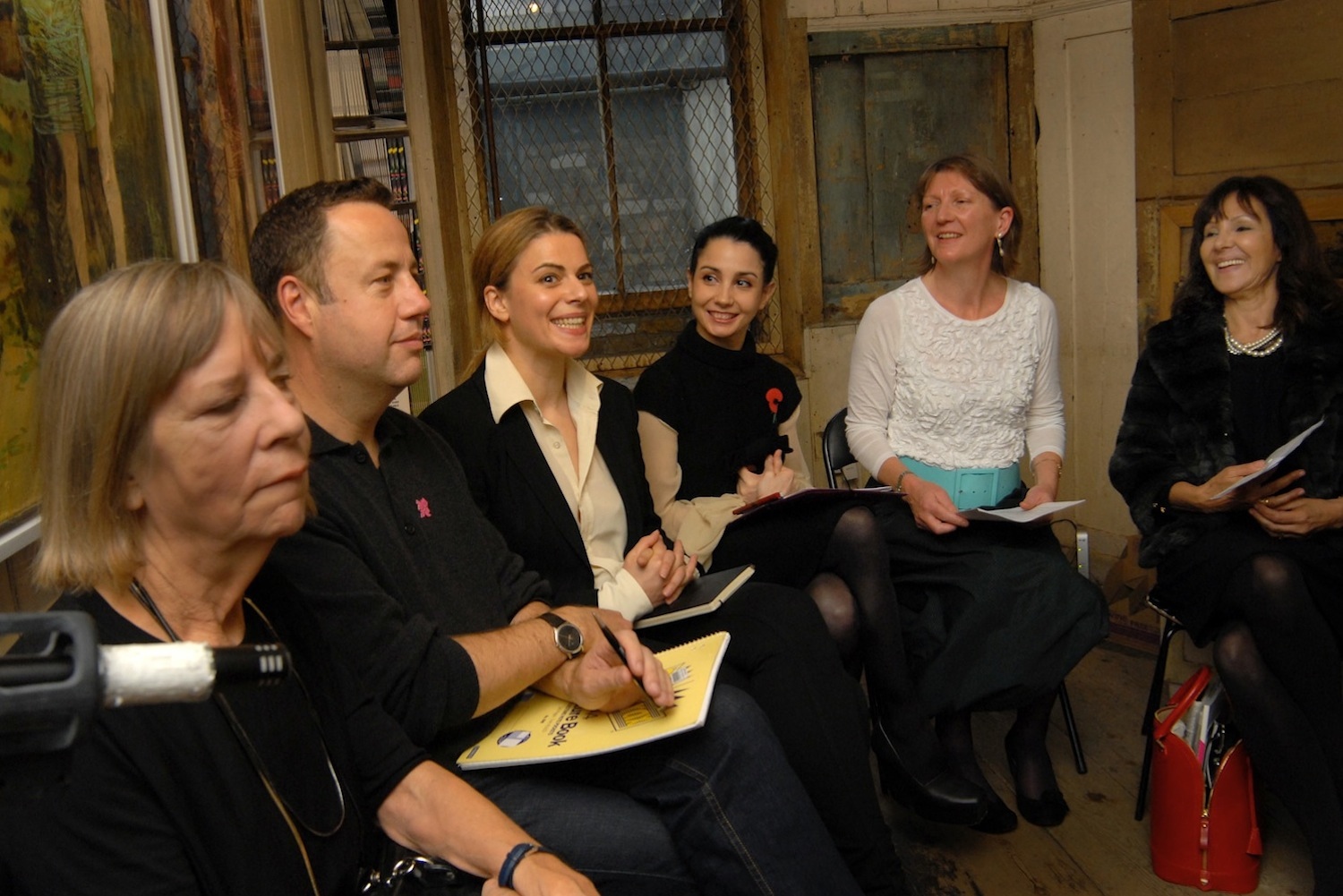 Tamara Rojo: I wish that the National Institute of Dance Medicine and Science that has just started would become the one stop for anybody in dance to go to for rehabilitation, prevention of injuries, to do really good research and provide all kinds of support systems that dancers don't have today from the health perspective.
Arlene Phillips: I would like there to be an understanding that dance develops intellect, gives you an understanding of how your body works, but most important, makes you feel good. So I want every morning, every school in the UK to start to spend even as little as 10 minutes every day gathering kids together and dancing. For the future of this country it would be a huge help.
Ismene: Didn't Toyota do this before the start of the working day? All employees had to do an hour of exercising before they began their work.
Arlene: And in China. When I was at school, we used to do skipping in the morning on the field before classes.
Val: Oh, I hated that!
Arlene: Now they can dance to music!
Alistair Spalding: Rosie has beaten me to it. But even before tuition fees, I think there is a real threat to youngsters thinking of going into dance. There were grants to help people get to a CAT (Centre for Advanced Training) scheme and they're dwindling again. We've seen already from some of those schemes how a great diversity of people from all sorts of social and ethnic backgrounds could get into dance. That's going to stop happening and there will be just one kind of person who can go through, which doesn't feed the wonderful diversity we have in dance today. So it's that investment that I wish for.
My great wish is that dance is seen more seriously. In the commercial sector dance is still seen as the lowest rung of the ladder
Robert Noble: Following on what Craig said, my great wish is that dance is seen more seriously. In the commercial sector dance is still seen as the lowest rung of the ladder. It's depressing that people don't understand that the mastery of a choreographer starts with a clean piece of paper - it's not like writing a play down and then directing it. We as the dance community have to look at ourselves and ask why dance is still regarded as slightly lower than other performing arts. As someone who came very much more from a theatre background into commercial theatre, and came into dance slightly later in my career in terms of working with Matthew Bourne, I am staggered at how we're not seen as one of the major forms. We know it's one of the fastest-growing art forms but why are we not getting that across?
Ismene: Does anyone in the audience have an idea why it hasn't got that status?
Audience woman: I think for the lay person who doesn't encounter dance in any way other than social dance, there's a real divorce between their mind and their body. There's a real fear of looking stupid in front of other people that needs addressing, and through doing more of this in school and having access and exposure through getting free tickets to see dance, that fear will gradually come down, and we may go back to something more like Louis XIV's time when dance was seen as a natural part of culture.
Ismene: Perhaps it's a British disease. Caroline, what's your wish?
Caroline Miller: I'm cheating a bit. This is a real fairy godmother wish. It's that dancers should have better pay. If they had better pay, we wouldn't have to worry about things like the National Institute because they could pay for the classes and physio and preventative support that they need. I'm a fairy godmother and everybody is earning at least 30,000 a year! [Laughter]
Val: But then you'd have to pay back your tuition fees!
[10:10] Ismene: This feeds into our next question, which was sent in by a choreographer, Simon Ellis, who's working away from London today. "How can the value of dance be recognised and communicated without always focusing on its fiscal worth and economic cost?" Because actually all your wishes have involved wholehearted acceptance that dance can't exist without it.
Val: I think as this group of people here today we can see that dance isn't just contemporary dance, it's ballet and commercial dance. I went to a meeting at the Young Vic three or four years ago about cuts, mostly about theatre cuts. And it was quite extraordinary to me that the room was full of people from the National Theatre, the Royal Shakespeare Company, everybody, who all stood up for the Gate Theatre and the Lemon Tree and the small theatres. We need to work together, because together we are a very strong body of people and I think it's been too fractured.
There is no shame in saying dance makes money for society. We make society richer both culturally and economically
Tamara: I don't think anyone is questioning the value of dance. We have to be pragmatic - everything is being cut, not just dance. It's not that dance was singled out, but it's probably the one that will cost the least votes. If they cut health, education and defence, how can they not cut dance? So we shouldn't hide away from using the fact that we are also economically valuable. It is another of our strengths. There is no shame in saying we make money for society. We make society richer both culturally and economically. Particularly for this government that is so concerned with our happiness!
Audience woman: Dance is a preventative activity too for the health of the country. It prevents problems of mental and physical health.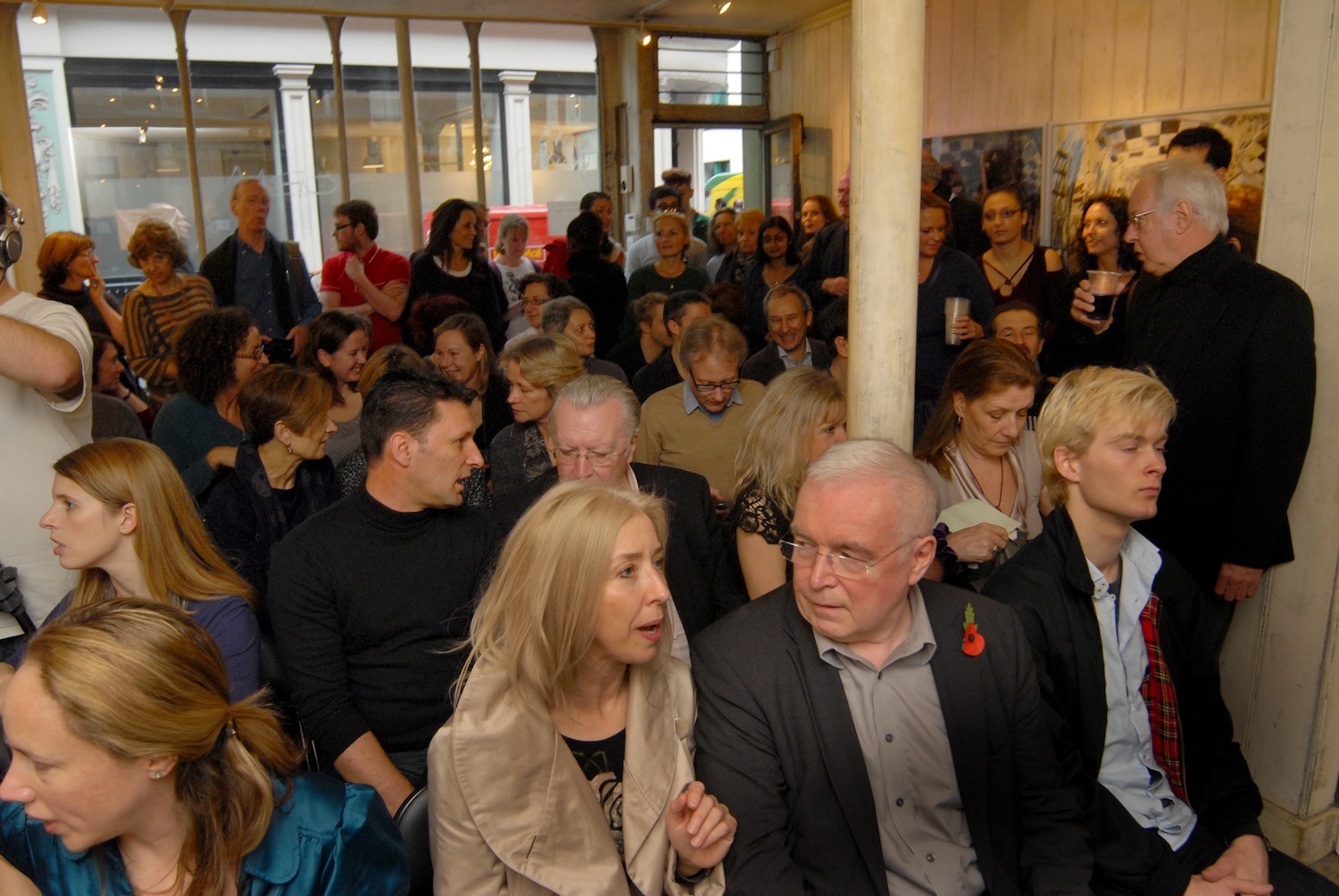 Audience (Martha Oakes, dance PR): I agree with Tamara that it isn't the time to say dance should be exempt from cuts. I also agree with Val that we are stronger when we are together, and Dance UK has done sterling work in getting us together. I think we should continue on the path we're on here and make sure we are as ready as we can be when times get better - because they will - so that we are well placed and well organised to receive and do well with the money that is available. (Audience pictured above before the debate began.)
Craig: And I think we are actually more together as a sector than some other sectors. Artistically I don't think we're vying for the same audience so it's not either/or. And Big Dance 2012 is a demonstration of how dance is a very unifying thing for society - I wouldn't say the same thing is possible for opera or even theatre.
Arlene: Dance globally is one of the biggest activities the world has ever known. I agree with Val. Dance is fractured because there are so many different forms. It feels like everybody has a tiny little piece of the pie, but actually the pie is enormous. Somehow there has to be a way of understanding that not just in the UK, but worldwide dance is as big as, if not bigger than, football... I've just come back from America where they have these huge dance conventions. And the sums of money that are being made from dance conventions, I'm telling you, could keep English National afloat. This is just what happens there over the summer! So in terms of money, I don't think we're looking well enough at ways to use dance to propel fortunes to where we need it. Because the sums of money being generated by dance elsewhere are phenomenal.
Somehow there has to be a way of understanding that dance is as big as, if not bigger, than football
Share this article
Subscribe to theartsdesk.com
Thank you for continuing to read our work on theartsdesk.com. For unlimited access to every article in its entirety, including our archive of more than 10,000 pieces, we're asking for £2.95 per month or £25 per year. We feel it's a very good deal, and hope you do too.
To take an annual subscription now simply click here.
And if you're looking for that extra gift for a friend or family member, why not treat them to a theartsdesk.com gift subscription?