Yuletide Scenes 5: Hunters in the Snow |

reviews, news & interviews
Yuletide Scenes 5: Hunters in the Snow
Yuletide Scenes 5: Hunters in the Snow
Pieter Bruegel the Elder's wintry panorama is the last in our series of beguiling seasonal scenes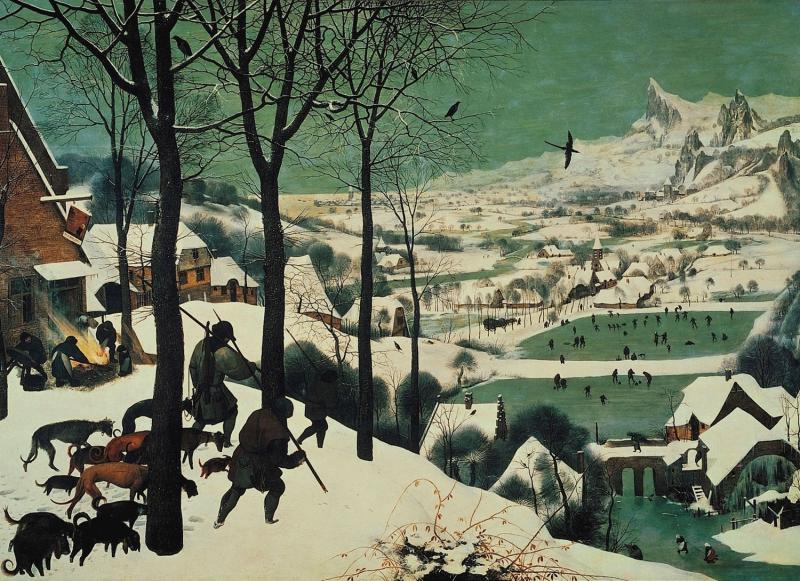 Hunters in the Snow: a painting that offers us the light and shade of human existence
The great Flemish painter Pieter Bruegel the Elder was instrumental in developing landscape painting as a genre in its own right. Hunters in the Snow, 1565, is one of five surviving paintings (Bruegel painted six) in his cycle depicting The Labours of the Months. Populated by villagers, peasant workers, farmers, hunters and children, each painting is of a panoramic landscape at a different time of year.
This chilly winter scene is a Christmas card favourite. But Bruegel is an artist whose work has also inspired art house directors, contemporary writers and modernist poets. Hunters in the Snow features in two Tarkovsky films, Solaris and The Mirror. More recently, it featured in Lars von Trier's Melancholia. That an image so closely associated with festive jollity should also be used in a way that underlines a sense of haunting unease isn't actually that surprising: Bruegel's painting is powerful exactly because it provokes a sense of uneasy ambivalence.
A small group tend an open fire, which is beginning to look decidedly out of control. Everything feels a little provisional and precarious
It's certainly an idealised scene, this snow-muffled land that dips steeply into a flat-bottomed valley where children in silhouette can be seen skating and playing ice hockey on a frozen lake. The spectacular peaks in the distance also make you wonder just how many mountainous ranges can be found in the Low Countries. Painted at a time of religious upheaval in the Netherlands, Bruegel was probably depicting country life how he imagined it once was, or how it should or could be.
Bruegel popularised the snowy landscape, influencing artists such as the deaf-mute painter Hendrick Avercamp, who specialised in jolly, silvery-hued scenes of ice-skaters, young, old, rich and poor. It was the epoch of the Little Ice Age, which chilled the Northern Hemisphere from the 16th to the 19th centuries (the Thames was last frozen solid in 1814, the year of the river's last frost fair). In Hunters in the Snow one can almost feel the biting cold penetrate one's bones, and even though most of the picture is taken up by landscape Bruegel has managed to give an extraordinary sense of light and space.
So what story does this painting tell? To our left, with their stooped backs presenting a strong outline against the snow and the light, we encounter the three hunters, trudging wearily through a carpet of white. Following close behind are their hunting dogs, each looking really rather sorry for itself. Two of the huntsmen are returning empty-handed, whilst a third, the most prominent, has only a dead fox hanging limply from his spear. It has been a disappointing day.
Further left, there is an inn, its wonky sign threatening to fall with just one gust of wind. Outside, a small group tend an open fire, which is beginning to look decidedly out of control. Everything feels a little provisional and precarious. A black bird is swooping low, while four are perched on branches. Do they convey a sense of foreboding? Cutting across the foreground in a sharp diagonal, and descending the snowy precipice, are the frost-dappled trees, their thin, black trunks rising high into the heavens, their branches creating a delicate pattern against the mint-grey sky. Beyond, the whole town is laid out dizzyingly before us, and indeed, there is something almost vertigo-inducing in this scene. It is both exhilarating and slightly unsettling.
This is a painting that offers us the light and shade of human existence. Bruegel's hardy peasants toil through long, bitter winters, often gaining little or no reward. We see, however, that there is also delight to be had from being part of the cycle of nature. The tired hunters look down at a joyful, playful scene, but play no part in it themselves. Joy is ephemeral – or perhaps like the children on the ice, it belongs just over there, out of reach. We can chase it, but there are no guarantees. We might even catch snatches of it, but, like snow, it is likely to evaporate.
Bruegel's painting is powerful exactly because it provokes a sense of uneasy ambivalence
Share this article