Yayoi Kusama, Tate Modern |

reviews, news & interviews
Yayoi Kusama, Tate Modern
Yayoi Kusama, Tate Modern
Obsession and fear underlie these high-spirited works as we find more to this Japanese artist than polka dots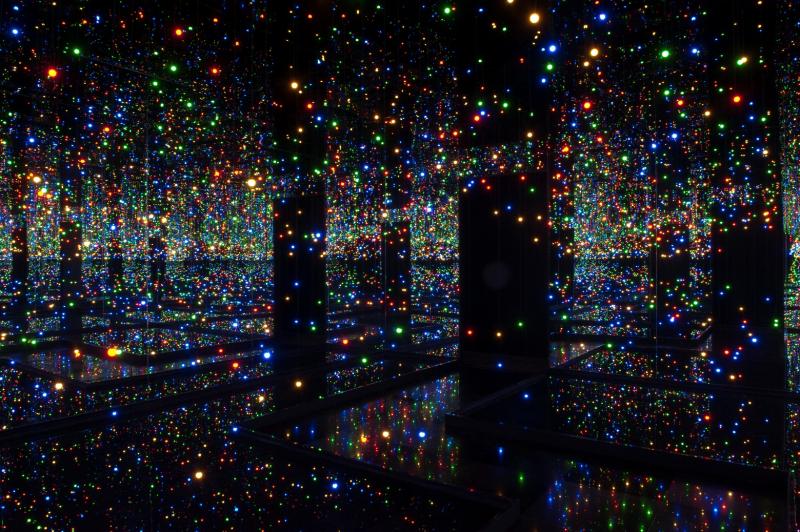 Yayoi Kusama's 'Infinity Mirror Room', 2012
Yayoi Kusama, one of Japan's best-known living artists, has spent the past 34 years as a voluntary in-patient in a psychiatric hospital in Tokyo. Now 82, she was part of the New York avant-garde art scene of the Sixties, making work that anticipated both Andy Warhol's repeated-motif "Cow Wallpaper" and Claes Oldenburg's soft sculptures. Her nude happenings included orgies and naked gay weddings, over which she presided fully clothed like a psychedelic high priestess.
Showing just how adept she was at garnering publicity, in 1968 Kusama wrote and distributed Open Letter to My Hero Richard M Nixon, inviting the recently elected president to have sex with her in exchange for ending the Vietnam War. This proved a predictable headline-grabber and for a while her fame rivalled even that of Warhol's. Despite this, she struggled financially, and following episodes of depression and psychosis she decided to return to Japan permanently in 1973, having lived in the US since 1957. Four years later, after being hospitalised several times, she finally admitted herself as an in-patient.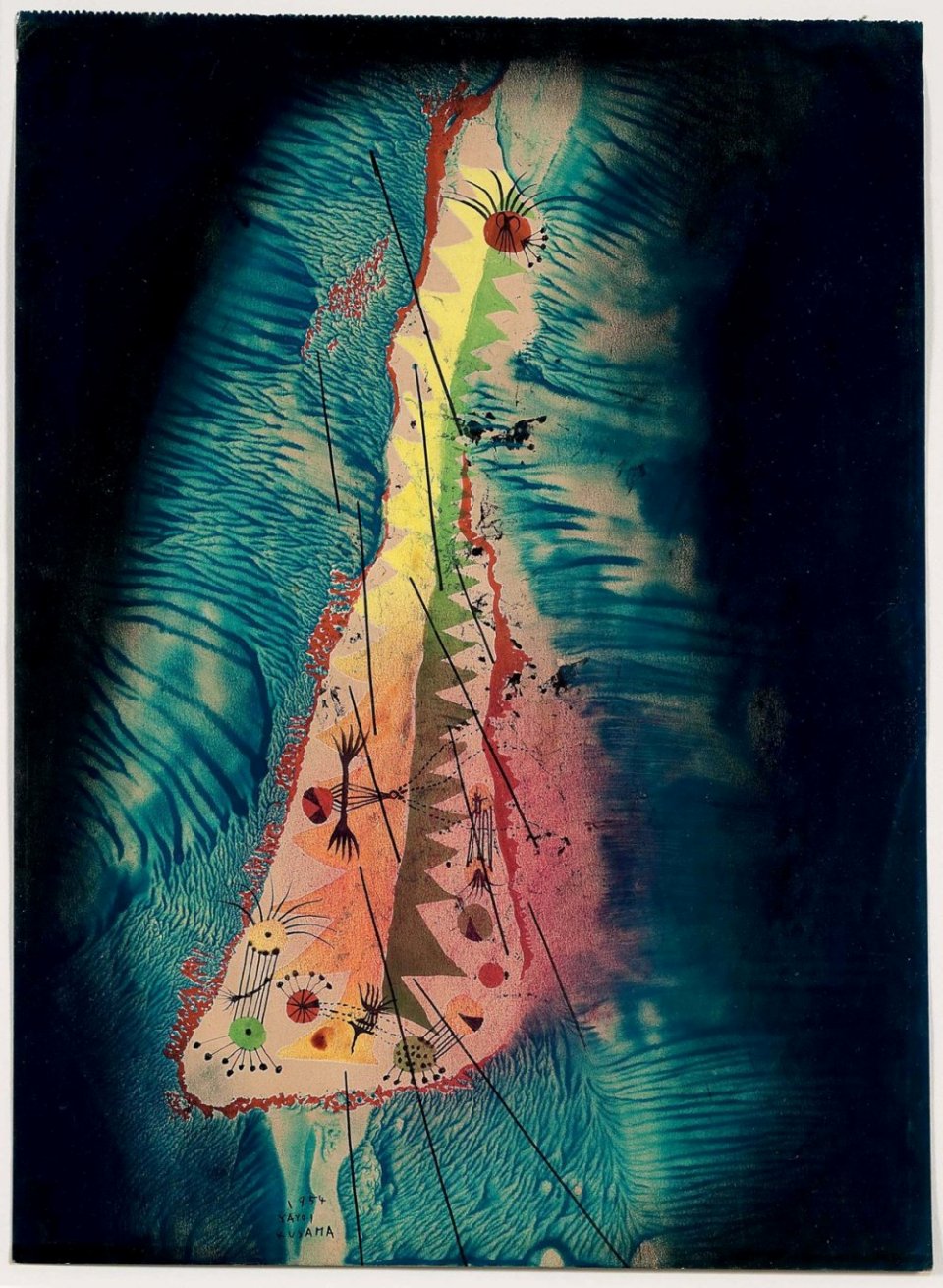 Though it took a while for Kusama to re-emerge as an artworld celebrity outside Japan, neither her circumstances nor her fragile mental health have curtailed her productivity. Between 1978 and 2002 she produced 14 novels, a collection of poetry and an autobiography. However, her writing activities are barely touched upon in Tate Modern's retrospective exploring seven decades of prolific output. Indeed, the survey can offer only a cursory glance, so there's little sense of transition as Kusama seems to skip effortlessly through a number of different styles in a wide variety of media. And so the exhibition, which is hugely engaging and immersive, manages to also hold a great many surprises.
The two huge polka-dot inflatables at the exhibition's entrance – works that would not look out of place in a Jeff Koons exhibition – do little to prepare you for the exquisite small-scale watercolour and oil paintings in the first gallery. These delicately painted works were produced in the early Fifties, and show the influence of Miró's biomorphic Surrealism. However, these vivid and intense and beautifully lyrical pieces express little of Miró's joyful exuberance and are far more muted.
Kusama had earlier received rigorous training in the traditional Japanese Nihonga style, but rejected its constraints for a looser, freer Modernism. But one can clearly detect in her early paintings a sense of extraordinary precision that such a training must have instilled. This effortful exactitude segues into an obsessive tendency for repeated patterns. We see this clearly in her series of Infinity Net paintings, in which she adopts the minimalism of the white canvas. A close look reveals not the broad-brush approach of artists such as Robert Ryman, but tiny, obsessively repeated loops and arcs of white paint encircling darker-hued specks. A wash of thin white paint has also been applied, creating a soft veil over these coarse, gnarly textures.
In later galleries we find the singular pursuit of an obsession with dots and stuffed fabric phalluses, the one suggesting her hallucinatory visions, experienced since childhood (and her desire to be submerged, "obliterated", by these brightly coloured shapes), the other her self-confessed horror of sex – shoes, a boat, items of furniture, all which have been completely covered by accretions of taunting fabric cocks. Among them we find the form of a man sinking beneath a quicksand of sprouting penises. We discern only his rubbery outstretched hands and huge member – on which a kettle hangs. It's a visually witty piece but, in obvious ways, a little disquieting too.
Visitors to this exhibition have said what enormous fun it is, but throughout there's a darker mood at play, and through it we gain a palpable sense of Kusama's personal battles. However, we do end the exhibition on a lighter note. The Infinity Mirror Room (main picture) is the latest incarnation of a series that has occupied Kusama since 1965.
Here we enter a space that is filled with a forest of mini LED light bulbs multiplied into infinitude by the mirrored walls. The lights glow in the dark and change colour, whilst diffuse points of light are reflected in pools of water by the footpath. Periodically, they are switched off and we are briefly plunged into pitch darkness. Then, accompanied by our sense of relief and delight, they light up again. It's a rather nice way to end an exhibition that clearly revels in spectacle.
Visitors to this exhibition have said what enormous fun it is, but throughout there's a darker mood at play
rating
Explore topics
Share this article