Taylor Wessing Photographic Portrait Prize 2010, National Portrait Gallery |

reviews, news & interviews
Taylor Wessing Photographic Portrait Prize 2010, National Portrait Gallery
Taylor Wessing Photographic Portrait Prize 2010, National Portrait Gallery
Annual exhibition shifts emphasis to different levels
Thursday, 11 November 2010
The National Portrait Gallery was early in picking up on the momentum gathering around photography in 2003, and committed itself then to an annual prize for portraiture. Today it's one of the most anticipated competition exhibitions in the UK, and always exciting, fascinating and memorable. For many of the 60 exhibited photographers, it is often life-changing. This year's submission exceeded 6,000 entries, all physical prints as the gallery still fends off digital domination. Part of the fun of the show is spotting any new trends in style, technique or subjects.
The competition has a traditional fondness of certain recurring styles but none more lasting than Rineke Dejkstra's depiction of young girls as bored and lethargic, posing in fields or on beaches. Her own work was never as deadpan as the imitators beloved of this competition, and now her influence has shrunk naturally as new contexts, expressions and old childish vitality have drawn attention.
Untitled 2 by Abbie Trayler-Smith is a study of UK obesity through a young girl who stands, fiddling and downcast, against a soft, tree-lined landscape; that is a moving homage to the Dutch photographer. Jeffrey Stockbridge's Philadelphia twins, Tic Tac and Tootsie (third prize), fit this category only slightly: drained by addiction and living on the streets, the tough girls stare blankly into the camera but can't hide the feistiest smirk. "My goal", says Stockbridge, "is to dismantle the popular stereotypical view and humanise a subject that has long been dehumanised."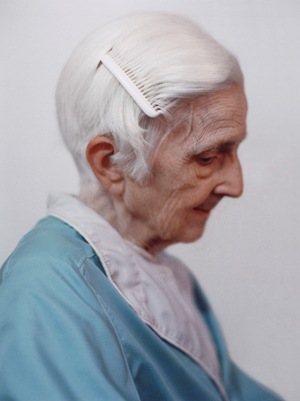 Discarding that mood, many photographers chase all ages for their natural energy. Jeanette Lowe's smiling Beach Boys (see theartsdesk's picture gallery) walk up a council flat staircase, bubbling with excitement; Kenneth O'Halloran's Irish twins tenderly stroke their bareback horse at Puck Fair and Anastasia Taylor-Lind's image freezes a group of uniformed Russian teenaged cadets whispering to each other, posed naturally in a classic, arced composition.
Age is a welcome presence after several years of bias towards young subjects and their families. Anita Corbin leaps in with her zany Golfing Sisters in the Ladies' Locker Room, exploiting their meticulous dress sense and colours, and the eightysomethings shine as they prepare for golf, bemused. A quietly outstanding portrait, Doki,1, Hungary, (pictured above right) taken by Doki's American granddaughter Monika Merva, is a quiet, contemplative study of a fragile 97-year-old woman. It draws that calm from the pale colours of her hair, skin and clothing and the strength of her sharp features. That same unapproachable concentration is felt in Oliver Reed's sneaked portrait of a girl texting on a train, a very different scene and one which uses diffused colours and light to create a small visual gem.
Colour never plays a great part in local photographs the way it does, logically, with those from India or Africa. In fact, in the UK, a recent trend is to drain colour away, to fade it towards nostalgia. But there is no match to the energising brightness of the zingy orange dresses of three children lined up with their Indian father, or even with the tantalising colours of the sari on a woman in Unsafe Journey who rides a train just above the rails.
In such situations, colour is a deceptive pleasure; nowhere is that truer than in the documentary portrait by Tom Martin, of Child Prisoners, Ruyigi District Prison, Burundi (main image). Shame hangs over this crumbling room where children – boys and girls undifferentiated – live in appalling conditions. Martin threw flash light into a corner and created an infernal glow, a backdrop to the dark-skinned, shaven heads, bright T-shirts and staring eyes. It makes an accidental but moving contrast with an adjacent photograph by David Brunetti, of a well-dressed Ugandan boy doing homework in a relatively poor schoolroom. In a turn of the head, two sides of Africa are visible.
There is no link to make with those photographs and the annual feast of celebrity portraits which land new faces in the NPG's collection. David Hockney poses against rows of photographic friezes of roadside trees – then the eye is drawn to the paint-spattered suit and floor; the socialite Nicky Haslam reclines naked in Lucien Freud's chair, his skin tanned to the colour of its leather; Tom Stoddart choreographed a fabulous black-and-white (one of very few here) portrait of the Anglo-Ghanaian tailor Oswald Boateng, posing him in front of statues at the rear of the Royal Academy. He exploits the knife-sharp trouser pleat and sculpted facial features which complement those of Locke and Adam Smith, in a knowingly ironic reference to colonial history.
And here is a link – to the 2010 first prize-winner, David Chancellor, whose portrait Huntress with Buck (see theartsdesk's picture gallery) is set in South Africa. This is an outstanding photograph and could have been unanimously voted in on first viewing. It is a scene of great contrasts: a 14-year-old girl on her first hunt, seated on her stationary horse, calm in a clear, expansive landscape, the buck lying elegantly relaxed across the horse's back, in contrast to the violent reality of its death. The colours and patterns of sky, land and horizon give the photographer a handicap, but his sense of composition is exceptional, and overall painterly.
I leave till last the most talked-about image in this year's collection, Portrait of My British Wife, by the Greek photographer Panayiotis Lamprou (see theartsdesk's picture gallery). This is not being discussed because it's the most breathtakingly beautiful, perfectly composed portrait, or the next milestone in the history of photography, but because of its content. Lamprou photographed his wife after lunch (fragments of spaghetti hang on an empty bowl beside her). She's wearing a T-shirt and staring straight at him/the camera, with the slightest smile, seemingly more bored than engaged. She leans back, her legs apart, and offers him/us the full-frontal naked shot.
It's as if the couple were engaged in a private porn movie that was secretly stolen, submitted for the competition and won second prize. But on his website, Lamprou reveals that it was a private scene until his wife saw the photographs and they decided to go public. Another reason for the attention is her unusually prominent, almost hermaphroditic genitalia, which turns the scene somewhat clinical – as if she's waiting for a gynaecological examination. Maybe they see her as a trophy wife – or maybe there is a political agenda at work in response to the monopoly on male genital exposure which Mapplethorpe made almost mainstream.
However the story runs, it can't detract from the thrill of this year's exhibition which – including Lamprou's contribution – has shown a looser and more eclectic approach to the subject. That of course comes from the judges as well as the photographers. The conventional lineage of portraiture feels as if it has been healthily nudged – which is a good thing.
Share this article