Sturtevant: Leaps, Jumps and Bumps, Serpentine Gallery |

reviews, news & interviews
Sturtevant: Leaps, Jumps and Bumps, Serpentine Gallery
Sturtevant: Leaps, Jumps and Bumps, Serpentine Gallery
Holding up a mirror to our image saturated culture produces visual muzak
'Elastic Tango 2010' and 'Warhol Diptych 2004' by Sturtevant
Her name sounds like a brand of cigarettes, and an aura of corporate anonymity seems remarkably apt for this American artist who specialises in replicating other people's work and sampling clips from online video libraries.
Borrowed from the BBC's Motion Gallery, the ingredients for
Rock & Rap Act 3 Simulacra
(2012) include a hooting owl
(pictured below right)
, a bright green tree frog, a predatory spider, buds unfurling into gorgeous blooms, gurgling water, and a sprinter, diver and weight lifter – the kind of feel-good images often found on glossy birthday cards. They are intercut into a euphoric compendium of video clichés, in which life on planet earth is presented as a healthy and wholesome spectacle. The owl also becomes a repeating pattern, which papers the walls of the first gallery.
Sturtevant has been acting as a mirror reflecting (on) our image saturated culture for a long time now. She first launched herself onto the New York art scene in 1965 with replicas of the flower paintings exhibited by Andy Warhol had a few months earlier – proving she could outflank the most deadpan operator on the block. On show here is Warhol Diptych 2004 (main picture), a copy of a screen print in which Marilyn's face is repeated as a grid in black and white and poorly registered colour. If Warhol used repetition to turn the famous face into a redundant blur, Sturtevant's version blocks any kind of response other than numb indifference.
Hung nearby are recreations of Fresh Widow (pictured below left), a sculpture by Marcel Duchamp who (in)famously assaulted treasured notions of skill and authenticity by presenting a urinal as a sculpture called Fountain. That was in 1917 – nearly 100 years ago. Isn't it a bit late, then, to be revisiting the same territory, especially as Sherrie Levine (another American who specialises in appropriation) produced a bronze version of Fountain back in 1991?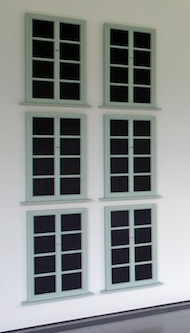 Since bronze is one of the quintessential fine art materials, Levine clearly intended her gleaming urinal to be viewed unequivocally as a traditional work of art. The seductive metal humorously adds an ironic layer of meaning to Duchamp's provocative gesture. So what does Sturtevant contribute to the debate?
Fresh Widow is a miniature french window whose glass is covered in black leather, as though it were in mourning. Replicated six times, Sturtevant's blind sculpture is hung in a grid opposite the windows looking onto the park. Huddled against the windows is a row of inflatable dolls whose open mouths appear to be screaming for help from the joggers and dog walkers passing by, as though they were fine art sex slaves trapped in the gallery (pictured below). They remind me of Duchamp's last sculpture Étant Donnés (1996), which features another door you can't see through, except for a peephole that provides a glimpse of a nude woman lying in wasteland, perhaps the victim of a sex crime.
But other references were swilling around inside my skull. For instance, the dolls might refer to Paul McCarthy's scurrilous forays into simulated sex and violence. The American artist enacts absurdly over-the-top scenes of sodomy, mutilation and murder using rubber gloves, artificial limbs and copious amounts of tomato ketchup. Snippets of his films appear in Sturtevant's nine-screen video extravaganza, Elastic Tango (2010) alongside clips of running dogs, cuddly toys, mushroom clouds, a hooting owl, the American flag, a waving Mini mouse and Duchamp's spinning wheels. Repeated into mesmerisingly beautiful patterns, they lull you into an acquiescent stupor, so you no longer care whether they mean anything or not.
And the penny finally drips; whereas Levine and other samplers add meaning to the material they purloin, Sturtevant creams it off – intentionally. In her hands, McCarthy's films are no longer parodies of mainstream sex and violence, and owls and tree frogs are no longer endangered species. Replication and repetition rob everything of meaning, intent, originality and integrity. Released from their origins to float freely in cyber space (which is simultaneously everywhere and nowhere), images are reduced to sentimental tropes devoid of significance, import, agency or effect.
The video equivalent of Jeff Koons' kitsch sculptures, Sturtevant's videos hold up a mirror to our image-saturated age. "I see our cyber world as Foucault would have", she says, "which means that the interior is falling back in on itself... At the moment it's all exterior and outside without an Other, making this planet very empty." By mirroring this emptiness, though, she leaves the viewer feeling empty and asking, "Is this all we deserve?" No matter how intelligent her approach and how sophisticated the end product, the result is still visual muzak.
Whereas other samplers add meaning to the material they purloin, Sturtevant creams it off – intentionally
Explore topics
Share this article