Sarah Lucas: Happy Gas, Tate Britain review - overcrowding muffles the voice of the wildest of the YBAs |

reviews, news & interviews
Sarah Lucas: Happy Gas, Tate Britain review - overcrowding muffles the voice of the wildest of the YBAs
Sarah Lucas: Happy Gas, Tate Britain review - overcrowding muffles the voice of the wildest of the YBAs
Too many bunnies spoil the sculpture broth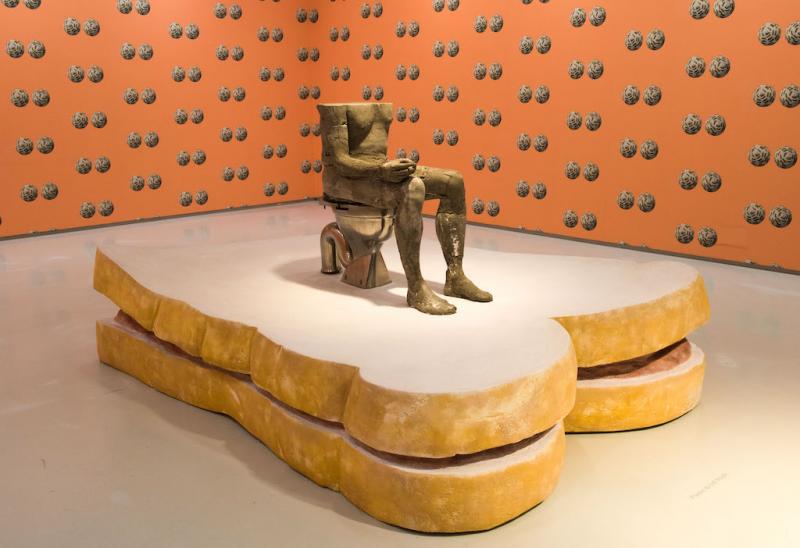 Cnut 2004 by Sarah Lucas and Sandwich, 2020.
I think of Sarah Lucas as the bad girl of British art, the one who uses her wicked sense of humour to point to rampant misogyny and call out the perpetrators. Of her generation of YBAs (Young British Artists), she has produced the edgiest, funniest and most disrespectful work.
She enlarged the pages of The Sunday Sport to giant proportions, for instance, to bring home the nastiness of their attitude towards women. In Fat, Forty and Flab-ulous (pictured below) an overweight woman is derided for wanting to be sexy and desirable and in Pairfect Match readers are invited to match up women's breasts to their faces.
Just imagine the men salivating over these pages. And here they are – in the first room of Lucas's Tate Britain show, busily jerking off. The Wankers sit facing the double spreads, not in person of course, but in the form of chairs which she often uses as surrogates. And in Wanker 1999, a hydraulic arm tirelessly pleasures the imaginary occupant of a shabby kitchen chair.
Overseeing this melée of misogyny is Chicken Knickers 1997, a giant photo of the artist with a supermarket bird dangling from her underwear, its rear end hanging open in startling resemblance of a ragged vagina.
On a more subtle note, in The Old Couple 1992 a dildo and a pair of false teeth rest on the seats of two dining chairs. A comic reminder of withering stamina, they bring to mind David Hockney's 1977 portrait of his parents in which his mother sits upright and alert while his father slumps low over a book. The teeth also evoke the spectre of the "vagina dentata" (all the better to castrate you with) that engendered irrational fear in some of Freud's male patients.
With these early works, Lucas has set out her stall, as it were; which begs the question: now she is 60 and enjoying international acclaim, does she still have the desire and the impetus to continue in the same joyously provocative vein?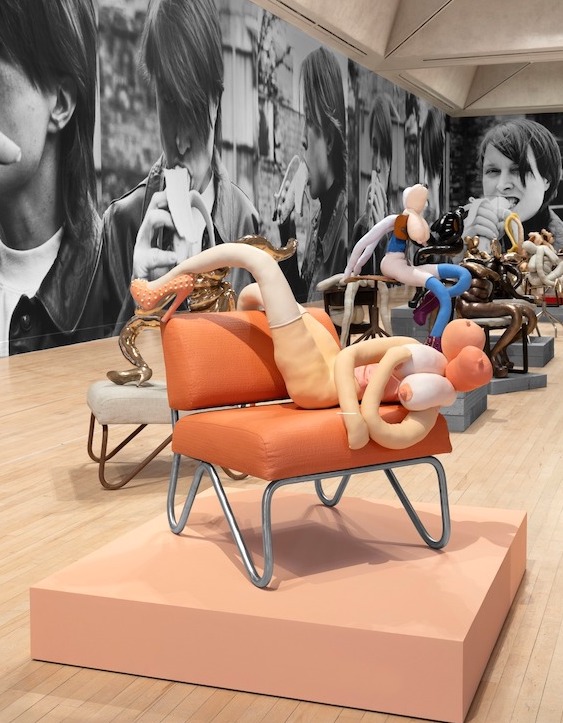 Reminiscent of a catwalk, the next room is a long, thin gallery of Bunnies (pictured right). Lucas began making the sculptures in the late 1990s probably inspired by the ludicrous costumes imposed on the Bunny Girls working in Hugh Hefner's night clubs. Tights stuffed with kapok or wool form the spindly arms and legs of headless bodies that, slumped on chairs, are like exhausted sex workers desperately trying to remain alluring.
Over the years, the Bunnies have multiplied and morphed. Growing numerous breasts and perching on a diverse range of chairs (some real, some cast in resin or concrete), they make ever greater efforts to appear sexy and available. This is a meat market and competition is fierce; so to attract attention the girls assume ever more outlandish poses – exposing their tits and offering their arses – or turn themselves into fetish objects with dangerously high heels studded with spikes.
Some Bunnies are cast in gleaming bronze that enhances their status. They may be footballers' wives rather than cheap dates, but there's a price to pay. In a pose suggesting abject submission, Sex Bomb drapes herself over a concrete chair with her bum in the air. Goddess perches atop a chair, golden arms flung wide as though flying high, but she also exudes a whiff of hysteria. She may have snared a rich or powerful man, but that only makes her more dependent and vulnerable.
Slumped on a concrete chair at one end of the room, Cross Doris (pictured left) overlooks the desperate parade, arms crossed in disapproval. Her breasts look like huge eyes appraising the tragic scene. Meanwhile, at the other end of the room, her sister Fat Doris offers an alternative. Her sagging breasts and rolls of flab suggest that she has opted out of this pernicious game and decided to "let herself go".
Individually, then, the Bunnies highlight the absurdity of women tying themselves in knots to gain male approval. But arranged like a display of chairs in a design museum, here the Bunnies are reduced to a posse of hysterical wannabes. Surrounding them are walls papered with photographs of Lucas suggestively eating a banana; rather than encouraging a rebellious frame of mind, though, this merely add to the visual confusion.
Overcrowding also spoils the rest of the show. The Muses 2015 are a powerful antidote to the Bunnies. Concrete casts taken from the waist down of the artist and her friends, they have a heavy-duty industrial presence, but their impact is diluted by being scattered over two rooms. Pauline sits astride a chair as though she means business while, in the distance, Lucas perches on a bar stool and Michelle sits on an office desk, legs apart as though anticipating sex. All have cigarettes inserted in their orifices – an indication, perhaps, that they don't care about social niceties and norms.
Joining them is Cnut 2004, (main picture) a concrete cast of dancer, Michael Clark sitting on a stainless steel toilet, fag in hand. The plynth is a giant sandwich of white sliced bread filled with spam. Made from Jesmonite and polystyrene, this po-faced celebration of processed food is convincing enough to make you feel as small as a Lilliputian. But why is a second sandwich included when space is so tight and there's a giant marrow in the room that could do with more space.
Cast in concrete, this phallic vegetable is an absurdist take on competitive masculinity. There's "a prize for the person with the biggest", says Lucas, even though in terms of taste and texture, the biggest is rarely the best. The sculpture also pays tribute to the artist's mother who grew marrows on her allotment with no prizes or fanfare and, unlike most men, also made the jam.
The last gallery is a car crash in more ways than one. Dominating the space is a burnt out Jaguar cut in half (pictured above). The bonnet, wings and seats are decorated with cigarettes so, as well as being a dig at masculine chutzpah and vanity, it also becomes an obscure metaphor for lungs terminally damaged by smoking. The title of the show Happy Gas alludes to Lucas's love of fags and lining the walls are photographs of her wreathed in plumes of cigarette smoke. Taken by her partner, Julian Simmons as she sat in a chair spinning round in a red-painted room, these beautiful images offer an ambiguous take on the hell-bent pleasures of self-destructive habits.
Lucas's self-portaits are among her most iconic works. Here we see he crouching on a toilet smoking – like a naughty kid hiding her habit from her parents – then, again, staring defiantly to camera with a skull between her legs and, in contrast, sitting in a field of wheat, grinning with delight at the fact that she now lives in the country.
But I'd like more, or rather, I'd like them to be given enough space to allow their message of defiance to resonate unequivocally, so there can be no doubt that this woman is her own person. She would never tie herself in knots for anyone.
Funny, anarchic, surreal and confrontational, Sarah Lucas's work is also deeply serious; but you wouldn't know it from this crowded presentation. Too many pieces are shoved together cheek by jowl and, as a result, their message gets lost in the melée.
Arranged like a display of chairs in a design museum, the Bunnies are reduced to a posse of hysterical wannabes
rating
Explore topics
Share this article