Ryan Gander: Make every show like it's your last, Manchester Art Gallery |

reviews, news & interviews
Ryan Gander: Make every show like it's your last, Manchester Art Gallery
Ryan Gander: Make every show like it's your last, Manchester Art Gallery
A mischievous display from the sculptor, painter, photographer, prankster and storyteller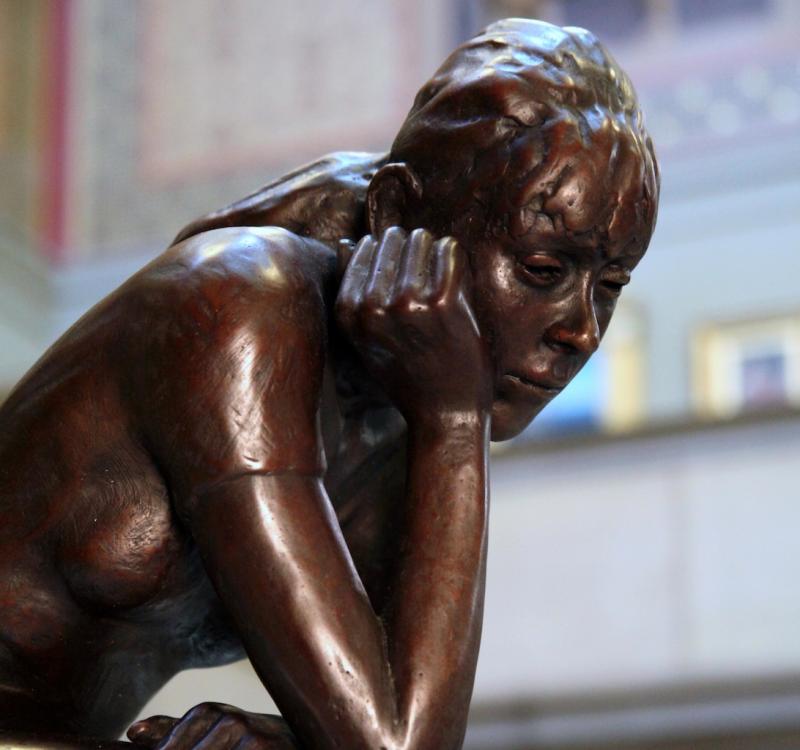 Ryan Gander: 'The retinal account, or and when you are older you will go away, you'll see injustice and you'll see pain'
When Ryan Gander's wife wanted a designer lamp, the versatile artist knocked one up from junk. She was so impressed he sold it as an artwork and by now has made 55 in his garden shed. Three are here in Manchester, made from foil food trays, a guitar stand and concrete. These pieces are quite unrepresentative of the rest of this highly conceptual show, but in a diverse, major survey there appears to be no truly representative way in.
What most visitors first come across, in the 19th-century foyer of Manchester Art Gallery, is a short bronze ballerina. Degas, you might think, rather than contemporary art. But no, this particular dancer is sat on the edge of her plinth, apparently bored. It's a gag not a million miles from an intervention by Banksy. Or it would be, were there not a nearby cube, the colour of bluescreen. And so an alternative plinth catapults the tiny dancer into the realm of the virtual.
This is Gander's latest iteration of the ballerina, an exclusive to this city where the artist did his first art degree. The show comes at a good moment for his admirers. He has enjoyed recent success in Kassel at Documenta 13, and with an Artangel commission in Hoxton (2011's Locked Room Scenario); and there are not one but three of his pieces in the current round-up of figurative sculpture, The Human Factor, at the Hayward.
But of course Gander is not, or not just, a figurative sculptor. On the evidence of this show he is also a reluctant painter, a conceptual photographer, a filmmaker at arm's length, and something of a prankster. He is also, as you must conclude from any of his verbose titles, a writer, or at least a storyteller. So his ballerina is in fact called The retinal account, or and when you are older you will go away, you'll see injustice and you'll see pain (main picture: detail).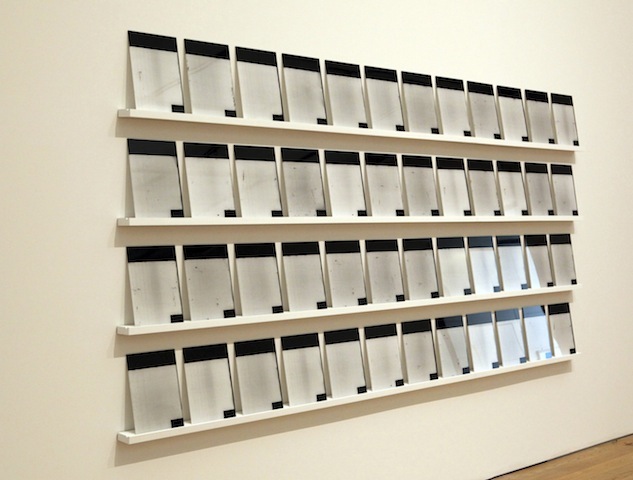 If Gander has a signature it is in these wordy and abstruse titles or, in many cases, an involved backstory. It has been said he is more interested in frames than what goes in them, and this is illustrated by many of these pieces. How the past can pierce the present, 2013, is a field of blank, three-panel cartoon strips, as used by Schulz, of Peanuts fame. 28 Associative Ghost Templates, of which two are here, recreate the layers of a research pin board in Perspex (which gives nothing away). In another ghostly piece, the artist has taken the opaque plastic covers of top shelf magazines and created prints from them. So, in Come on! Think!, 2011 (pictured above), the pornography, or the trace of it, gazes blankly back at us.
What keeps this show from disappearing into a conceptual vortex is an interest in the gaze which reminds you that the visible and invisible are the artist's territory. This can be seen in his "film" about art students sketching Francis Bacons at Tate Britain. Except the original doesn't exist. Here we get a documentary about the unmade footage: Things that mean things and things that look like they mean things, 2008. It's personal, and profound, and leaves you satisfied the entrance curtain gives onto a blank wall.
A sense of mischief pervades this show. Just try picking up the $25 dollar coin glued to the floorboards. Or consider Gander's adverts for a government department to promote creativity. Imagineering, 2013 (pictured above) is a 30-second TV and poster campaign commissioned from ad agency Kirke and Hodgson, who were in on the gag. Far from convincing viewers to embrace the bubble motif and set free their spirits, this might provoke a hollow laugh at the unlikelihood of it all.
If the creatives come to see the show in Manchester, they might be horrified. From the marble reconstructions of his daughter's dens, to the slide show based on the film Blow Up, there is no discernible Gander brand. As a result you have to get to grips with these works one at a time and, yes, there's a lot to read. It's messy, but you may learn about Gömböcs (a shape), and Tintin, and mathematics, and French handwriting drills.
Gander is inexhaustible. In fact the piece in least need of an introduction is a pair of animatronic eyes which, like those of the great Mona Lisa of popular cliché, follow you around the room. Move too fast and the cartoon-like orbs offer up a shrug and appear to say, in the words of their creator, "Sod you then". There is a feverish imagination at work here, one that demands a bit "Imagineering" of us all.
The cartoon-like orbs offer up a shrug and appear to say, in the words of their creator, 'Sod you then'
Explore topics
Share this article