Peter Doig, Courtauld Gallery review - the good, the bad and the unfinished |

reviews, news & interviews
Peter Doig, Courtauld Gallery review - the good, the bad and the unfinished
Peter Doig, Courtauld Gallery review - the good, the bad and the unfinished
Paintings that run the gamut from the sublime to the banal
Thursday, 16 February 2023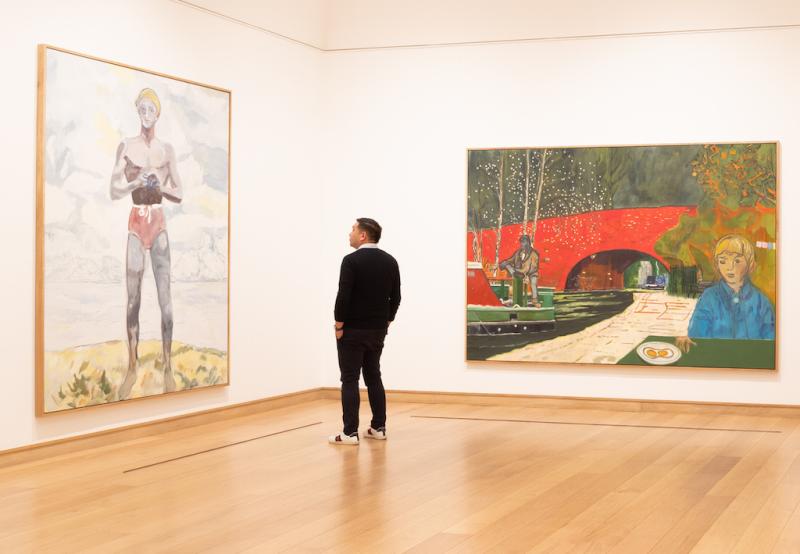 Peter Doig at The Courtauld Gallery (detail), 2023
I once gave Peter Doig a tutorial, when he was a student at Chelsea College of Art. He had little to say about his strange images and I came away feeling I'd seen something unique, but was unable to tell if he was a very good painter or a very bad one.
He now enjoys international success and his paintings sell for millions of pounds yet, judging by his Courtauld Gallery exhibition, my ambivalence was well founded. The show contains a sublimely beautiful painting and two very bad ones. The Alpinist 2019-22 (pictured right) is Doig at his very best. A lone skier trudges up a snow covered mountain. Visible in the distance is the Matterhorn, while poking through the snow way below is a band of fir trees resembling the stubble on a man's chin.
The figure's rust coloured skis, sunburnt face, harlequin ski suit and green backpack stand out in stark contrast to the pale blues, greys and whites of the alpine scene. The snow at his feet seems to have turned to slush. Applied in thin washes of grey, dirty green and violet, this passage of paint is very beautiful; yet it is also disconcerting, since it suggests dangerous conditions.
The man seems suspended between two worlds – that of civilisation and the wilderness – and between two states of being. He appears caught in that existential moment when the euphoria of reaching high altitude is tempered by the awareness of one's vulnerability and insignificance.
At the other extreme from this sublime picture is Canal 2023 (main picture). After moving to Trinidad nearly 20 years ago, Doig returned to London in 2021 and this view of the Regent's Canal was made in response. A pillar box red bridge spans the mirky green canal. The artist's son sits at a green table on the cream coloured tow path as a red and green canal boat chugs past. And filling an awkward space above his head is a nondescript patch of foliage.
"I never try to create real spaces," Doig has said, "only painted spaces. That's all I am interested in. That may be why there is never really any specific time or place in my paintings." His comment provides a clue as to why Canal feels so anomolous. The mundane scene is firmly anchored in the real world. Not only does it portray a recognisable place, but the colour is banal and the paint handling pedestrian, so the picture has little to offer by way of mystery or surprise.
The dates given for Doig's paintings often span many years. Alice at Boscoe's, for instance, is dated 2014-23 – suggesting that he continued to rework the canvas over many years. Lets hope, then, that Canal is little more than a first draft which will be worked on, refined and made mysterious in the years to come.
Hanging nearby is Bather 2019-23 (main picture), which is based on a black and white photograph of actor Robert Mitchum standing on a beach in 1942. The painting also pays homage to Cézanne's The Bather 1885, which is currently included in his Tate Modern retrospective. Cézanne's painting is an almost monochrome study in greys, in which a somewhat tenuous relationship between figure and ground is established only through colour.
Doig seems to be attempting something similar, except that it doesn't work as yet. There's an imbalance between figure and ground. While the water and distant shore are so pale as to be almost invisible, the giant bather stands like an apparition, resplendent in magenta trunks on yellow grass. To create greater rapport between him and his surroundings, the sky, land and sea all need more definition and a little more colour. Without them (and the implied narrative they'd create), the painting feels less like a mystery to be solved and more like an exercise in picture making.
The Courtauld show contains a sublimely beautiful painting and two very bad ones
rating
Buy
Explore topics
Share this article