Nathan Coley, Brighton |

reviews, news & interviews
Nathan Coley, Brighton
Nathan Coley, Brighton
Questions of faith and the Brighton bombing preoccupy the Scottish artist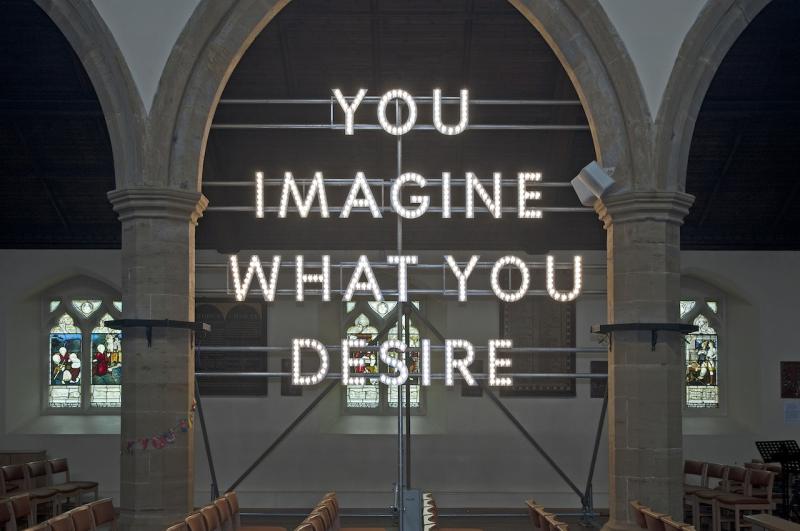 A quotation from atheist George Bernard Shaw in St Nicholas' church, Brighton
Thanks to its international festival and a thriving catalogue of fringe events, May brings a great deal of noise to Brighton. Putting artwork into this saturated landscape can never be easy. But Nathan Coley has managed to inject some critical thinking and reflectivity.
HIs best-known works, quotations in illuminated text, blazon themselves on the mind. They occupy a tidy niche and reproduce well in books, magazines and social media updates. So when you first see his work here on the south coast, in an 11th-century church no less, you might for a moment get a sense that, were this not a cosy place of worship, you had seen this already.
St Nicholas is the oldest building in Brighton and known as the city's Mother Church. Now, two dozen chairs have been cleared from the aisle and a rig built to house a quotation by notorious atheist George Bernard Shaw. Words glow gold and warm, competing with the mysteries of the altar; the letters are picked out with theatre lights as if to underline the element of showbiz in all religion. And the words, "You Imagine What You Desire", are only a milder alternative to some of Coley's other literary quotations ("There will be no miracles here" or "Heaven in a place where nothing happens").
"Desire" strikes one as a shaky foundation for faith. So the church is to be congratulated for the open mind it has shown to house this work, which confronts you the moment you step through the main entrance. But even as it acts upon the building, the installation is surely acted upon in turn. It says something quite different here than in its previous iteration at Sydney Biennial.
Architecture is a central concern for this Scottish artist and Brighton is best known for its Regency style. Coley has installed new work a stroll away in a restored Regency townhouse. And he does so, once again, at the invitation of the main festival and another local festival, HOUSE, which has a focus on placing art in domestic spaces. There is, however, nothing homely or domestic about his work here.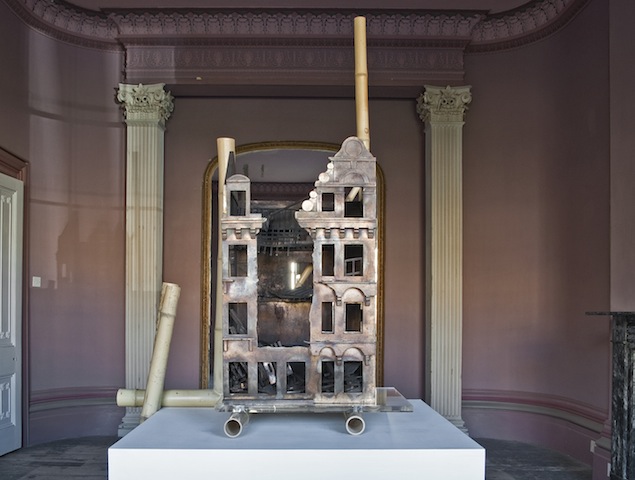 Roy Walsh meets Patrick Magee (pictured right) is a weighty bronze sculpture of a part-demolished hotel which you may recognise from the title as Brighton's celebrated Grand Hotel. Roy Walsh was the false name given by IRA bomber Patrick Magee who checked in to the hotel in September 1984. The rest, as they say, is history. The rubble-filled interior here is as visually compelling as a doll's house, but one which addresses political realities.
As you work your way up this carefully restored venue, another work about the Brighton bombing frames a blown-up photo of the void that opened up in the Grand's facade. Further along are a set of aluminum sculptures which represent battle-scarred homes from across the world. The modernist designs and Perspex stands don't prepare you for the age-old realities of war.
Coley's final piece brings the visitor full circle with another example of ecclesiastical architecture, this one a plywood model of St Paul's Cathedral. Just as a terrorist bomb changed the tone of life in Brighton, so the crowds who form part of the Occupy movement have coloured the way we see this famous building. The artist has cut away one side of the large model and installed a library of dog-eared books about politics and festooned the south facade with smaller models of the cathedral.
None of these models account for the new-found political significance of the original. But that's just what preoccupies Coley. Without being didactic or partisan, he has made a festival of high culture into a political arena. And in a city whose inhabitants have seen it all, that's a real achievement.
Without being didactic or partisan, Coley has made a festival of high culture into a political arena
Explore topics
Share this article