Murillo: The Self-Portraits, National Gallery review - edged with darkness |

reviews, news & interviews
Murillo: The Self-Portraits, National Gallery review - edged with darkness
Murillo: The Self-Portraits, National Gallery review - edged with darkness
Exquisite exhibition prompted by Murillo's two self-portraits considers what can survive time's wreckage
'Self-portrait' – Bartolomé Esteban Murillo, c. 1670
Mortality inflects commemoration. So it is with portraiture: the likeness – particularly those which celebrate lives of status and accomplishment – will always be limned with death.
Mortality inflects commemoration. So it is with portraiture: the likeness – particularly those which celebrate lives of status and accomplishment – will always be limned with death.
The National Gallery's tiny exhibition of Murillo's two known self-portraits (Self-portrait, c. 1650-55 pictured below, and Self-portrait, c. 1670, main picture) – brought together for the first time since they were separated from the private collection of his son, Gaspar – is not only a tight and elegant reflection on Murillo's art as he aged, but also a meditation on the purpose of portraiture and the way art carries messages across time.
The single-room exhibition comprises eight paintings, an engraving, and three books displayed in a vitrine which posthumously commemorate Murillo's work, and are held open at the pages displaying his portrait. Low lighting allows for the chiaroscuro of Murillo's palette to punctuate the shadows and the division of his early work on one side of the room and later work on the opposite – each half clearly aligned with either the earlier or later self-portrait around which the exhibition has been constructed – draws sharp, if subtle, distinctions between his earlier, formally precise paintings, and his later, bolder work.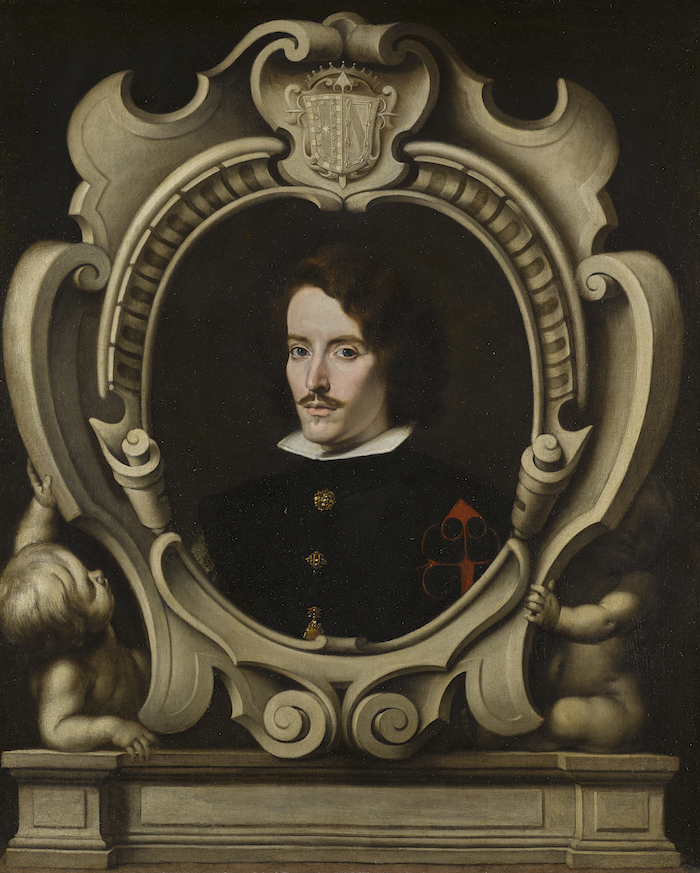 To the left hang three portraits of young men painted in the early 1650s. Two bear Murillo's distinctive interior stone frames, though to quite different effect. In Portrait of Juan Arias de Saavedra, 1650, little putti with distinctive button noses hold upright the family coat of arms, while in Portrait of Count Diego Ortiz de Zúñiga, 1655 (pictured right) one crawls out from behind the ogive to peer into the Count's young, idealised face as if entranced by his preternaturally marmoreal features; another little putto seems anxious to escape the gloom behind the painted stone frame. In the third portrait, Young Man, 1650-1655, the paint is more freely handled and the boy appears more approachable, warm in his demeanour, though this may also be due to the vulnerability of impending adolescence, traces of which shadow his jaw and upper lip.
To the right are paintings from the later years. The portraits in this selection are more frank and personal. That of Murillo's great friend and patron, Portrait of Nicolás Omazur, 1672, is starkly allegorical. Omazur carries a skull, the fingers of his left hand gently caressing the cranium as if he could feel thought through the bone, while the right cups the occiput easily; but it's the texture of his gaze that's striking, as if he's been caught mid-thought and is aware he is being observed but unwilling to meet his viewer's eyes.
Murillo's ability to portray these most fleeting of expressions is displayed too in the small painting adjacent of a street urchin smiling out at something beyond the frame (A Peasant Boy Leaning on a Sill, c. 1675, pictured left). It's a smile that reaches to his eyes and pulls up his shoulders to his neck in pure joy – a fizz of happiness enlivening a moment like the sun coming out and quite possibly as quickly dissipated. In its impermanence it shares something with the early portraits, namely an understanding of the speed with which the phenomena that constitute life disperse. But whereas the early portraits seem to vye with mortality and aim for remembrance across the ages, the later works embrace this impermanence and respect, if not revel, in it.
It's this shift in Murillo's understanding of what constitutes life and death that is the pivot of the exhibition. Between the two self-portraits is a hinge. To the left is a young, confident, rakish young man who meets his viewers' eyes with bombast and challenge. To the right is the older man, revered as a great artist but knocked, perhaps, by circumstance. His circumspect glance doesn't quite meet ours but slides to the side, as if aware of company but more taken by his own thoughts.
If as a young man Murillo appeared assured of his ability to project his own image into the future, in later life he portrays himself as wiser, able to see beyond his painted frames to the darker edges.
Whereas the early portraits seem to vye with mortality and aim for remembrance across the ages, the later works embrace this impermanence and respect, if not revel, in it
rating
Share this article