Manet: Portraying Life, Royal Academy |

reviews, news & interviews
Manet: Portraying Life, Royal Academy
Manet: Portraying Life, Royal Academy
Exhibition of a great artist fails to live up to the hype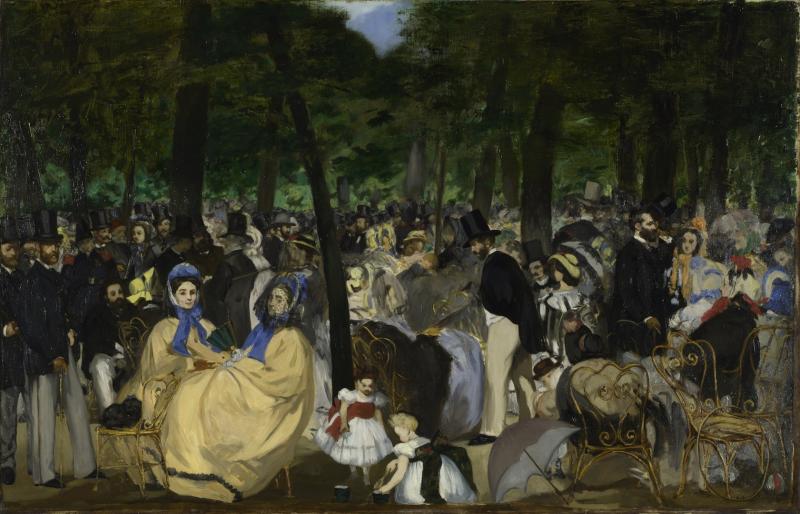 Edouard Manet, Music in the Tuileries Gardens, 1862
While any Manet survey, however compromised by a lack of significant loans, must be considered "an event", this is not quite the exhibition one might have hoped to see of a great artist. Taking up one vast floor of the Royal Academy with just over 50 paintings (and some not very good pastels), many of which are unfinished and must have been judged unsatisfactory by the artist himself, it is far too thinly spread to be the touted blockbuster it seeks to sell itself as.
And since there are quite a few indifferent paintings, one feels slightly sad that anyone coming fresh to this bold and pioneering modernist will leave simply shrugging their shoulders and wondering what all the fuss is about.
One can understand why there is no Olympia, his audacious and ground-breaking nude that scandalised Parisian society when it was first exhibited in the official Salon of 1865, for it is never loaned (a short Eurostar trip to the Musée d'Orsay is therefore a must). But why then devote the last room to Victorine Meurent, who was the model for her in her greatest role? The room contains barely a handful of paintings of his favourite model, of which only the striking head portrait and the full-length portrait of the model eating cherries are memorable. Here we find one wall featuring explanatory text of the missing masterpiece, without even a reproduction of the work.
It's a real shame that we don't have more of his significant Spanish paintings
And then there is one larger gallery devoted to just one painting – the National Gallery's Music in the Tuileries Gardens, 1862. This is just plain silly – it's a great painting depicting Manet's well-to-do social circle, but should it really be treated as an object of worship that requires acres of hallowed space? This is not how it hangs at the National Gallery, where you can usually see it free of charge, just a short walk from the Royal Academy. And there is one gallery with nothing in it but a huge map of Paris in Manet's day, a couple of tables and a scattering of books – presumably the exhibition catalogue.
It's evident that the RA has done a lot of strategic thinking in an attempt to pad this exhibition out. And it almost certainly would have been a more powerful exhibition had it been trimmed down and shown as a more tightly focused display in the RA's Sackler galleries. But appeals to the box office often trump sense.
So what makes Manet such a special artist, and why do we not get a true sense of his worth here? With perhaps two exceptions – A Bar at the Folies-Bergère, 1882, his last great painting before his premature death of syphilis aged just 51 a year later (you can see it at the Courtauld) and The Railway, 1873, which is here – one must concede that many of his greatest works, not all, but his true masterpieces, were painted in the 1860s, and certainly in the years before impressionism made its impact. Manet was really never going to be a great impressionist in the way that Monet, with his shimmering light effects, was. Nor did Manet seek to be considered among their number, since he never exhibited with them and was always keen on the approval of the Salon, which rejected his works time and again.
So it's a real shame that we don't have more of his significant Spanish paintings, in which we are confronted by the considerable influence of Velázquez and Goya. Rejected by the Salon judges in 1866, The Fifer, for instance, is simply one of the most arresting full-length portraits ever painted. With its sharply delineated contours - in which the figure appears flattened like a figure on a playing card against its plain backdrop, its bold, limited palette, its bravura technique and shallow depth, it stands head and shoulders above most of the works in this exhibition.
But again you'll have to go to the Musée d'Orsay to see it. And you will have to go there too for the greater, earlier version of Dejeuner Sur l'herbe. The Courtauld's smaller and later version hangs here. It was started in the same year, 1863, but it's not really the one you would absolutely love to see.
And though this isn't all the RA's fault – I'm sure they negotiated long and hard over what they could get their hands on – one cannot feel comfortable at the inclusion of a poor work such as Lady with a Fan (Jeanne Duval), 1862 (pictured above right) when so much that is good is missing. Here the model sits encased in her ludicrously inflated crinoline skirt, her stiff limbs clumsily painted, and with one awkwardly oversized hand resting on the head of a chaise longue. The Budapest museum from whence it came can't surely consider it much of a loss for the next few months. And poor Manet, to be represented by such a work. Even Homer sleeps, and this is surely one example to illustrate that adage. And what of the later pastels? Portrait of Eva Gonzalés, c. 1879, with all its soft-focus vapid prettiness? Leave it to Degas to show what a pastel can do.
Still, there is the marvellous 1875 portrait of the dissolute artist Marcellin Desboutin, posing insouciantly with his pipe and his tobacco pouch, his indifferent hound with its snout in a narrow glass just behind him (it might be absinth for all we know). And there's the arrestingly unusual The Luncheon, 1868 (pictured below) in which the 16-year-old Léon Leenhof (possibly his own unacknowledged son by his own wife, or even his father's by Manet's wife), is dramatically pushed up against the picture plane, as he stands casually at a table which resembles a 17th-century Dutch still life.
Manet took classical and Old Master themes and compositions and redid them in resolutely contemporary settings, taking, for instance, the nude Venus of Titian and Giorgione and remaking her as a prostitute in contemporary Paris and calling her Olympia. What shocked those who saw that painting for the first time was not her nudity but the clear references to her trade, her confrontational stare and the uncompromising manner in which she was painted. Manet omitted half-tones and traditional modelling for his sitter's flesh and there is nothing soft and yielding about this brazen courtesan. And we find that instead of the small dog curled up by the seductress's feet, denoting fidelity in Titian's painting, we have a startled black cat with its hackles raised. The insipid prettiness of Eva Gonzalés is a poor substitute.
Any Manet survey is worth seeing and learning from, but do bear in mind that for the best of this artist you will have to travel to Paris. And remember, too, the huge, blown-up picture that confronts you at the very start of this exhibition. It is a reproduction of a portrait of Manet and his artist friends by Fantin-Latour. Now, how wonderful it would be to see a Fantin-Latour survey. Alas, it probably wouldn't be quite box office enough.
It's evident that the RA has done a lot of strategic thinking in an attempt to pad this exhibition out
Explore topics
Share this article