Hallyu! The Korean Wave, V&A review - frenetic but fun
Hallyu! The Korean Wave, V&A review - frenetic but fun
Learn how to succeed, South Korean style, right across the cultural board
Tuesday, 27 September 2022
PSY performs 'Gangnam Style' on TODAY, 2012, New York, USA
Remember Gangnam Style, the music video that went viral in 2012? PSY's cheeky lyrics and daft moves attracted 1.6 billion hits on YouTube, sparked dozens of parodies and turned the world on to K-pop. And that was just the beginning; K-pop has since mushroomed into a global phenomenon characterised by catchy tunes and fast-paced dance routines performed by beautiful young people in snappy outfits.
Hallyu! The Korean Wave traces the development of K-pop from early bands like H.O.T and SEOTAIJI and Boys to K-pop idols such as BIGBANG, NCT and ATEEZ. Their success is fuelled by stunning visuals and clever cultural fusion. Lyrics may be in a mix of Korean, English, Chinese and Japanese and costumes will marry punk with Korea's national dress, hanbok, while ancient instruments are played alongside electric guitars. All of which comes packaged in stunningly inventive videos (pictured bottom page: girl band aespa).
The weirdest video on show is of the virtual girl group ETERN!TY whose 11 members were created by Pulse9 in 2021, using deepfake technology. These AI darlings are convincing, cute and extremely creepy!
Staying in the loop via social media, K-pop fans can get extremely involved. They build alters to their idols with bags of rice that are then gifted to charity; at concerts they wave light sticks to create glowing patterns of moving dots and in public places they stage dance challenges in which they perform the latest grooves. The V&A has created its own dance challenge with a booth where you can learn the moves from PSY's That That; your efforts then appear on a large screen among an ever expanding roster of gyrating bodies, which is a delight to watch.
K-pop didn't emerge from nowhere, though. The exhibition reminds us that by the time the Korean war ended in 1953, South Korea was in ruins. The military dictatorship that followed was ousted in 1987; only then did the economy begin to pick up because the democratically elected government had the wit to invest in IT. They encouraged hi-tech start-ups and they, in turn, led to a booming computer games industry. Government support also helped the film industry to prosper. On show is the grotty bathroom set from Bong Joon-ho's film Parasite, which won the Palme d'Or at Cannes in 2019.
The momentum of the Korean Wave has also engendered a thriving fashion industry. As with the music, it's originality comes from the fusion of Asian and Western styles and the mix of old with new. K-pop idols wear glammed up versions of hanbok layered over Western clothes, while Lee Young-hee's exquisite Wind Dresses are designed to have international appeal. Made from subtly coloured silk, her empire line gowns have the tight bodices and flowing skirts of hanbok dresses, but slimmed down to extreme elegance. Korean-born designer Ji Won Choi was raised in Oklahoma; perhaps that's why her fusion of Asian and Western ideas appear so effortless. Designed for Adidas, her black and white track suit (pictured above right) does up with long ties typical of hanbok.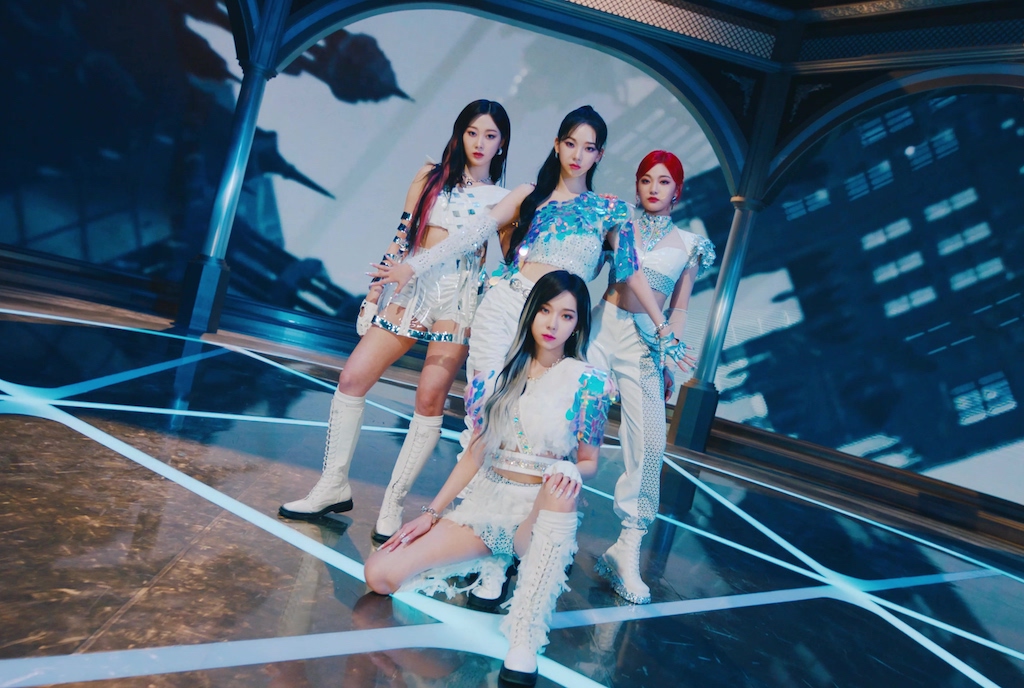 With its huge range of exhibits, this exhibition is a delight. It also provides a vital lesson in economics; every government minister should see it. Liz Truss take note; South Korea's dramatic recovery from ruin was achieved by enlightened government policy. They recognised that, in order to thrive, cultural industries need support. Once the ball is rolling, though, they will not only generate millions, but will act as the catalyst for myriad other ventures.
PSY caught the attention of the world not because of his singing and dancing genius, but because of the infectious optimism that K-pop embodied. It spelt out hope – a promise that has been delivered in spades, in the form of Hallyu! the Korean Wave.
This exhibition is a delight. It also provides a vital lesson in economics; every government minister should see it
rating
Share this article