Extract: What's That Thing? |

reviews, news & interviews
Extract: What's That Thing?
Extract: What's That Thing?
An exclusive excerpt from Igor Toronyi-Lalic's report on the state of British public art
Andy Scott's Arria near Cumbernauld: 'A 33-foot busty silver mermaid that gestures at passers-by like a Vegas barmaid'
In the former mining town of St Helens, a £2 million 66-foot baby's head bulges out of the ground. On the approach to the new town of Cumbernauld, a 33-foot busty silver mermaid gestures at passers-by like a Vegas barmaid. Half a million pounds' worth of hand-crocheted lions (pictured below left) will soon grace the streets of Nottingham. Another half a million will go into felling a stretch of Highland forest for a football pitch installation.
In Northumberland, £2 million of landscaping will see a 400-foot naked "green goddess" (to be called
Northumberlandia
) emerge from a rubbish dump.
The past two decades have seen an unprecedented boom in public art. More unsolicited installations and sculptures rose up in the 1990s and 2000s than in the entire century before (see graph below). A further 180 public art commissions were put out to tender in the past two years. Successive governments, Conservative and Labour, have encouraged its spread into schools and hospitals, housing estates and municipal squares, parks and villages, redeveloped quaysides and decommissioned pits.
This year statuemania will scale new heights. There is the Olympic Park's £19.1 million Anish Kapoor and the £6 million Cultural Olympiad, which will fund 12 landmark sculptures – one each for Scotland, Wales, Northern Ireland and the nine regions of England. This all comes on top of the Arts Council's bread-and-butter grants, which include millions for one-off schemes and further millions for regular-funded public art consultancies and commissioning agencies. So-called "per cent for art" schemes will ensure that private developers contribute millions to public art, too. The coming year will see installations appear in Poole, Barry, Saltaire, Hackney, Blackpool, Cambridge, Stoke-on-Trent, Brighton, Longford, Gretna Green and John O'Groats (to name but a few). According to the state-funded public art advocacy body ixia, the public art industry was last year worth at least £56 million.
Some have labelled this a renaissance. No one can deny the successes. Antony Gormley's Angel of the North, Richard Wilson's Turning the Place Over and Richard Serra's Fulcrum are bold triumphs. But for every memorable work of imagination, there are ten more that beg to be ignored and forgotten. London is "awash with bad public art", wrote the Daily Telegraph's chief art critic, Richard Dorment, in 2011. The Burlington Magazine's December 2011 editorial talked of "the constant fear of coming across a newly sited public sculpture". "Public art is ... a load of ugly, pompous, pretentious and narcissistic rubbish dumped on a snoozing public by arrogant bureaucrats and sponsors", wrote Jonathan Jones, art critic of the Guardian.
And you can understand why. The past 20 years have seen public art become a public service. Today's public sculpture must foster "community cohesion", bring in investment, boost property prices, fight crime or ease traffic. The public art strategy in Hastings (where you can find Rick Kirby's Continuum, pictured below right) proclaimed that it would be able to "reduce death rates from circulatory disease (coronary heart disease and stroke) and cancer in people under 75".The public has been even less kind. An online Guardian poll on the subject of the ArcelorMittal Tower saw 60 per cent vote for the work being "garbage"; meanwhile installations are regularly targets of vandalism and abuse. Some of the most vociferousare insiders. Art colleges, keen to maintain their prestige, shun the whole thing: mention public art to young students at the Royal College and the common response is a shudder.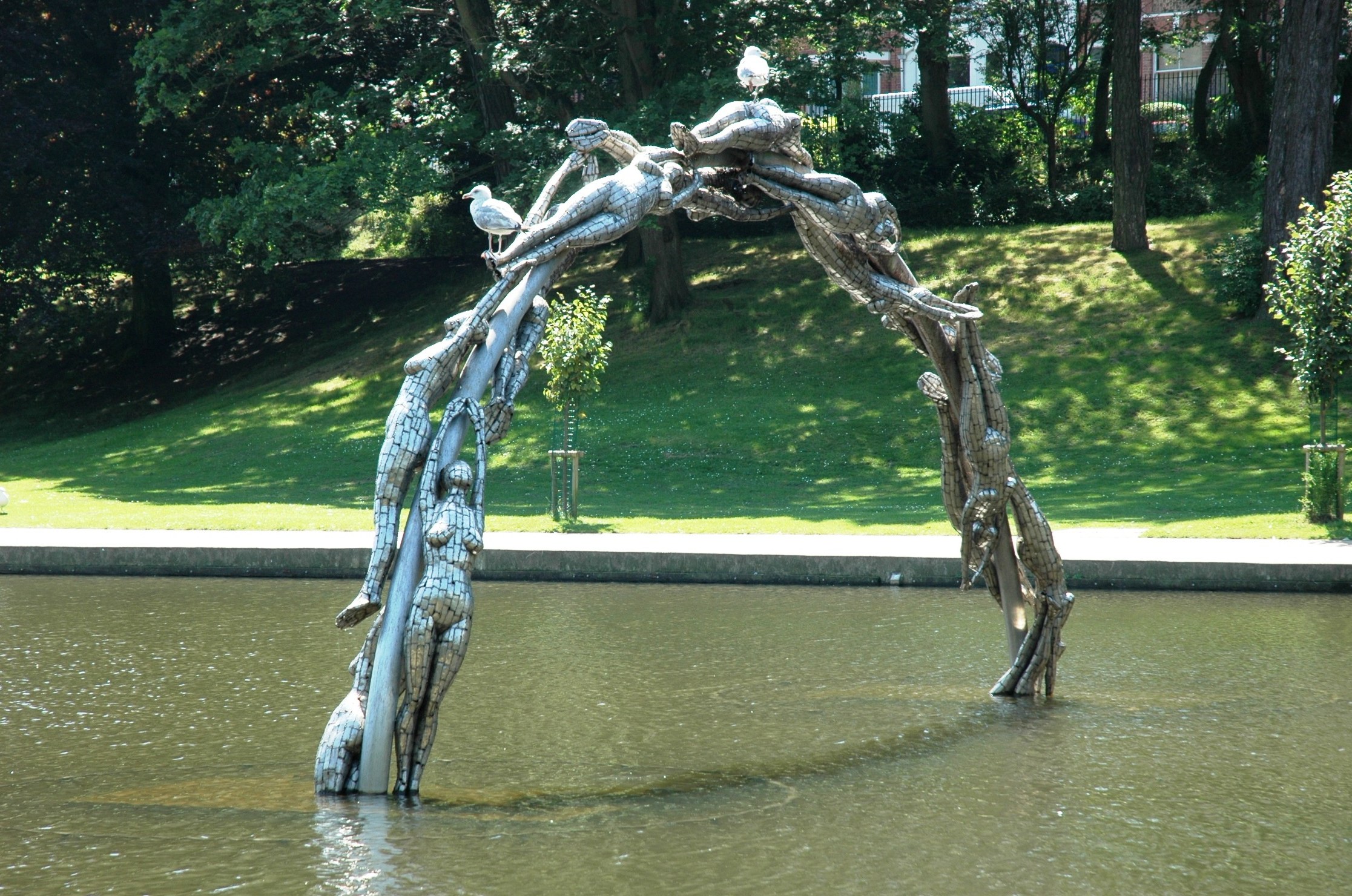 Public art has come to be seen as a cure for society's ills, which has meant that it has increasingly been co-opted by various arms of government. This might be justified, were any of the claims correct: if public art really were a panacea, who would carp at the government using it to improve our lives? But in fact the myriad claims made on behalf of public art are, statistically and conceptually, without foundation.
Yet these claims have been elevated over the one objective that can be controlled and that does matter: quality. Public art will achieve nothing if it is not good. Yet everything about the process by which public art is commissioned in the country today militates against the commissioning of good artists and the creation of good art.
Contrary to the hopes of the Arts Council and the Department for Culture, Media and Sport, two decades of investment in (and advocacy on behalf of) public art have made our built environment less attractive, not more. It has infuriated the public. It has alienated the arts world. It has estranged communities from their neighbourhoods and driven a further wedge of mistrust between politicians and the public. And the artistic result has been a mountain of mediocrity.
Public Art: A Public Service?
One constituency that might be expected to have a healthy relationship with public art is the public. Far from it. Much public art of the past twenty years has little (if anything) to do with the audience it purports to be addressing and with which it presumptuously associates itself. As Josie Appleton writes: "[T]oday's public art is not really the expression of community values or desires: it's driven by officialdom, and its spirit springs from the policy specifications of bureaucrats. Such art is about officialdom's image of the public, not real communities of living, working men and women."
When the people are asked what they think about the public art in their area, silence is often the response. In the early 1990s, a survey of the inhabitants of London's Broadgate which sought to measure local response to the public art (some of the finest in Britain) that had been commissioned for the new complex drew a blank. Not a single resident surveyed mentioned the art as a reason for deciding to live there. When the question was framed even more broadly – what did they like or dislike about the area – again no one brought up the public art. Instead they referred to water features, terraces, seating, leisure activities, shops and greenery. Only in their dislikes did one resident specifically mention Richard Serra's Fulcrum sculpture.
The only other time the art was mentioned came in the form of back-handed compliments. One woman said that the Botero sculpture of a voluptuous reclining female was liked because "it makes everyone sitting nearby feel slim". While another resident noted that the Richard Serra was being used as "a late night urinal". Most public surveys on public art are either negative or, at best, equivocal in their findings.
The potential embarrassment to councils of discovering that the millions of pounds spent on public art might not even have been noticed by the public prevents many from risking any sort of evaluative survey. If they do, they usually avoid any questions that might uncover anything of interest. In a recent Cambridge City Council review of local public art, respondents were asked whether they had "noticed" the public art, "where they had seen" it, what it should "say to them" and even where it should be located. What they were conspicuously not asked was whether they thought any of the public art was any good.
Anecdotal evidence of the public's feelings towards its art is overwhelmingly negative. Public art schemes have, over the past twenty years, frequently been accompanied by protest, petitions and public abuse. Fife Council's attempt to inflict a thirdpiece of public art on the run-down former mining town of Lochgelly has been met with vocal resistance. In Ashford, a £500,000 series of public artworks – one of which became a driving hazard – saw local groups up in arms. In Glenrothes, the reported local pride in this new town's wealth of public artworks was little in evidence on the ground.
Nicknames are instructive. Public art often acquires pet names from locals. And they're rarely flattering. Dhruva Mistry's River, Youth, Guardians and Object (Variations) (Birmingham) was dubbed "The Floozy in the Jacuzzi"; Nicholas Pope's Five Amorphous Shapes (Bristol) became "The Elephant Droppings"; Raymond Mason's Forward (Birmingham) was named the "Lurpak sculpture"; Paul Day's The Meeting Place (St Pancras International Station) was christened the "St Pancras Bomber" (pictured above left); Thomas Heatherwick's troubled B of the Bang (Manchester), which began to fall apart, became known as "Kerplunk" (pictured below right); and Maggi Hambling's The Brixton Heron (Brixton) rejoices under the nickname "The Bird on the Turd".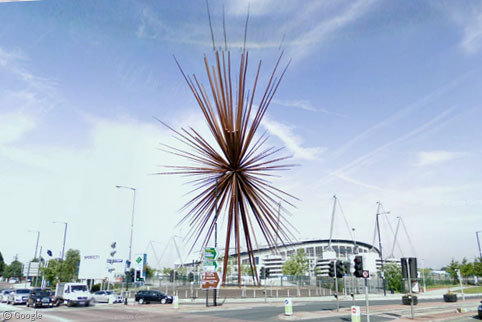 The lack of evidence of public appreciation often has councils clutching at straws. That a piece of public art has not been vandalised, for example, has increasingly been accepted as a valid indication of positive acceptance. When the DCMS asked Southwark Council what evidence it had to prove that the public was grateful for the art that was being commissioned in its name, the council proudly pointed out that the artworks in a recent regenerative public art programme in Peckham "were left untouched by graffiti for the duration of the building programme (over three years in some cases)".
Much of the public art industry is unsure what exactly it is meant to do with the public. In the past, local authorities ignored it or tried to fob it off with educational projects. Today they are increasingly sensitive to the need to bring the public more fully into the process. But still rarely (if ever) do public art schemes come direct from the public. The usual routine is to dictate a process of engagement from on high: corralling the local residents into public consultation groups or shepherding them into politically correct community projects.
In December 2011, I visited one admirable public consultation between the people of John O'Groats and the public artists Dalziel + Scullion over the proposal for a new piece for the town. The problem here was that the local people were being sold the idea that a piece of public art would mark a reversal of their economic woes. The result was a soulless and jargon-packed PowerPoint presentation on how these artists could re-brand the town. It had nothing to do with art or the public at all.
Very often public art fails precisely because commissioners have attempted cravenly to follow the imagined wishes of the public. This second-guessing has led to such horrors as Mohammed Al-Fayed's Michael Jackson statue at Craven Cottage. The perceived lack of public enthusiasm for contemporary art has led developers to believe that the opposite – a kind of tacky, figurative art – must be the favoured style of the people.
Equally wrong-headed is the idea that if some members of the public engage in the creation of an artwork, it will appeal to the rest of the public. Community art is, however, an even less effective way of making public art more attractive to the general public. However much it may make the specific group of people engaging in the creative process happy, the artistic consequences – by definition amateurish – are unlikely to satisfy anyone else. In fact, community schemes like the Millennium mosaics in London's Green Street or the Whale's Tooth in the Blackness area of Dundee are often the most forlorn, dispiriting things imaginable.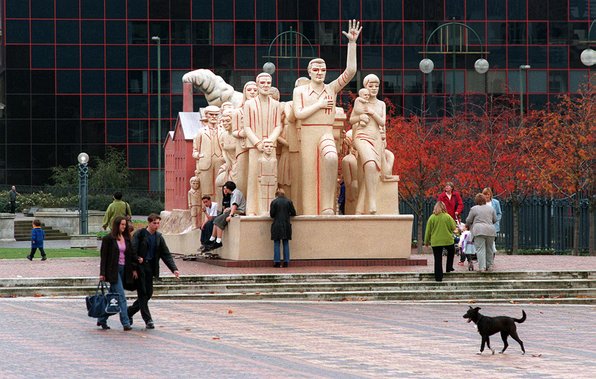 Those schemes in which the public has been ignored are frequently defended on the grounds that artists have some magical connection to the feelings and thoughts of the people – sometimes because the artists are local, other times because they are outsiders. Of course, this claim always seems slightly rum coming from a public artist who has accepted a commission from the state. Sometimes artists are given the licence to simply magic a public up.
There are many ways in which the public could and should be involved in public art. The most obvious way is in instigating the artwork itself. This used to be the norm: the whole business of public art in the nineteenth century was a grassroots affair. Memorials, statues and even fountains would only be erected if the local residents wanted them. The largest wave of memorial commissioning to remember the fallen of World War One was entirely organic: committees were formed, public meetings were convened, tenders were advertised in local shops and money was pooled through subscription. purpose was "to assist in the production of a public".
Today this is unheard of. The publicly funded body ixia, which is charged with advocating for and collating evidence about public art, could not name a single major commission that had been instigated by the public. Even community art is rarely proposed without a steering hand from the various education and development departments in local authorities. Today, the only time the public might club together their effort and money for public art is to campaign against it.
Today's public art is the opposite of a public service. It disenfranchises threefold the people who – by and large – pay for it: money is taken from them without their consent; art is commissioned without their consent; and the pieces are then installed in the public realm without their consent. It is a form of taxation without representation – which is why vandalism might (arguably) be regarded as a form of public protest. Certainly for many, public art must be robust enough to withstand whatever the public chooses to throw at it.
In his 1972 Studio International essay 'The Public Sculpture Problem', Lawrence Alloway suggests that the artist is "responsible for what impulses to graffiti and damage their works trigger off in passers-by' and offers 'Alloway's Law' on the relationship between public art and vandalism: "1. If a work can be reached it will be defaced. 2. If the subsequent changes reduce the level of information of the work, it was not a public art work to start with ... A public sculpture should be invulnerable or inaccessible. It should have the material strength to resist attack or be easily cleanable, but it also needs a formal structure that is not wrecked by alterations ... Public works of art can be classified as successes only if they incorporate or resist unsolicited additions and subtractions."
Besides this, vandalism is not always mindless. We surely cannot so swiftly dismiss the repeated attacks on Maggi Hambling's Scallop (Aldeburgh) (pictured above left), which was daubed with the words "Move this tin can". Nor can we ignore the assaults on Raymond Mason's Forward (pictured above right) – one of the installation's heads was sawn off and local children started to use the group of figures as an adventure playground. In both cases, the critics agreed with the vandals. And, in the case of Forward, so did the council, for the piece was eventually removed.
Demanding all public art be constantly subjected to public scrutiny is an odious position to be in – for artist and art alike. The same demands are not made of other subsidised art forms. But the acceptance by many that it must be placed under this sort of scrutiny is a consequence of its ubiquity, of the fact that it represents a triple public disenfranchisement, and of a sneaking suspicion that very few people actually like it. Public art would be able to breathe far more easily if it took at least some steps to rein in its reliance on subsidy and took root in the communities it was meant to be for.
Demanding all public art be constantly subjected to public scrutiny is an odious position to be in – for artist and art alike
Explore topics
Share this article