Tin Star, Sky Atlantic - broken characters stalked by remorseless fate |

reviews, news & interviews
Tin Star, Sky Atlantic - broken characters stalked by remorseless fate
Tin Star, Sky Atlantic - broken characters stalked by remorseless fate
Tim Roth battles booze and bad guys in the Alberta wilderness
Monday, 11 September 2017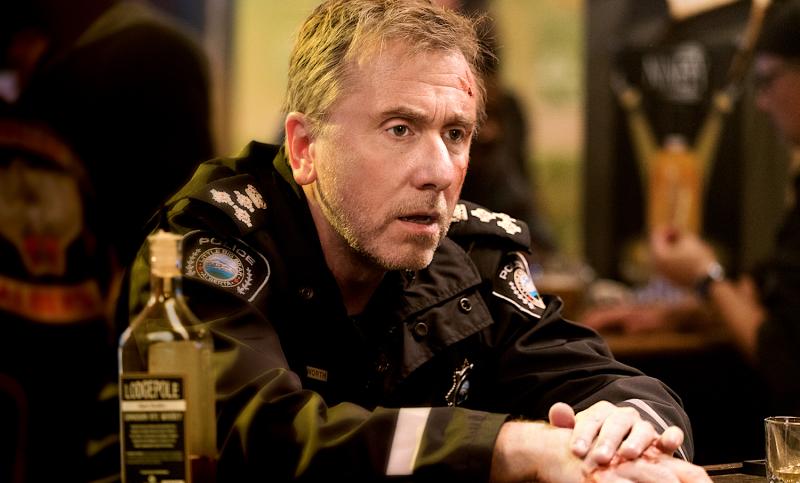 Tim Roth as Jim Worth, trying to outrun his past
Sometimes you can find yourself hankering after those old-fashioned TV dramas where you got a self-contained story every week, so you can drop in on it at any time and still keep up with what's going on. With Tin Star, on the other hand, you need to stick with it for at least four episodes before the scope of the story begins to reveal itself and it starts to exert a painful grip.
For a while, it's like Fargo meets Fortitude, with perhaps a squeeze of Lilyhammer. Surly British cop Jim Worth (Tim Roth) has moved to the chilly wilderness of Alberta to become sheriff of a no-horse town. With his wife Angela (Genevieve O'Reilly, pictured below), five-year-old son Petey (Rupert Turnbull) and daughter Anna (Abigail Lawrie), he's aiming to start a new life, away from whatever mysterious crises afflicted them back in England (not least Jim's alcoholism).
It's hard to work out how Jim got his new job, since he evidently has little interest in or aptitude for being a small-town policeman, and exhibits indifference bordering on contempt for his fellow officers and the local folks. However, he's jerked out of his state of uncommunicative inertia by a sudden horrific incident where the family are attacked by a masked gunman while they're stopped at a remote petrol station. The killer fires at Jim, but instead kills little Petey.
It transpires that the murder was the work of an ill-assorted bunch of British hoodlums, led by Whitey (Oliver Coopersmith), the epitome of the baby-faced killer. He seems to be suffering from an assortment of psychoses and affective disorders, and stalks Jim's family with creepy obsessiveness. Numbed with grief for his dead son, Jim inevitably seeks solace in whisky, indeed enough of it to stop a charging elephant at 50 paces. But it's only when he's well and truly off the wagon, suffering memory blackouts and waking up in strange rooms with unknown naked women, that we begin to get a clear idea of who he really is. It's not pretty, and it all ends very badly.
The story weaves its way from a kind of pitch-black comedy into a doomy revenge drama of steadily escalating savagery, as the past gradually emerges through a fog of whisky, pain and betrayal. Looming over it all is the shadow of a giant oil company, North Stream Oil, who have been bullying the locals into signing away all their land rights to facilitate their oil exploitation plans.
They have a freakish-looking fixer called Gagnon (Christopher Heyerdahl, pictured above, of Hell on Wheels and Damnation fame), who looks as if he's been squeezed through a spaghetti-making machine. When not hunting and dismembering game to make home-made sausages, he meticulously bugs and eavesdrops on most of the townspeople, and it's through his researches that we learn more about Jim's past (strangely, his name isn't really Jim).
The sordid deeds of North Stream Oil are a saga unto themselves, which affords some well-deserved dramatic scope for the excellent Christina Hendricks (pictured below) as the company's marketing supremo, Elizabeth Bradshaw. A former journalist, she thought she'd landed herself a plum executive job with a prestigious company, only to find herself the bag-woman cleaning up in the aftermath of Gagnon's criminal dirty work. She isn't afraid to resort to desperate measures, however.
The spectacular but heartbreakingly lonely scenery of Alberta – empty roads stretch for miles through flat prairie and snowy forest, while chilly mountains rear up in the distance – gives a huge atmospheric boost to this tale of a remorseless fate closing in on a group of broken characters. There's an excellent soundtrack too, a mix of eerie classical minimalism, cowboy ballads and ragged hillbilly music. Episode nine, where the back story is finally wheeled out into the daylight, sends the narrative into frenetic overdrive. O'Reilly is superb as Angela, emerging as a steely matriarch as chaos looms, while Roth's low-key, taciturn approach eventually pays tragic dividends. In short, it's worth sticking with.
Series 1 of

Tin Star

is available on NowTV